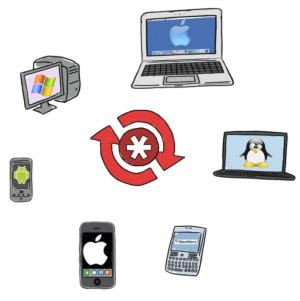 An ordinary person today does not have a single computer, he also has a tablet, a smartphone and perhaps even another laptop or desktop computer.
On any device, computer or mobile
you can surf the internet and
use your favorite browser with the same synchronized data
, to open a web page on your computer and also access it from your smartphone without having to find it again and so as not to have to write the access passwords to the various web accounts more than once.
Speaking of the most popular browsers,
Edge, Opera, Firefox, Safari e Chrome,
all support data synchronization even if with an important limitation: the various browsers do not talk to each other, that is, you cannot think of using Chrome on one computer and Firefox on the other and keep the same data, favorites and passwords (a less than using other programs).
Much less relevant than in the past is the question of whether browsers work well on all devices, as today the best web browsers are available for all platforms, namely Windows, Mac, Linux, Android and iPhone / iPad.
ALSO READ:
Synchronize Favorites on Chrome, Firefox, Opera, Edge, Safari
Chrome
Google Chrome is the browser that first made it easy to sync data across multiple devices. In practice, Chrome works on all computers in the same way, be they Windows, Linux and Mac and also on all Android and iOS smartphone and tablet devices and also on Chromebooks.
Google Chrome allows you to synchronize browser data through your Google or Gmail account. To set this function, click on the button of the figure of the Chrome man (next to the one with three dots at the top right) and then click on Activate synchronization.
In the following screen, you need to log in with your Google or Gmail account (if you don't have one, you need to create a Google account). You can then check what data to sync and then whether to include passwords as well as favorites, history, autofill data, extensions and applications, and open tabs.
Chrome encrypts passwords and you can always encrypt all data from the sync settings. If you open the Chrome settings (by pressing the key with three dots at the top right), you can check the synchronization of Google services in the first row of options.
With Google Chrome you can rest assured that no matter what PC you use, your browser will always remain the same, with the same settings, extensions and favorites. Even on Android and iPhone, bookmarks will be synced and available in Chrome.
ALSO READ:
How to Create User Profiles on Chrome, Firefox and Edge
Firefox
Firefox exists as a browser for Windows PC, Mac, Linux, for Android phones, iPads and iPhones. Firefox uses Firefox Sync to synchronize browser data which has been made much easier in a recent update. Firefox Sync syncs your bookmarks, passwords, options, history, open tabs and add-ons between computers and with Android smartphones and tablets. Firefox encrypts all of this data.
To synchronize Firefox, open the settings by pressing the button with three lines at the top right and then go to the Sync section on the left column. You can then create a Firefox account and then activate the synchronization of all data.
In another article the
guide to synchronize Firefox on PCs and Android phones
Microsoft Edge
If you use Microsoft Edge as a browser (available for Windows 10, 8, Windows 7, Mac, Linux and also Android and iPhone), it is possible to synchronize data in a similar way to what happens on Chrome, only instead of using a Google account you are using a Microsoft account. Also in Edge, press the facet icon at the top right to activate synchronization and to log in to your Microsoft account.
You can manage the data to be synchronized on the Microsoft account by opening the Edge settings (from the button with three dots at the top right) and then going to Profiles on the left column. Here you can find the synchronization options section where you can choose Favorites, Settings, Addresses and contact info, passwords, history, open tabs, extensions and libraries.
Opera
Opera, available for PC, Mac, Android and iOS, uses a data synchronization similar to that of Chrome, which can be activated by pressing the smiley key at the top right. The account is that of Opera.
Safari
Safari is a browser for Mac, iPhone and iPad, not available on Android and not even on Windows PCs anymore. Safari uses iCloud to sync open tabs, bookmarks, and other browser data between Mac, iPhone, iPad, and iPod touch. Apple offers instructions for activating iCloud on Mac and iOS devices.
Yes they can
sync Safari bookmarks on Mac, PC, iPad, iPhone, Chrome and Firefox
Other solutions to synchronize data between different browsers
Several tools and extensions allow you to synchronize or at least transfer data from one browser to another. These can be particularly useful if you are using Internet Explorer on PC and Safari on iPhone or Chrome on Android and Firefox on PC or for other lesser known web browsers.
The best programs for saving and synchronizing passwords are described in another article.