Windows 10 allows you to restore the system from restore points to return to configuration errors in particular, or recover a more stable system, without having to reinstall everything. We will see in this tutorial what restore points can really do, and how to use them to restore your system to an earlier date.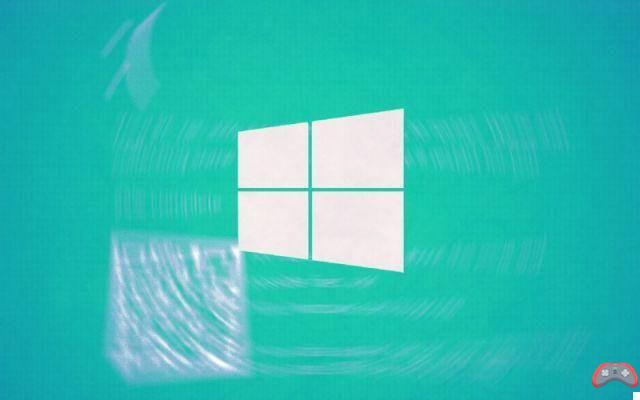 The catering points système are simply backups of system files and registry keys that allow you to capture the state of your installation Windows 10 at a given time. This allows you to restore the part of your system that bugs following an installation of drivers or an update that has gone wrong, without having to reinstall the entire system, and above all without touching your personal files.
A restore point is created automatically on a periodic basis, usually every week. Another is created each time an update or an important event occurs. As a result, it is quite easy to find a stable system when an unrecoverable bug occurs just after an event. All again without touching your personal files, which is still a big plus.
How to Restore Windows 10 from a Restore Point
To restore Windows 10 from a restore point is very simple, but it must have been activated beforehand, which is not the case for all installations. We will therefore see how to use this feature, and how to activate it if this is not the case, and possibly create restore points on demand.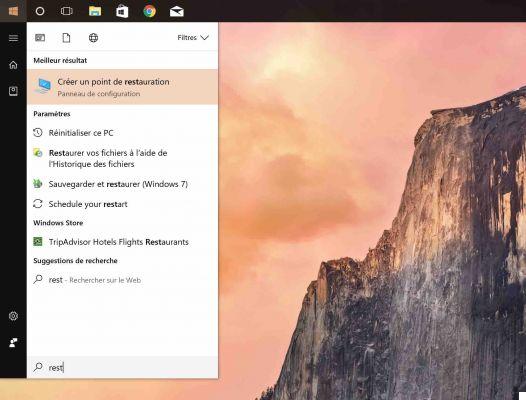 In the menu Start start typing restore and click on the first result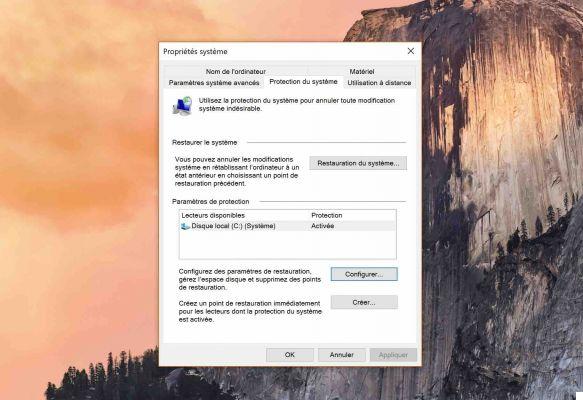 To restore click on the button System Restauration… and follow the instructions of the wizard
If the button To create… at the bottom is greyed out, restore points are not activated: then click on Configure ...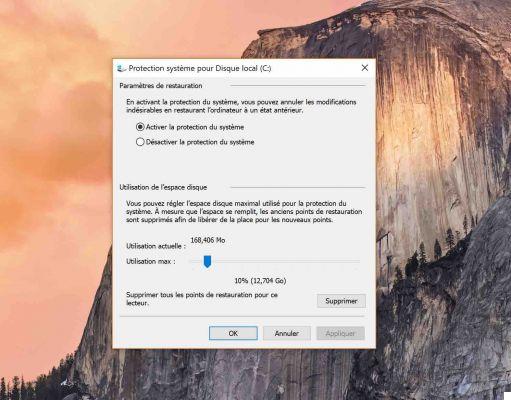 Select Activate system protection
Choose the amount of disk space devoted to these restore points
A restore point takes around 200 MB although it may be more depending on your machine. When the allocated quantity is reached, the oldest restore points are erased.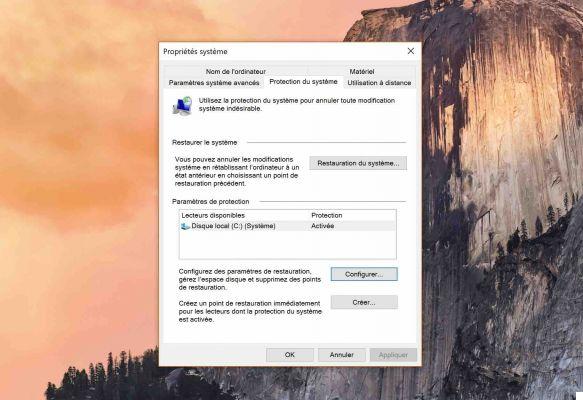 To create a restore point, just click on To create… from this screen
You will have to give it a name and validate, the rest of the procedure is completely automatic
In the event of a major problem, if you cannot log into Windows, you can directly access the restore points via the menu Troubleshoot, starting Windows with the key May pressed as for booting into safe mode. We hope you found this short guide helpful, if you liked it, you'll probably like this other guide on how to create a system recovery disc or USB in Windows 10.
The editorial advises you:
Android: how to transfer your SMS and MMS to a new smartphone
Windows 10 won't start? Several reasons can cause problems when starting Windows 10 for the first time or after an update: Bad BIOS settings,... The battery is one of the essential parts of our laptops. Like smartphones, battery life is a crucial factor for a good experience. Some applications act…Creating a WiFi access point on Windows 10 in order to share your Internet connection is done in two steps, three steps. We explain the procedure to you in this… On Windows, there are several ways to update the drivers. Generally, these update automatically. But it is sometimes necessary to force the maneuver,…