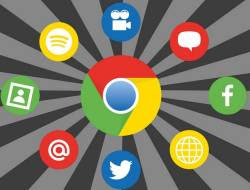 If there is a browser capable of linking all websites together in one large social network, it is Google Chrome which can be used to tie all digital experiences together.
Most social sites are for sharing news from other websites, but each of them works differently.
Without copying and pasting, let's see the best social extensions for Chrome to save and share web pages, articles and news on the main social networks: Facebook, Twitter and others.
1)
the 10 best extensions for Facebook on Chrome
have been listed and described in another article.
2) Between
extensions for Twitter on Chrome
you can install the Share this page extension to have a button on the address bar to tweet any web page that is opened or share it on Facebook.
3)
Post to Tumblr
is the extension to post a web page or article on your Tumblr micro-blog. The extension is also ideal for republishing and then storing in a personal collection the images found on the internet in a fast way.
4)
Bitly Shortener per Chrome
is the extension to share on social networks (Facebook and Twitter) by shortening the URLs in order to provide shorter links. This is mainly used to keep statistics about the success of shared websites because Bitly allows you to know how many people click on those links.
5)
Evernote Web Clipper
is an extension to save the most interesting web pages in Evernote, in an organized way, to get a synchronized list of URLs and bookmarks that can also be found on mobile or other computers via Evernote account.
6)
Pocket
is a similar extension, to send interesting articles found surfing the internet to your Pocket account in order to keep them and also view them from the homonymous app for iPhone or Android.
7)
buffer
is a multipurpose plugin that allows you to post interesting websites and news on Facebook, Linkedin and Twitter, even with just one click.
Buffer is one of the best ways to access all social networks from one App
8)
Feedly is the new Google Reader
I talked about him recently.
The Feedly extension for Google Chrome allows you to enable what the application calls Feedly Mini, which is a button that appears at the bottom right of each web page that allows you to share that page on Twitter, Facebook, Google+ and via Email.
It also allows you to share it using Buffer (without installing the Buffer extension) and to save pages for later reading as you would with Pocket.
9) The
Save to Pinterest
is the official extension to save images online on your Pinterest profile.
10)
Send from Gmail
instead it is the extension to send links of the pages and websites visited via Email.
This is just one of 15 extensions for Gmail on Google Chrome