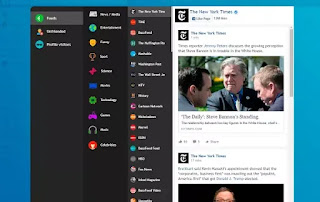 For those who use Facebook every day, it can be really useful to install extensions that can facilitate connections, receiving notifications, accessing chat and publishing updates and sharing links and websites.
It is even possible to improve the Facebook site on your PC, customize its functions, add options, enlarge photos and change the graphic interface to hide what is not of interest, leaving space for what you look at more often. Thanks to Chrome extensions and applications, it also becomes easier to stay updated with news and messages received directly from the browser toolbar, without having to access the Facebook site.
Hereinafter, therefore, the
best extensions to use and customize Facebook on Chrome
.
ALSO READ:
10 Chrome extensions to be social and share the web
1)
Facebook Messenger
is the Facebook chat application on iPhone and Android.
As seen, you can use Facebook web Messenger on any browser natively and without extensions, you can also open the chat on Chrome.
Thanks to the extension
Blue Messenger per Chrome
, which mimics the official application, you can open the chat in a separate window to send and receive messages from friends, view new friend requests, notifications and private messages.
The menu button opens the sidebar to jump to the news stream, event information, or visit one of the groups you have joined. In practice, you are always connected from the moment you use Chrome and you will see a button at the top right that shows all the chat notifications. Facebook remains accessible as normal, but can be watched out of the corner of the eye from the Chrome notification area.
2)
Social Fixer
, of which I have already spoken in the past, is the most popular facebook extension available on Google Chrome and also on Firefox, which is used to customize the entire Facebook interface to your liking and also modify it thoroughly with many options. Social Fixer is mainly useful for filtering Facebook news feeds using keywords and sorting the news so you don't miss anything important. You can hide already read posts, apply new themes, adjust the size of the content and customize the user interface with dark mode.
3)
Facebook Photo Zoom
allows you to see large Facebook photos on the screen when you hover over a thumbnail. In practice, you no longer need to click on a photo to see it large, you just need to pass over it with the cursor and let it load in overprint.
4)
buffer
is a free add-on for Chrome and Firefox that is used to quickly share web pages and any type of content found on the internet on Facebook, Instagram, Twitter, etc. You can also schedule the publication of posts on multiple social networks. The free version allows you to manage up to 3 social profiles.
To sign up for the free account, you need to do it on the Buffer site
5)
Download FB Album Mod
is an extension that makes it easy to download all the photos in an album in one go.
Facebook allows you to upload as many photos as you want, but when you want to re-download them to your computer, you should download one photo at a time. With Google Chrome you can then download photos from an album in one go.
In another article
all ways to download photos and albums from Facebook
.
ALSO READ:
How to download videos from Facebook
6)
Faceboook Save
is an official Facebook extension that adds a button on the site to save interesting links and updates as favorites. You can then create a list of news items to keep, which you do not necessarily have to like. As Likes get lost, it can be a useful way of saving interesting reads.
7) With some Chrome extensions for Facebook it is possible
Change Facebook colors, background and appearance
.
Among these are interesting FBPurity, similar to Social Fixer, and FlatBook, which changes graphics to the Facebook site with a flat and more readable theme.
8)
Unfriend Finder
is the Chrome app to see who is no longer friends on Facebook and unsubscribe
9)
Facebook Unseen to disable the read confirmation of messages
is a very useful extension for Google Chrome to protect privacy.
10
Facebook Notification
is one of the notification, chat and message extensions for Facebook.
11)
Social Book Post Manager
, to delete all posts and Facebook "Likes" in one click.
12)
Toolkit for Facebook
is a multifunctional extension to speed up some otherwise laborious operations such as abandoning multiple groups and pages at once.
ALSO READ:
Best Facebook tricks to add features and see more