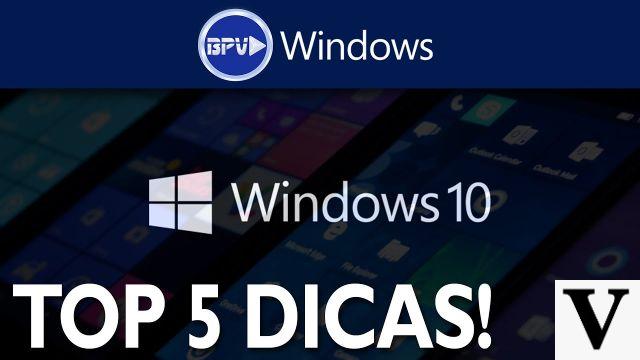 To make the most of a super popular operating system such as Windows 10 there are several tricks and shortcuts within everyone's reach, not just those who use the PC for work or professional levels. Windows 10 tricks and shortcuts they increase efficiency when using an operating system like Microsoft's, which, with the right "tips", can give great satisfaction even to the common user.
Some tricks can escape even the most experienced, and sometimes, after years, due to the habit of performing certain operations in a mechanical way, we end up forgetting a shortcut that instead can be very useful. So from time to time it is better to keep your memory fresh on main ones Windows 10 tricks and secrets, which however increase in number over time due to software updates that, year after year, introduce new ways to perform certain operations in a few clicks. Knowing the right precautions you can get long-term advantages in terms of time optimization and ease of use.
Windows 10 tricks: customize startup
It often happens when you install a new program that it opens automatically when you turn on your computer. An appreciable automatism, but not always: if the PC on which Windows 10 is installed it is no longer as snappy as it used to be, the automatic opening can slow down the start in a very evident and annoying way.
But you can customize the start by deciding which program to allow automatic opening and which not, and to do it there is a little trick for Windows 10. Just click on the taskbar with the right button, choose "Task manager", "More details" at the bottom left and finally choose the "Start" tab: from this you can choose which programs to start when Windows 10 starts .
Windows 10 tricks: protect your eyesight
Recent studies have shown that the blue light It may cause vision problems, and this is why almost all portable electronic devices now integrate measures to reduce blue tones at certain times of the day.
A system that meets those who spend several hours in front of the screen of the PC, perhaps for work, is also present on Windows 10 and some may not be aware of it.
To activate this very useful function of Windows 10 just open the notification menu at the bottom right from which to select the item "Night light", which in the blink of an eye turns the screen to warm tones, more relaxing for the human eye. Convenient, fast and effective.
Windows 10 tricks: create a Wi-Fi hotspot
If the PC you use is compatible with Wi-Fi networks - usually all recent laptops are - there is the possibility of creating a Hotspot through which share internet connection with the devices that need it.
activate hotspot on Windows 10 you have to open the notifications menu at the bottom right again and select, this time, the item "Mobile Hotspot". Of course, to connect a device you need to know the name of the network created by the PC and the password to access it, options to which it is accessed with a click with the right mouse button on the item "Mobile Hotspot" and then on "Go to Settings".
To learn more about this specific aspect of Windows 10, then, we advise you to read the tricks to better use Wi-Fi with Windows 10.
Windows 10 tricks: show / hide desktop icons
Minimalists like a desktop with very few icons, on the contrary there are those who prefer to have at least the "basic" icons. This trick for Windows 10 is useful for both profiles since it allows you to choose which icons to show and which not.
Doing so is very simple: just click with the right button on any free point on the desktop, select "Personalize", then "Themes" on the left of the window that appears and scroll until you find the item "Desktop Icon Settings".
In this way you can select or deselect the items in the "Desktop icons" section to see the images appear (or disappear) on the desktop. Windows 10 "essential" icons, of course, not before pressing "Apply".
Windows 10 tricks: how to use emoticons
It took them very little, the emoticons, to become part of the written communication, conquering more and more people for their expressiveness and immediacy. It's possible use emoticons also on Windows 10 within any application or program where you can write text.
Using the nice emoticons on Windows 10 is in fact very simple: just press the "Win" keys (to be clear the one on which the Windows logo is stamped) and "." to bring up a small window with many emoticons to insert into the text with a click.
5 easy tricks to use Windows 10 better