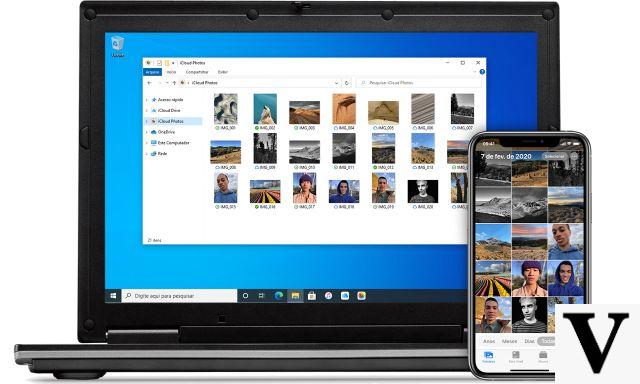 Windows and Apple are two completely different worlds. And that until a few years ago they also had difficulties in communicating. If you wanted to use an Apple device (iPhone or iPad) on a computer with the operating system Windows you really had to be a computer expert.
Over time, things have changed and it has become easier and easier connect your iPhone with a Windows computer. Apple has developed a version of its most used programs (iTunes, iCloud) also for the OS of the Redmond company, so that its users could use the devices at any time. By installing iCloud on Windows 10 you can even manage your photos directly from your computer, creating new folders and putting in order the images in the iPhone memory. Use Apple Foto su Windows 10 it's quite simple, but you need to follow this guide step-by-step.
Install iCloud on Windows 10
The first step to take is download iCloud for Windows 10. The version of iCloud for the OS of the Redmond company is available for free on the Apple website. Once the installation is complete and logged in with your account, you can start using the service. Before accessing Apple Photos, you need to enable iCloud Photo Library on your iPhone or iPad. Once this step is also completed, you can start setting up iCloud on Windows 10.
Choose what to sync
After launching iCloud, a menu will open from which you can choose what you want to sync with your computer. To use Apple Foto, it is necessary to press on Options present next to the item "Photo". A new window will open with five different options: "iCloud Photo Library", "My Photo Stream", Download New Photos and Videos to My iCloud ", Upload New Photos and Videos to My iCloud" and "iCloud Photo Sharing" ". Depending on your needs, you can decide which features to enable.
How to upload and download images from Apple Photos
After enabling Apple Foto, you can enter inside the Computer System Resources to upload new images to iCloud or to download those on your smartphone to your PC. After launching iCloud, on the left column you will have to click on iCloud Photos: a page will open that will allow you to upload or download images and viewed on Apple Photos. The process is very simple and will take a few minutes to complete.
How to download and set up Apple Photos on Windows 10