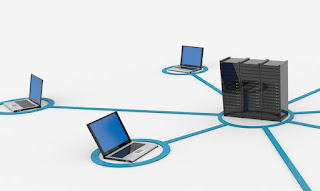 To control a PC remotely we can use the Windows Remote Desktop or the VNC program but the requirement for this type of software is that the computers, both the server and the clients, must be on the same network with the same IP class or it is The computer you want to connect to must have a static IP address (as if it were a website). But to control a computer from a different place, it is unlikely that you will have an IP address that can be reached or that it will be hidden behind a firewall or a corporate proxy, making the most well-known remote control programs useless.
If we have to
manage and control our home PC or business computer
when we are away from home or stay at home (in smart working), in this guide we will show you the programs to use for
access the PC remotely
effectively, simply and above all
without fearing any network blocks by corporate firewalls or proxies.
Access PCs remotely with corporate firewall and proxy
All the services we are going to recommend can be used free of charge for personal purposes; Unfortunately, there are few services that can also be used to connect company computers, since most of the services require user licenses to unlock all the functions without fearing the appearance of warning windows.
Fortunately, completely free services are also available without using a license, so you don't have to fear financial repercussions.
DWService
A completely free and open source service with which to access a PC remotely is DWService, whose server is available for Windows, masOS and Linux. Once you have downloaded the executable suitable for our operating system (DWAgent), double-click on the file, confirm the license and choose
Run
among the available items. A new window will open where we will be provided with a username and password, to be marked for remote access.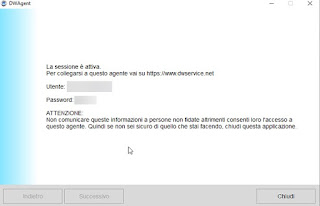 When we are away from home or when we are ready to work in smart working we reach the DWService site and enter the username and password in the fields shown in the center of the site.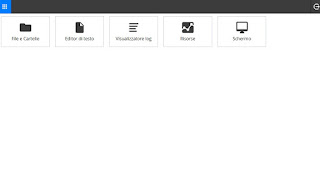 From this screen we can control the screen of our computer by pressing on
Screen
, or access the files and folders by pressing the icon
Files and Folders
.
The reaction speed is very good and will allow you to remotely manage any corporate computer, since the protocol used is identical to that of classic web servers (in fact it uses the same ports and protocols, so it quickly bypasses any corporate firewall).
Chrome Remote Desktop
Another free and unlimited way to control a PC remotely is to use the Chrome Remote Desktop service.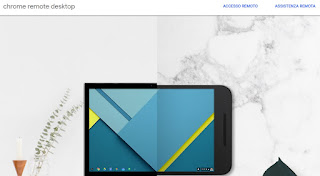 By installing this extension on all the PCs to be controlled remotely we will be able, through a simple code and a PIN to be entered at the time of access, to control the PC remotely in a simple way and above all without fear of firewalls and proxies (since traffic passes on the same port to browse web pages). Once the extension is installed, simply associate the browser's Google account and, for each PC, install the control program, which will provide access from the computer that we are going to configure as a server. For our PCs we will be able to configure automatic access, but if necessary we can use the service to control other PCs of friends or relatives in difficulty.
This is the service we recommend using in each scenario
, since there are no limitations on the number of PCs to be used: we can also use it on company computers or on PCs assigned to a commercial activity, since we will never be asked for any type of license to use (which instead we risk see us appear on the other services recommended by the guide).
If we want to learn more about Google Remote Desktop, we invite you to read our guides
Remote desktop in Google Chrome to control PCs via the internet
e
Access the PC with Chrome Remote Desktop from a mobile phone
.
TeamViewer
TeamViewer is undoubtedly the most used solution to quickly control any remote PC, using connections that cannot be intercepted by the corporate firewall or proxy.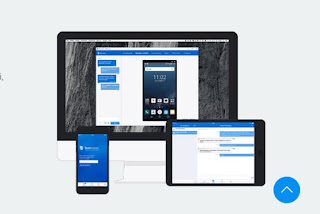 Once installed on the PC to be controlled, simply write down the ID code and password to be able to access from any other PC, by entering the copied codes. To speed up access to our PCs, we can also create a free account and add unattended access: TeamViewer will start together with Windows and we will be able to control that PC without having to enter a code every time, since our password will be used for the 'authentication.
Without a shadow of a doubt the best application for remote control, but it can be used for free only for personal purposes: if used in the company or to connect PCs used in the company or in a shop, the company could report commercial use and demand the license of use (for a fee) also for free accounts.
Precisely for this reason we recommend using it sparingly and associating only personal PCs, avoiding assigning PCs present in a shop or company.
To learn more about TeamViewer we can also read our dedicated guide ->
Complete control of a pc from another computer or mobile phone with Teamviewer
.
Join.me
Do we want to connect multiple PCs together to create a meeting? In this case we recommend using the service offered by Join.me.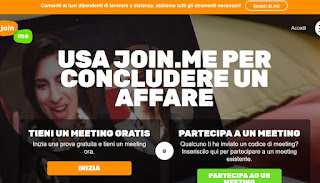 The website, following a
free registration
, allows easily, from the web interface, to connect remotely using codes issued directly from the program to work
on any other PC
localized
everywhere in the world
that has been configured.
Basically it is used by companies to carry out corporate meetings with shared screen, but we can also use it without problems to control our home PC, just leave it on and configured with a meeting code.
AnyDesk
Another program that we can use for free for personal purposes is AnyDesk.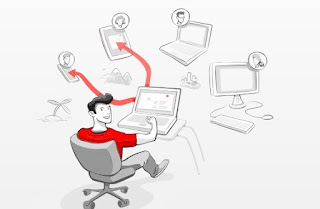 In a very similar way to TeamViewer, it allows you to associate a unique code for each device connected to our account and to remotely control both the mouse and keyboard typing. It presents itself as an extremely fast service and able to overcome any type of firewall and corporate proxy without problems. As for TeamViewer we must make moderate use of it within a company network or from a PC associated with a commercial activity, since the service could notice this and ask for the purchase of a license for use.
Conclusions
These are the best services to connect and control a computer remotely, even if a corporate firewall or proxy is interposed to block unwanted protocols and Web requests. But bear in mind that a good network administrator will notice unusual traffic and may still block you or ask you what you are doing.
To fully protect incoming and outgoing traffic during a remote connection, we recommend that you read our guide
How to connect PCs remotely and control them via VPN
To deepen the discourse of entering the files of other computers, without going through the internet, in another article the explanation of what it means
enter a PC on the same network
.
On another article we have seen how
use two computers together with the same keyboard and mouse
.