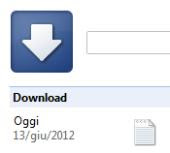 Even if the competition between Chrome and Firefox as the best browser remains open with frequent updates and progressive improvements, at present, Google Chrome still remains ahead, both for speed and usability, always coming first in finding new solutions and innovative features (which Firefox then goes to copy).
For the moment, one of Chrome's weaknesses remains the management of downloads, never improved until now and too basic.
Those who download many files from the internet will find some dissatisfaction seeing how Chrome manages downloads, with no possibility of being able to speed up downloads, resume them if they are interrupted and, above all, with the problem that, by closing the browser, every download is interrupted.
To improve and speed up the downloads of big files from the internet with Chrome
it is better to use an external program, a download manager.
Among the best programs to manage downloads, the one that best suits Chrome is the extension
Free Download Manager
o FDM, free and without limitations.
Free Download Manager is one of the rare programs of this type that does not hide traps or sponsors in its clean and fast installation.
The program asks to run when the computer starts, which can be disabled for the moment and re-enabled if satisfied.
FDM can also be installed
as a program
, in the country, to make it work with Firefox and Internet Explorer as well.
Also during the installation you can enable the
BitTorrent client
to download Torrent files.
Free Download Manager, as a program, works with almost all major browsers and has two particular winning advantages:
-
Speed ​​up file downloads by dividing them into sections
Splitting a file into sections allows FDM to download several parts of the same file at the same time.
This brings a
increase in download speed up to 600%
or even more, regardless of the browser you use.
- Allows you to
pause downloads to resume them later
, even the next day.
Files are automatically placed and organized and you can also add other categories and specify file extensions to always save them in the right folder.
To use Free Download Manager with Google Chrome
, after installation, you need to close the browser and enter the program preferences from the Options menu -> Settings.
Click on "Browser Control" and put the cross on Chrome and on Control in the background.
In this way, when you download a file from Google Chrome, it is intercepted by FDM and the download is managed outside of Chrome.
The integration almost always works, except for a few websites.
In this case you can do the manual download using the main interface of the program.
To try and see how much faster internet downloads are, reopen Chrome and download the 200MB Stunt Rally game.
ALSO READ:
Options and best extension to manage downloaded files and downloads in Chrome