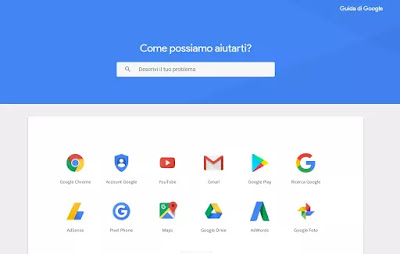 Notoriously, large web companies are very difficult to contact, especially for assistance on free products.
Google, which offers many free products with all its services and applications (just think of Google Maps, Youtube, Blogger, Android, Gmail, Google Photos, Google Drive), does not have a direct assistance channel, but relies on forum where some (unpaid) volunteers answer basic questions and have the task of escalating the reports of technical problems to Google engineers.
For some business products, Google provides the possibility of contact via telephone, e-mail and chat, although often only in English.
In this article we make as complete a summary as possible of
all the ways we have to contact Google
, for information or assistance, for the various products used.
ALSO READ:
Best Google services: the most useful, the least known and the failures
1) First of all, in case of need, you can open the main page where to find the
support for Google products
.
This is a collection of guides where you can find answers to most of the most common problems.
The main Google products are highlighted: Google Chrome, Google Account, YouTube, Gmail, Google Play, Google Search, AdSense, Pixel Phone, Maps, Google Drive, AdWords, Google Photos.
By pressing the Expand button, you can search for guides for all the other products.
Depending on the service or application clicked, you can find, at the bottom of the page and at the top right, further resources to solve the problem.
2)
Google Forum
As mentioned above, the main means of contact that Google makes available are the forums for each product.
You can find the forums in the country on the page of
Google Forum
, where the main ones are highlighted, that is those in which we talk about search, webmaster, Google Photos, Google Maps, Adsense, Adwords, Chrome and Google Play.
You can then ask the question in these official forums and wait for some moderator to respond or, in case of assistance, it may be that the request is scaled to a Google employee so that they can correct the problem.
Anyone can post on the Forum by logging in with a Gmail account.
The personal profile can be hidden in the Google forums so as not to show our name, our photo or even our email address to anyone, in order to possibly make comments or requests so as not to attract trolls or haters.
Usually, it's a good idea to post the question in English on the
american forum
which is the main one, where it is more likely to receive reliable answers and where Google employees also often intervene.
3)
Contact by phone or chat or email for the various services.
For some products, Google actually provides a telephone contact, even if it's not that easy to find.
To find this contact you need to access one of the support pages and press at the top right where it is written Request assistance.
For example, you can request assistance for Google Play products, applications, magazines, both bought and published.
There is direct assistance via email for Adsense, then there is assistance via Twitter for Gmail and Chrome, direct telephone assistance for products purchased such as Pixel Phones.
Those who know English can find more contact possibilities via chat or email using the
Google support center in English
, where, for example, it is possible to contact Google via chat for Google Drive and for other products for which no direct assistance is provided in the country.
4)
Google G Suite support
Google provides 24/24 direct assistance via phone, chat or email to anyone who pays for a subscription for G Suite products by going to this page
5)
Twitter assistance
It is possible to obtain assistance on Twitter for the various Google products by writing a Tweet that has #Ghelp as the hashtag.
6)
Contact Google by phone number
As a last resort, because it usually takes hours to get in touch with an operator, you can try contacting Google during office hours from 8:00 to 17:00, pressing 5 to access customer service.
Per l'el paese il numero di Google
è
+39 0236618300
.
For the United States: + 1-650-253-0000
United Kingdom +44 (0) 20-7031-3000
India +91-80-67218000
Mexico +52 55-5342-8400
Canada +1 514-670-8700
Germany +49 30 303986300
7)
Report illegal activity and security concerns to Google.
To report any illegal use of Google services, you can go to this page and click on the drop-down menu under the Privacy, protection and online safety section.
In this menu you will find the reporting pages also for phishing problems and reporting errors.
ALSO READ:
Almost unknown Google sites and tools to discover