The Spotify app on Apple Watch will now allow downloading of songs. The music streaming giant has pledged to offer this new feature in the coming weeks on its WatchOS application. It will therefore be possible to listen to music offline via the connected watch. No more need for iPhone!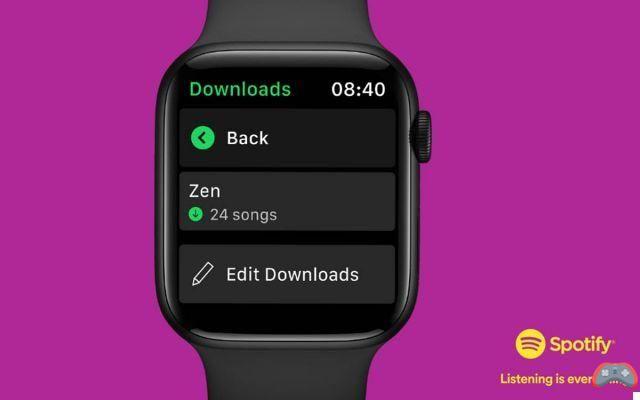 Since last November, the Spotify application available on Apple Watch has made it possible to stream music directly from the connected watch. De facto, users wishing to listen to music during their sports sessions or their walks are no longer forced to carry their iPhone. The option is through WiFi or 4G (if you have a cellular model).
More recently, Spotify announced the arrival ofoffline mode for Apple Watch. "We are rolling out the ability to download your favorite playlists, albums and podcasts to Apple Watch," Spotify said in a statement on its website.
How to download music to your Apple Watch from Spotify?
Before going for a walk, or to the gym, you can download your favorite songs to the connected watch. To listen to them, via AirPods for example, you will not have no need for a 4G connection or your iPhone. "Premium users will be able to download everything they listen to for a true offline, phone-free experience," says the number 1 player in music streaming. Unsurprisingly, the option is reserved for paying subscribers.
Also read: Spotify is about to switch to HiFi lossless audio quality like Apple Music
To download songs to your Apple Watch, you must first go to the Spotify iOS app. A new "Download to Apple Watch" option will soon appear in the interface. Here's the procedure to follow :
Find the music and podcasts you want to download from Spotify
Press the three small dots
Choose Download on Apple Watch
To check the progress of downloads, Spotify prompts you to go to the Downloads section of the watch. Once the downloads are complete, the app will show a small green arrow next to the selected songs. This long-awaited new feature will be available worldwide in the coming weeks.