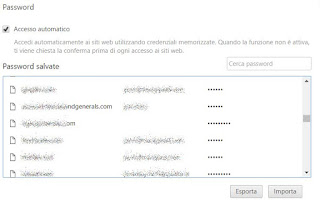 Those who habitually use Google Chrome and also use it to save the passwords of the websites that must be accessed, can use a new browser function that allows you to save all the passwords stored on the PC, so that they can then be imported into other managers of password or just keep safe.
The function that
allows Chrome to save all passwords
it is very useful, as already explained, not only to automatically access sites, but also to synchronize these credentials between the various devices used, if you log in to Chrome with the same Google account.
In this way, even if you lose your smartphone or if your PC is broken, you can easily recover all these passwords only by logging into your Google account from another PC or phone. This save and sync is also safe from hackers or malware as the passwords are clearly encrypted by Google and made readable only by the account owner.
But if you want
save a backup copy of the password list already saved by Chrome
, you can precisely the new useful function of
Import and Export passwords
.
This way you can
save passwords locally and transfer them to another PC
, even without synchronizing with the Google account.
To find this option, for the moment (update April 2022), an experimental function must be activated.
Then open a tab at chrome: // flags and look for the Password import option on the page. Change Default to Enabled and then press the button
relaunch
down.
Now, after the change, reopen Chrome and press the button of the three dots at the top right to go to the Settings.
Scroll down the various options, click on Advanced and find the section Passwords and forms.
To do this first, you can open a new tab at chrome: // settings / passwords.
Now you can find the tool
to backup passwords
: you have to press the button with three dots on the right of the word "
Saved passwords
"to find the option
Import
is that
Export Password
. Press Export Password again and enter the username and password of the Google account to confirm the backup operation.
The password list is saved and downloaded as a CSV file, contains site address, login and password in clear text and can be opened with Excel or even with Windows notepad.
This list can also then be imported into a password manager such as Keepass.
Note that the exported list will show all passwords in clear text, so it will be good to hide or protect the file.
ALSO READ:
Google saves all passwords with automatic login on sites and applications