Electronic Arts has just unveiled the very first trailer for Battlefield 2042, the next installment in the series. We are finally entitled to a preview of the game, the first to appear on the new console generations.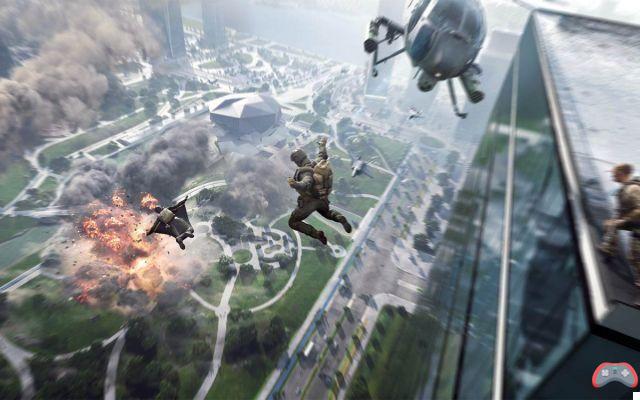 EA had given us an appointment for this June 9, 2021 to discover the first information on the game that we designated by Battlefield 6 until the last few hours. The title is finally called Battlefield 2042 as the leaks announced for a few hours. The publisher has for a long time teased the arrival of the next opus while being not very talkative about the details of the game. What should be remembered is that this is the most ambitious Battlefield in history of the franchise.
We finally have the opportunity to appreciate its structure through a first trailer. As we heard before today's event, Battlefield 2042 marks the return to a modern warfare atmosphere entirely imagined by DICE and EA. We are indeed in 2042 as the name suggests.
Battlefield 2042 First Trailer: What's New
The new Battlefield therefore takes place in 2042, approximately twenty years in the future. The United States and Russia are at the heart of the new story and are pulling the strings for new proxy clashes. A kind of cold war therefore in a futuristic context. The particularity of Battlefield 2042 is that it allows you to embody "specialists". These are war veterans who visibly provide assistance on the battlefield.
"Specialists have a unique specialty and trait, but the rest of their equipment is fully customizable," reads the first information around the game. We also know that the multiplayer mode will revolve around seven maps and can bring together up to 128 players. "From the cities of Seoul to the deserts of Egypt, each map offers a unique experience based on the natural environment."
We are also waiting to learn more about the Battle Royale supposed to compete with Warzone. So much information that already makes us want to dive into this promising Battlefield 2042. While waiting to discover it, controllers in hand, here is the first trailer for the game that we had the opportunity to discover during the stream broadcast on June 9.
The editorial advises you:
Battlefield 2042: release date, price, gameplay, news, all to know
Battlefield 2042: it will be possible to play old remastered maps
Battlefield 2042: we know more about crossplay between PS5, Xbox Series X / S and PC
Mexican cartels use online games to approach young people and recruit them as drug couriers. One of the games that serve as a recruitment platform is GTA…Microsoft has confirmed that 20 million players have had fun on Halo Infinite while 18 million have played Forza Horizon 5. These are impressive numbers that…Wordle or Sutom en España is an online word game that looks simple at first glance, but is a huge success around the world with millions of players.…Nintendo has just announced the arrival of Banjo-Kazooie on the Nintendo Switch. The Nintendo 64 classic will be available tomorrow for all Nintendo Switch Online subscribers who have…