Which Windows 10 tablet to buy?
Best cheap Windows 10 tablet (less than € 600)
Best mid-range Windows 10 tablet (€ 600-1.000)
Best high-end Windows 10 tablet (more than € 1.000)
How to choose a Windows 10 tablet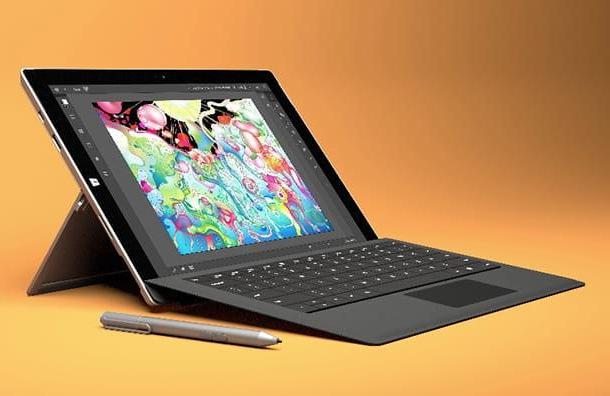 The features to consider before choosing a 10 Windows tablet there are several. Let's start with price: the budget you have available is naturally one of the major discriminating factors in the purchase of a Windows 10 tablet, since it is a product that can cost very different figures, starting from a few tens of euros up to even more than a thousand of Euro.
The definition of a Windows 10 tablet itself is very vague, since there are different types of products that they can have characteristics and intended use very different. There are traditional tablets, equipped only with the part containing the screen, but also more complex tablets that approach a real notebook as a concept. With Windows 10 a keyboard is almost a must, especially if you need a truly versatile computer capable of supporting all the possibilities offered by Microsoft's operating system.
To navigate and use some simple apps an iPad or an Android tablet are more than enough, but it is precisely with the most advanced functions that a Windows 10 tablet gives its best. Some examples? The processing of photos in post-production, to be performed better with a mouse, or the drafting of long texts or the organization of extensive databases, in which the combination of mouse and keyboard is irreplaceable. You can choose to buy the mouse and keyboard separately, however I recommend that you think twice and buy a solution that already comes with at least one original keyboard.
Technical features
Having made these necessary premises, let's see together what are the most important technical characteristics that must be taken into consideration when buying a tablet, and more precisely a tablet equipped with Windows 10.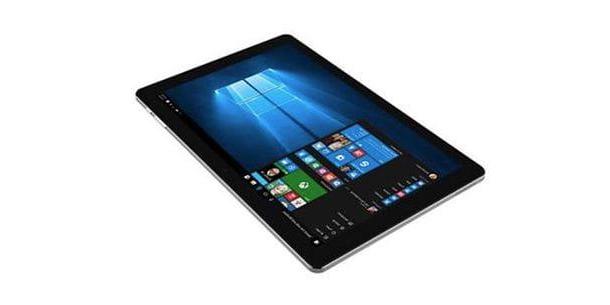 Display: the screen is the most important part of a tablet and therefore it must be evaluated very carefully. There are several variables that must be taken into account.

dimensions: the size of the screen affects not only the degree of portability of a tablet, but also the operations that can be performed on the latter. A 7- or 8-inch tablet, for example, is perfect for reading books or web pages and for gaming on the go, but it's too small to work with. The 9-10 inch tablets represent the right middle ground that allows you to work, read texts and enjoy multimedia content (eg movies or TV series) easily without sacrificing portability. The 11 or 12-inch tablets are to be considered as notebook replacements, in fact they often come with bases or keyboard covers, and give up a lot of portability in favor of a larger and more comfortable workspace. to use. The choice, in this case, must be made exclusively on the basis of your needs and requirements.
Panel Type: Windows 10 tablet displays may be based on different technologies. Most of them are based on technology IPS LCD which ensures good visibility in sunlight and color reproduction very faithful to reality, but there are also tablets based on the most advanced technology AMOLED / Super AMOLED which has no backlight and therefore reduces energy consumption, improves the contrast ratio (as the black pixels are actually off) but has some problems under the sunlight and in the reproduction of colors (which are sometimes too saturated). Beware because the IPS LCD panels found on cheap tablets are not always well made. In some cases we find ourselves dealing with unresponsive displays and / or with rather narrow viewing angles.
Resolution: the resolution represents the number of pixel that the tablet display contains and the higher it is, the higher the definition of the panel. Resolutions are measured in pixels by pixel, where the first number represents the number of pixels on the long side, while the second represents the number of pixels on the short side. There are several standards for tablet resolutions, the most common of which are HD (1280 × 720) e Full HD (1920 × 1080), both with a 16: 9 aspect ratio. A tablet with a large display (10 or 12 inches, for example) needs a higher resolution than HD, otherwise you will see little defined, while a 7 or 8 inch tablet may have a lower resolution and it won't be a big problem. . If video quality matters to you, choose a device that supports at least Full HD resolution. Also take into account the pixel density, a value that is expressed in ppi (pixels per inch) and which indicates, precisely, the number of pixels that are reproduced in each inch of the screen: the higher this value, the more defined the contents displayed on the Tablet.

Integrated hardware: the name of hardware means all the electronic components present in the device that establish the level of performance, reliability and compatibility that the system will have. The most important component is certainly the SoC, a microprocessor that contains everything necessary for the operation of the rest of the system, and that manages the various operations that are carried out. The SoC contains the CPU (which processes activities, programs and everything that happens on the computer), the But by the full GPU acceleration tech (which takes care of the graphical calculations), and other components necessary for managing, for example, the storage units and the wireless and wired connections of the system.
Memory: memories are also included in the hardware category, but they are not part of the SoC. On a tablet it is very difficult that the various electronic components can be replaced, so the choice of memories is extremely delicate, as well as that of CPU and GPU. If you buy a Windows 10 tablet with a quantity of RAM or a storage memory too low you will not have a way to replace the banquets later and you will have to keep it as it is. Windows 10 works well from 2GB of RAM, but if you want a snappier system, I recommend you don't go below 4GB. The RAM, in fact, is where the data of the processes in execution are temporarily hosted and having little of it means encountering conspicuous slowdowns in the management of multiple applications at the same time (or in the management of particularly complex applications). As far as storage is concerned, the more there is, the better, even if it all depends on your spending power and your needs. But be careful because the discs in tablets can be of various kinds. It's easy to find type memories on cheap tablets eMMC which are similar to SD cards and have mediocre performance. On the mid-range and high-end tablets, on the other hand, it is possible to find SSD which ensure very high performance (if you want to know more, read the post I dedicated to SSDs).
Battery: Each tablet has a battery, otherwise you couldn't use it around. Again, the higher the battery amperage - hence the battery capacity, which is expressed in milliampere machine (mAh) - the better. However, consider that Windows 10 tablets use more advanced processors than those with iOS and Android, and that they have higher energy demands. With the same battery, a tablet with Windows 10 usually has a lower operating autonomy, even if lately the processors of the Windows 10 tablets (which are often produced by Intel) are improving a lot in terms of energy efficiency. The data released by companies on the autonomy of Windows 10 tablets are usually inflated, even if compared to each other they can give you an idea of ​​how each model performs on the autonomy front.
Connectivity : the connectivity aspect is also very important. Almost all Windows 10 tablets have good wireless connectivity features, but compatibility with them is not always guaranteed reti a 5GHz (dual-band) or with the latest Wi-Fi network standards, such as the wireless AC which allows you to transfer data within the local network up to a maximum of 1.3Gbps. Even rarer is support for the 3G / 4G network which allows you to connect to the cellular data network using a special SIM and subscribing to a special data plan. Some tablets also come with support for a technology called Miracast which allows you to project video or the entire desktop of your device wirelessly on your TV. To enjoy Miracast technology on your TV, you need to use a TV with Miracast support or purchase an external receiver. For more information on this, check out my tutorial on casting screen.
doors: Support for external devices depends on model to model. Always check for at least one USB port along the body, the availability of SD card slot and the presence of various connections for external displays (eg. HDMI/microHDMI) that can turn your tablet into a well-rounded multimedia machine, for playing movies or even video games on your TV or larger monitor. Tablets often use proprietary connections for the keyboard module, and can only use the official ones. Alternatively you can connect a traditional USB keyboard, but I don't recommend it since the availability of USB ports on a Windows 10 tablet is often scarce, and in many cases you would go to occupy the only one available. Another important thing to know is that USB ports are not all the same, they can have different formats and performances.

USB Full Size: this is the USB port in standard format (USB A). Depending on the USB generation supported, it can guarantee different performance in data transfer: second generation USB 3.1 technology ensures data transfer speeds up to 1250 MB / sec, USB 3.0 technology (also called first generation USB 3.1) allows transfer data up to 625MB / sec, while USB 2.0 technology reaches 60MB / sec.
MicroUSB/MiniUSB: these are smaller USB ports. They have the same performance as standard USB ports (with the same USB technologies supported) and can also be used for charging the tablet. They foresee the use of adapters for the connection of keys and other devices in standard format.
USB Type-C: this is the most modern and versatile USB port format. It can be used for connecting USB devices, for charging and in some cases even for video connections. It supports the same data transfer rates as other USB ports. To use USB sticks and devices in standard format (USB A) requires the use of special adapters.

Pen support: Some tablets, such as Microsoft's Surface, have pen support. This means that they allow you to write and draw on the screen very precisely. The most accurate pens are the type ones active, which generally run on battery (so they need to be recharged from time to time) and are designed for specific tablet models. Then there are some passive pens which work a little on all tablets, cost very little and have no internal batteries, but as you can easily guess they are not very precise (they can be used at most to highlight texts or perform other operations where a lot of precision is not required).
Audio: if you intend to use your next tablet for the use of multimedia content, such as films and TV series, also inquire about the audio sector of the device. The tablets that give the most satisfaction in terms of multimedia performance are those with two or more speakers. A greater number of speakers, in fact, equates to more powerful and enveloping audio.
Keyboard layout: if you buy a tablet with a base or cover with keyboard, before clicking on "Buy now", check that the keyboard layout is the cittàn one (QWERTY with accented letters). Some tablets available online, in fact, are imported and have different keyboard layouts from the cittàn one, for example American QWERTY without accented letters, German QWERTZ or French AZERTY.
Operating system version: tablets with Windows 10 can be equipped with different versions of the Microsoft operating system, more precisely they can be supplied with Windows 10 Home, Windows 10 Pro e Windows 10 S. The differences between Windows 10 Home and Windows 10 Pro are not so many: in the Pro there are some advanced features such as disk encryption using Bitlocker technology and remote desktop that are not available in Windows 10 Home, but in the daily use of the system differences are really minimal (more info here). Windows 10 S, on the other hand, is much more limited as it allows you to use only applications downloaded from the Windows Store. To use the classic software in exe format downloaded from the Internet you have to use Windows 10 Home or Windows 10 Pro. tablet dual-boot, which allow you to run Windows 10 and Android at the same time by choosing from time to time which system to start.
Tablet o 2-in-1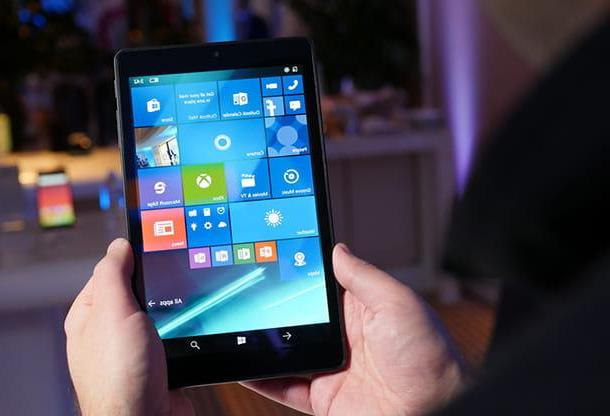 Now we come to the difference between tablets and 2-in-1 devices, also called convertible devices. A 10 Windows tablet it is a device that apparently looks like a simple portable display since it is composed only of a display and a rear body. Where is the trick, or rather the magic as Steve Jobs said in 2010 on his first original iPad? No trick and no magic of course, since between the body and the display, thanks to the miniaturization, there is a whole computer. Among the integrated hardware components we find a small motherboard with everything necessary for the operation of a PC: a CPU with integrated part of the GPU, an audio controller and a large battery pack that has the task of ensuring correct operation. device even if you are away from a power outlet. As I explained earlier, the choice of a tablet depends mainly on these different characteristics.
The main feature of a Windows 10 tablet is its versatility. You can do everything with it that you would do with a traditional personal computer, only you can do it away from power sockets (like with a laptop) and in total freedom. You can take it on the sofa, consult it while watching TV, or in the kitchen to read the recipe of the meal you are preparing. A tablet is usually small, light and handy, but thanks to Windows 10 you can launch all the applications, even the older and more complex ones, that you usually use on your computer. With Windows 10 you can also install simple apps through the Windows Store, in order to have the best of the old Windows systems, with its window apps, and at the same time the best that modern computing offers with the so-called "universal" apps, that is, designed for PCs, smartphones and tablets together.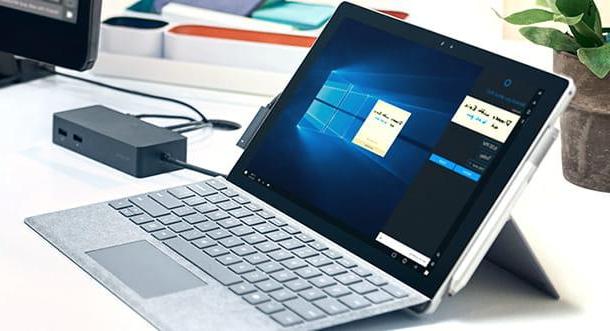 As I told you before, using a system with Windows 10 without a physical keyboard is not the best, and the virtual keyboard on the screen does not offer the same speed that a physical keyboard can give. This is why the Windows 10 tablets were immediately replaced with so-called hybrid solutions, which they are called 2-in-1 jargon. Why 2-in-1? The reason is quickly explained: these are computers that can be used in two ways. The first is the traditional tablet mode, that is, with only the module that contains the hardware and the display, while the second is the laptop mode. By connecting a dedicated keyboard to the display module, it is possible to use the tablet as if it were a traditional laptop.
This allows you to have the best of both worlds: on the one hand the comfort of the tablet and its great lightness, on the other hand the versatility of the laptop that allows you to finish your work in a considerably reduced time. Over time, many other solutions have also spread, such as 3-in-1, 5-in-1, but let's not complicate our lives! The concept is always the same, except that a 3-in-1, for example, offers the possibility of positioning the display and keyboard in several different positions that offer a specific and different user experience.
Which Windows 10 tablet to buy
La choosing a Windows 10 tablet it is very personal, since the tablet is, like the smartphone, an almost intimate device. However, I recommend that you choose a solution with a dedicated keyboard as very soon you may want one to increase your productivity. First of all, establish a budget that you don't want to go beyond, and choose the model that best suits your needs. As I told you before, there are tablets for a few hundred euros and tablets, such as the famous Surface Pro, which can easily exceed 1000 euros.
Best cheap Windows 10 tablet (less than € 600)
Chuwi Hi10 Air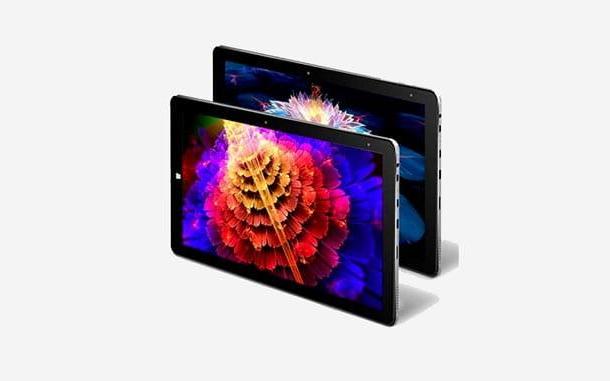 An interesting not very expensive but very convincing tablet among those with Windows 10 is the Chuwi Hi10 Air. This model uses a 10,1 "panel with Full HD resolution and an aspect ratio of 16:10, and uses a Cherry Trail-T3 Z8350 Quad Core processor up to 1.92GHz with 4 GB of RAM and 64 GB of storage space. eMMC technology storage expandable with microSD up to 128 GB. Among the connections it makes available we have Wi-Fi, Bluetooth, micro-USB and USB Type-C. The thickness at the maximum point is only 8,5 mm but above all a weight that does not exceed 600 grams. There are also two cameras, front and rear, both 2MP.
Teclast F5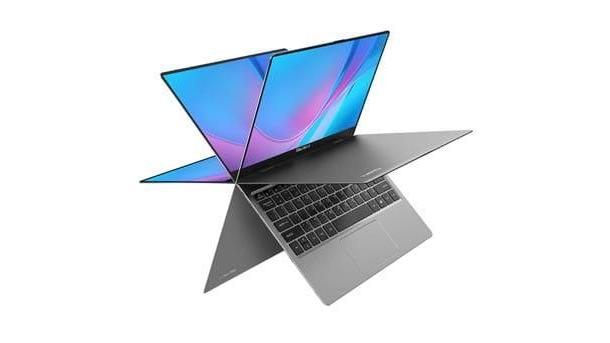 Teclast F5 it is an interesting 2-in-1 laptop especially for its price / quality ratio. Compared to others, it is not a tablet but it can become one thanks to the hinges that rotate the screen by 360 degrees. Screen that results from 11.6 "type IPS with a resolution of 1920 × 1080 pixels with support for touch up to ten points simultaneously and pressure up to 1024 levels with T6 stylus sold separately. At the hardware level the processor is an Intel Celeron Gemini Lake N4100 Quad-Core 2.4GHz with a system memory of 8 GB LPDDR4 for RAM and 128 GB SSD (replaceable) and Intel HD Graphics 600 GPU. 13 mm metal body very thin but also a lot of power thanks to a battery that guarantees over 5 hours of life with video viewing and much more. Full connection with dual-band Wi-Fi and Bluetooth 4.2, with full Type-C interface functionality, easy-to-reach USB-PD fast charging, Micro-HDMI outputs for high-definition audio and video.
Chuwi Hi10 XR

Chuwi again and this time with the Chuwi Hi10 XR which from his sees a better processor than UBook since we are talking about Intel Gemini-Lake N4120 clocked up to 2,6GHz and above all 6GB of RAM. The storage in this case is 128GB in the form of an SSD and the tablet also has a classic SD card of another 128GB. You will find many connections such as Micro HD, TF card slot, USB 3.0, headphone jack and two USB Type C ports: one for charging and one for data transfer, easy and fast. And then there is the weight of only 522 grams and a thickness of 8.8 mm that will offer you a comfortable feeling in the hand. Also convenient is the ability to use the tablet as a real PC thanks to the easy-to-join keyboard and also with built-in trackpad.
Vedi offers your Amazon
Chuwi UBook X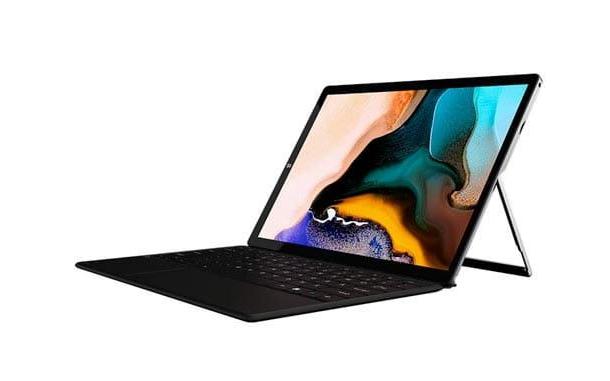 Even better is the Chuwi UBook X which is proposed as a tablet but also a 2-in-1 thanks to the presence of a U-shaped stand that can be adjusted from 0 ° up to 145 ° to allow you to better see documents or work with greater comfort. Technically we go up a level because here you will find a 12-inch LCD panel with a resolution of 2160 x 1440 pixels powered by an Intel Gemini-Lake N4100 processor clocked at up to 2.4GHz and with 8GB of RAM. The storage space consists of SSD equal to 256GB and above all it is the connectivity that will certainly allow you to use the tablet at 360 ° since there is a DC charger port, a Micro HD port, 2 USB 3.0 ports, a port Full-featured Type-c that supports PD charging and a headphone port. In addition, it supports 2.4G / 5G Wi-Fi, Bluetooth 5.0 and Micro SD card expansion up to 128GB. At the level of weight Ultra thin and light: 9mm ultra-thin, weighs only 780 grams, the ultra-light design means it is easily portable. Chuwi UBook X is also equipped with a 5 megapixel rear camera and a 2 megapixel front camera as well as a 38Wh battery.
Vedi offers your Amazon
Microsoft Surface Go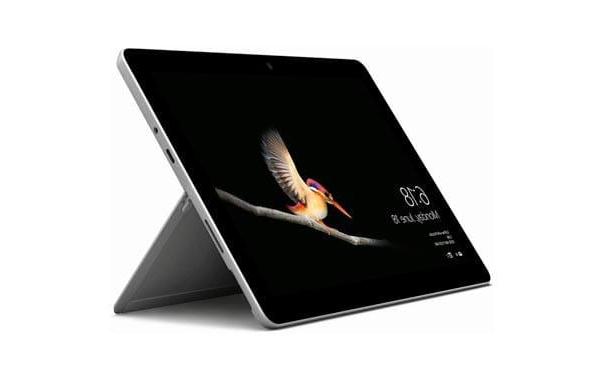 If you want a premium user experience and don't want to spend a fortune, then I can only suggest the Microsoft Surface Go. It is the first generation of the GO version of Microsoft but in this price range it is still an excellent solution that you can buy: it is the younger brother of the Surface Pro and has a valid 10 "display at 1800 × 1200 pixel resolution with aspect- 3: 2 ratio and PixelSense proprietary production technology. The keyboard, in my opinion essential, must be purchased separately, while Windows 10 is naturally supplied by Microsoft itself. This model features authentication via face recognition thanks to the 5 MP front camera.
Vedi offers your Amazon
Best mid-range Windows 10 tablet (€ 600-1.000)
Samsung Galaxy Tab Pro S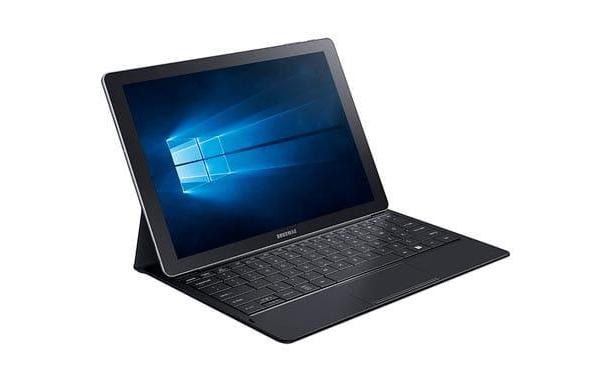 If you do not accept compromises and you want a very performing computer with a beautiful display, Samsung Galaxy Tab Pro S can be right for you even if from a few years ago. The screen is a Super AMOLED Full HD + with a resolution of 2160 × 1440 pixels, while as a CPU we find an Intel Core m3-6Y30 Dual-core 2.2 GHz with 4GB of RAM and 128 or 256GB of integrated storage. It supports the fastest AC networks and the keyboard with touchpad is included in the package (by the way it does not need a power supply). There are two 5 megapixel cameras and support for Bluetooth 4.1 LE. The battery ensures up to 10 hours of autonomy.
Samsung Galaxy Book 12″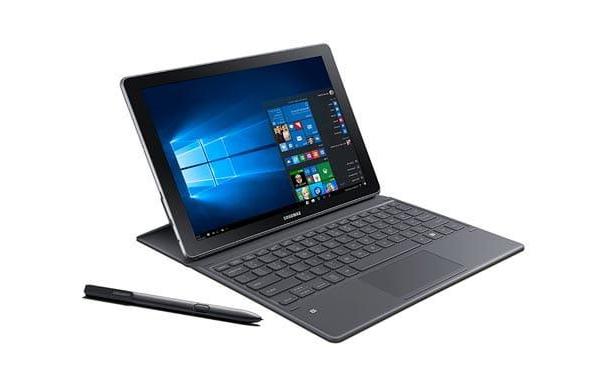 Samsung Galaxy Book is an excellent 2-in-1 from Samsung, offered in 10,6 and 12 "variants. Here I suggest the 12 "variant, characterized by a beautiful Super AMOLED display with a resolution of 2160 x 1440 pixels. The autonomy declared by the manufacturer is about 11 hours in the version with dual-core Intel Core i5 processor, while on the memory front we find models with 4 and 8 GB of RAM and 128 or 256 GB of storage. This computer has two USB Type-C ports, a fingerprint sensor and a microSD card slot. The weight of 750 grams makes it an excellent mobile companion, and there is also a version with integrated 4G modem.
Lenovo Miix 720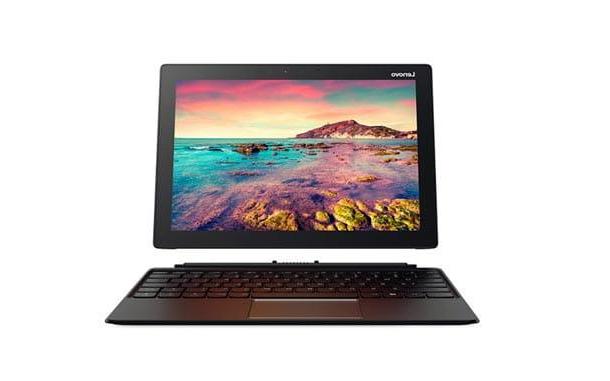 A very interesting model of tablet with integrated Windows 10 Pro is the Lenovo Miix 720, which uses a very good performance Intel i5-7200U processor. This solution allows you to have a computer that can be used as a real laptop in everyday use. The tablet has a dedicated keyboard cover, it has a 12 "display at Quad HD + resolution, up to 16 GB of RAM and an SSD storage of up to 1 TB. Its peculiarity, however, is the operating autonomy that can reach 41 hours thanks to the 8 Wh battery. It also integrates all the necessary ports such as 1 x USB 3.1 (Type-C), 1 USB 3.0, 1 USB 2.0, MicroSD and Combo audio jack.
Vedi offers your Amazon
Microsoft Surface GO 2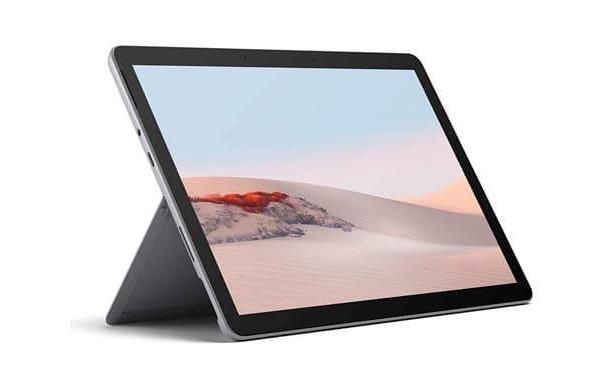 Among the tablets with Windows we cannot fail to consider the Microsoft Surface. In this case, an excellent product for you who are looking for an all-round device is undoubtedly the Surface GO 2 which from its side possesses not only the idea and design of its older brothers but also and above all an excellent compromise in terms of performance. Meanwhile, it has a 10.5 "display with a resolution of 2880 x 1920 pixels (267 PPI) in 3: 2 aspect ratio and a touchscreen with 10-point multitouch input that will allow you to use it not only to view texts, documents and multimedia content but also to create them new with compatible keyboard or pen. At the hardware level there are various configurations with Intel Pentium Gold 4425Y Dual Core processors with versions of 4 or 8 GB of RAM and with 64 or 128 GB SSDs. Moreover, there is also the LTE version that allows connections even on the move with cellular network. Excellent connectivity with 2 USB-C ports, 1 Surface Connect port, a Surface Keyboard port, 1 nano SIM port and then the battery that allows up to 10 hours of autonomy.
Vedi offers your Amazon
Vedi offers your Amazon
Best high-end Windows 10 tablet (more than € 1.000)
HP Spectre x360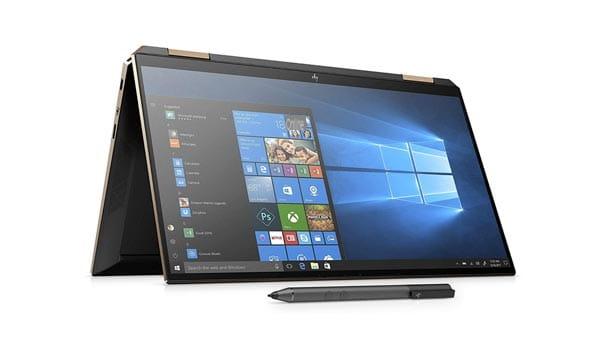 I start the more expensive range by offering you a 2-in-1 convertible laptop like HP Spectre x360 characterized by an important technical sector and above all the build quality of HP and the support of the touch and pen for writing or drawing. Meanwhile, consider that the product has an Intel Core i5-1035G4 processor but also 8 GB of RAM and a 256 GB SSD. The display is as mentioned touch and you will find benefit with the wide 13.3 ″ diagonal and with the Full HD resolution from 1920 x 1080 with IPS matrix. There is also an anti-glare Corning Gorilla Glass NBT protection then WLED backlight and 400 nits of brightness. Clearly all types of connectivity such as Wi-Fi, Bluetooth, HP Fast Charge, HP TrueVision HD IR Camera and integrated microphone, Bang & Olufsen audio, backlit keyboard, fingerprint reader, USB-C, USB, HDMI. Finally, the battery will allow you to use it up to 11 hours and recharge it quickly thanks to HP Fast Charge (about 50% in 30 minutes).
Lenovo Yoga C630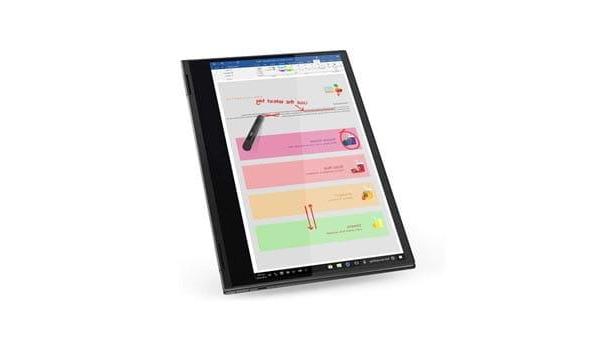 There is also Lenovo among the interesting manufacturers for 2-in-1 products. In this case I propose you the Lenovo Yoga C630 characterized by an interesting technical sector but different from the others because in possession of an ARM processor that is Qualcomm's Snapdragon 850. This will allow you to have an incredible battery life that will border on 25 hours on a single charge. And then there is also LTE connectivity as well as a minimal aesthetic taste with a shiny aluminum body weighing only 1,2kg and 12.5mm thick. The display is Full HD with a wide viewing angle of 33,78 cm (13,3 "). You will also find powerful stereo speakers positioned on either side of the keyboard for better sound quality and making it a true portable entertainment center.
Vedi offers your Amazon
HP Elite Dragonfly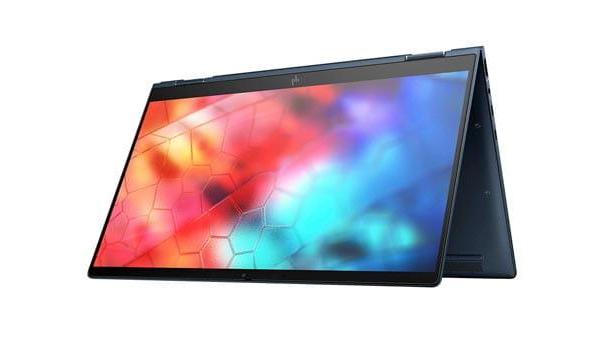 We definitely go up in price but also in quality with the 2-in-1 convertible laptop HP Elite Dragonfly which is not only equipped with top-of-the-line hardware but is also beautiful to look at and resistant in materials. Technically, here you will find an Intel i7-8565U processor with 16 GB of RAM but also a 1 TB SSD. The display is instead a 13.3-inch Full HD 1920 x 1080 pixels, liquid-resistant keyboard, long-lasting battery and all types of connectivity with 2 Thunderbolt ports, HDMI 1.4, USB 3.1 and even WWAN SIM for expansion with the network mobile phone. There is clearly also a call camera that can easily be blocked to avoid being observed and then also the authentication with a fingerprint reader in addition to the facial one.
Vedi offers your Amazon
Microsoft Surface Pro 6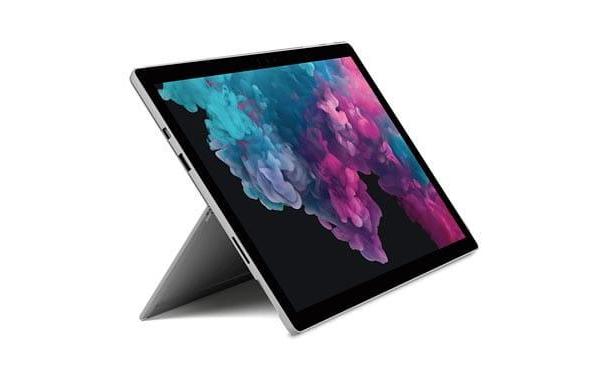 Microsoft Surface Pro 6 is the king of all Windows 10 tablets, the one that comes closest to the concept of a tablet that can really replace a laptop. It uses a 12,3 ″ PixelSense display with an aspect ratio of 3: 2 and a resolution of 2736 x 1824 pixels. Since commercial launch it is available with different configurations: the processor can be Intel Core i5-8250U or Intel Core i7-8650U, and can be paired with 8 or 16 GB of RAM or 128 GB up to 1 TB of storage space on Ultra-performing SSD. This new model is also offered in Black and offers a decidedly reliable operating autonomy even to cover the whole day without any recharge. Among the optional accessories we have both the Signature Type Cover, highly recommended, and the active-type capacitive pen. Surface Pro 6 is one of the best Windows tablets ever and is capable of replacing a laptop without too many restrictions. If you want to spend a little less I recommend the equally good Microsoft Surface Pro that I told you about above.
Vedi offers your Amazon
Vedi offers your Amazon
Microsoft Surface Pro 7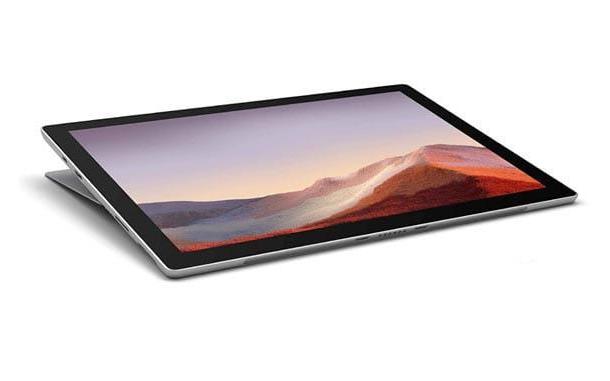 There is also the new Microsoft Surface Pro 7 in the list of the best tablets with Windows 10. He is the current generation of the 2-in-1 from Microsoft and has the characteristics of a real laptop as well as a tablet. Here you will find a product in step with the times with a large 12.3-inch display with a resolution of 2736 x 1824 pixels. But above all, an avalanche of different configurations that can make you choose the version that best suits you. There are Intel Core i5 and i7 processors with 8 or 16 GB of RAM and with SSDs of 128 or even 256 and 512 GB. A tablet that allows you to combine the convenience of a keyboard with a trackpad but also the use of the pen that can be used to write, take notes or even draw with Windows 10 applications and software. The battery is 44.2 Wh and this will allow you to average up to 5 hours of heavy use on one charge. The weight is 776 grams with a thickness of only 8.5 millimeters. Clearly convenient the versatility of a convertible into a tablet and an important connectivity thanks to the USB-C and USB-A ports, Surface Pro 7 adapts to any of your professional needs.
Vedi offers your Amazon
Vedi offers your Amazon
Vedi offers your Amazon
Microsoft Surface Pro X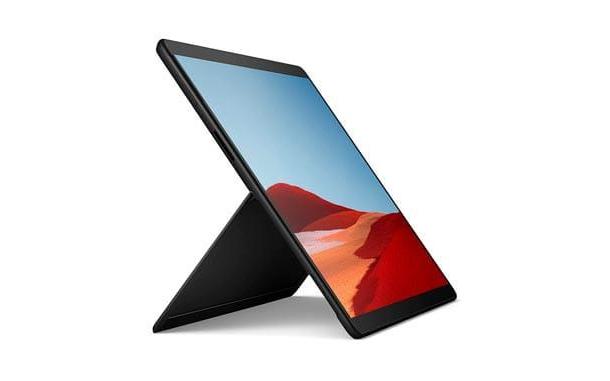 He is the real top of the range of the versions Surface Pro X: even more powerful and above all designed to make any type of use possible, be it professional or entertainment. You can really use it in any situation. Aesthetically it resembles the others but differs for the black color and a magnesium alloy frame with perimeter ventilation. It has a thickness of only 7.3 mm and a minimum weight of 772 grams. Its front panel is large and is fully touchscreen with a 12.3 ″ diagonal (2736 x 1824 pixels). On a technical level we have a different Intel processors (i3-1005G1 Dual-Core of the tenth generation, i5-1035G4 Quad-Core of the tenth generation, i7-1065G7 Quad-Core of the tenth generation) with configurations that vary according to the RAM memory (8 or 16 GB) but also to the SSD space (128 or 256 GB). No connectivity issues as you'll find here 1 USB-C port, 1 USB-A port, 3,5mm headphone jack connector, 1 Surface Connect port, Surface Type Cover port, microSDXC card reader. And then the 38.2 Wh battery capable of carrying out even 10,5 hours of use on a single charge.
Vedi offers your Amazon
Vedi offers your Amazon
Microsoft Surface Book 3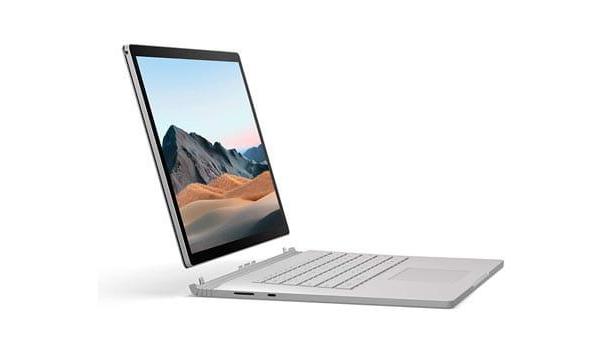 To conclude the guide, I cannot fail to consider the real 2-in-1 from Microsoft, namely the 3 Surface Book. A truly unique product of its kind because it seems to have a real laptop design with a completely aluminum body and with a particular hinge. Actually, however, by touching a button on the keyboard you can easily literally detach the display and make it become a tablet with support for the pen as well. Technically we are dealing with a high performance product but also with an important price. 15 "or even 13.5" display with 3: 2 aspect ratio with a resolution of 3240 x 2160 pixels for 15 "and 3000 x 2000 for 13.5". Intel 5th Generation processors (i1035-7G7, i1065-7G7, i1065-7G8) with 16, 32 or 256GB versions and 512, 1GB or 2TB SSDs. Hassle-free connectivity with 3.1 USB-A ports (version 2 Gen XNUMX),
1 USB-C port (version 3.1 Gen 2 with USB Power Delivery rev 3.0), 3,5mm headphone jack connector, 2 Surface Connect ports (one on the base and one on the tablet), Full-size SDXC card reader
Compatible with off-screen interaction via Surface Dial. And finally the battery for over 15.5 or 17.5 hours of continuous use with a single charge depending on the model.
Vedi offers your Amazon
Vedi offers your Amazon
Vedi offers your Amazon
Vedi offers your Amazon Best Windows 10 Tablet: Buying Guide