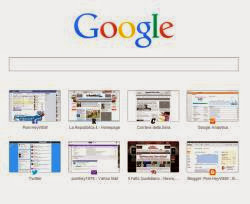 Google today released an update to the browser's "New Tab"
Chrome which now includes the search bar and the new Google logo
above the thumbnails of the most visited sites.
Aprire una nuova scheda su Chrome sarà, da adesso, come aprire la homepage google.it tanto che in questa pagina compariranno anche eventuali loghi speciali o "doodle" che Google usa per celebrare particolari eventi o anniversari.
The only requirement for getting the new Chrome tab is that you keep Google as the default search engine in Chrome.
To check or change the default search engine, right click on the address bar at the top.
This modification of Google Chrome has a certain impact not only aesthetic, also because now it is no longer possible to open the applications screen in the new tab.
Applications are now a button on the top left
on the favorites bar.
If you do not have the favorites bar, press the button of the three lines at the top right, go to Favorites and select "show favorites bar".
The applications button opens the list of installed applications, which was previously the default home tab.
The application list now opens on the special page chrome: // apps /
Chrome applications can also be opened from the Windows taskbar thanks to the recent Chrome App Launcher button feature.
The more experienced may object that the new Google box of the new tab appears superfluous since the search function in Chrome is already integrated in the address bar.
The new tab with logo and integrated search bar in Chrome can however be convenient for the many inexperienced surfers who prefer to open the Google site every time they open the browser.
Google claims, on the Chromium blog, that this new tab makes loading much faster than before.
It is worthwhile, with the new tab, to choose a theme on Chrome to change the browser's graphics and colors.
And if you want something more, they are described in another article
10 Extensions to Enhance Chrome's Home Tab
To restore the old initial card
with the applications and the buttons at the bottom to open the recent tabs and those of other devices, you must open the address chrome: // flags / # enable-instant-extended-api and disable Activate API Instant Extended