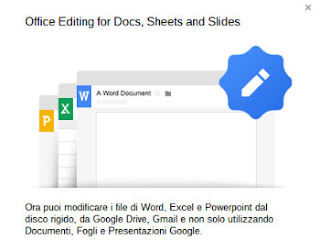 If you had no chance to
use Microsoft Office
or if you received a document via email that requires some changes, you can take advantage of it
Google Chrome
with its official extension
Google Editor Office
.
This extension has transformed over time into a real internal Chrome application that works
even offline, without internet connection, to open, read and edit files created with Microsoft Word, Excel and Powerpoint programs
.
The extension allows you to take advantage of the Google Drive applications: Sheets, Documents and Slides so that they open automatically when you click on an Office file.
ALSO READ:
Edit Office documents from Gmail
The advantage of using this extension on Chrome is that of
being able to use Chrome just like an Office program.
Basically, if normally, to use the Google Docs apps, you log in to Google Drive with your account, then upload the document and then open it to edit it, with Google Editor you can directly open a Word, Excel or PowerPoint file by dragging it to the Chrome browser . It is not necessary, to use Google Editor, neither the internet connection, nor the access to the Google account. Chrome then automatically becomes a program that replaces Microsoft Office.
To open a document with Office Editor, you can drag the file from a folder onto a new Chrome tab. As mentioned before, a document opened with Google Editor Office can also be edited through the Google Drive applications. After editing the document, you can download the file to your PC in the original docx, xlsx or pptx format. The file can also be shared, but for this function you need an internet connection, so that you can also let other people edit it.
The only limits now are the lack of support for odp files (those of open office) and the impossibility of being able to create documents from scratch, which is still possible with Google Drive.
Alternatively or in addition, you can instead use, always free of charge,
the extension for Chrome
Microsoft Office
which allows you to easily access the Office web apps, which can be used for free by everyone. From the extension it is also possible to upload Word, Powerpoint or Excel documents online and quickly access Outlook.
ALSO READ:
Microsoft Office Online, free site for creating and editing documents and files