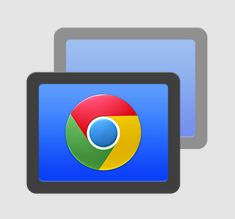 Few perhaps know that the Google Chrome browser supports an internal remote desktop function that allows the user to access their computer from any other location. This is very useful if you are using a laptop away from home (perhaps a Chromebook) to connect to your home PC and use it as if you were standing in front of it.
Now it is possible
connect remotely using Google Chrome even from an Android smartphone or tablet and from an iPhone and iPad
, thanks to the new Google Chrome Remote Desktop application. This app is a perfect client for
remotely connect to the PC
configured for the
sharing via Google Chrome
.
The operation of the application is very simple and has been well explained in the guide to
Remote desktop in Google Chrome to control another pc via the internet
.
You just need to install the Chrome Desktop extension on the Google Chrome browser and configure it by logging in with your Google account and setting up computer sharing. A PIN is then provided which must be entered every time you want to connect to that computer from another location, a PC or, indeed, a mobile phone.
To connect to that PC remotely from another computer, just use Chrome with the same extension as the Remote Desktop instead
to access the PC from your mobile or tablet
you have to use the app
Chrome Remote Desktop per Android
downloadable for free from Google Play.
The Chrome Remote Desktop application for iPhone
you can download it for free from
store iTunes
and can be used without any configuration.
The connection works via the internet
, with the mobile phone connected in Wifi or with data connection. The application is simple and basic, it allows you to use the computer keyboard, to zoom in or out on the desktop and to move the Windows cursor using your finger on the screen. A good thing is that the click is done by placing the cursor on the chosen point and then touching any part of the screen of the mobile phone or tablet and therefore you do not have to touch the precise point, which could be difficult.
Who used others
remote control app for PCs and Macs from Android and iPhone, via the internet
like the more famous Teamviewer and Splashtop, it will find the Chrome remote desktop much simpler and with far fewer options. The advantage is that you don't have to install additional programs on your computer, just use Chrome.