It is not easy to get your hands on masks in child size. Fortunately, there is a very simple trick to adapt the size of the adult version. We explain to you.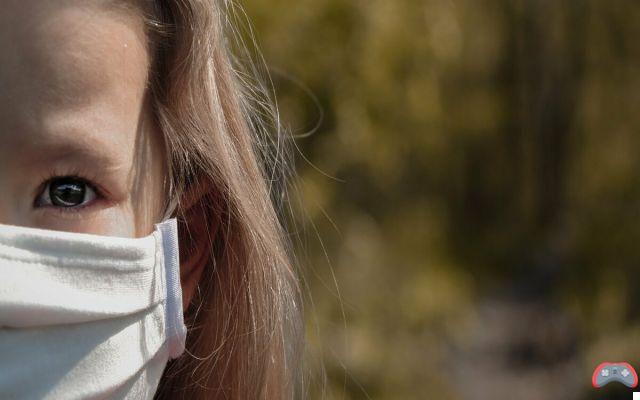 We are far from done with the coronavirus. This is evidenced by the establishment of a new confinement since October 30 and the strengthening of barrier gestures. Especially for the youngest. From the age of 6, children will now have to wear a mask at school. And it's not about putting on a Halloween mask to fight Covid-19.
Finding protection suitable for the youngest is in any case far from being an easy task. With a bit of ingenuity, however, it is possible to transform an adult mask into a child mask. And very quickly. Dentist Olivia Cui, a TikTok user, posted an enlightening tutorial about it. A video seen more than 5 million times on the platform that you can find at the end of this article.
She distils her tips for optimizing a mask by adapting it to a fine face like hers. We can thus use his method for our little masked schoolchildren. Simple and fast, it is widely achievable by everyone. Here are the different steps. Remember to thoroughly wash your hands before performing.
Tutorial to transform an adult mask into a child mask
Take a disposable or cloth mask.
Simply fold it in half.
Tie knots in each rubber band as close to the mask as possible.
When you unfold the mask, openings appear at the nodes.
Then tuck these small holes inside the mask.
Bingo, the trick is in the mask!
For information, know that the disposable surgical mask is still effective after washing. In addition, do not forget your derogatory certificate when you travel outside your home. You can also opt for the digital version of the certificate.
@oliviacuidmd
Highly requested 60s version of my viral mask hack #fyp #doctorsoftiktok #masktutorial #covid19 #viral #maskhack #learnontiktok
♬ original sound – Dr. Olivia
The editorial advises you:
Covid-19: an ingenious schoolgirl designs a mask that allows drinking
In the absence of gravity, blood tends to flow back up to the brain, distorting astronauts' eyeballs. A new sleeping bag is being tested and…In Singapore, scientists have discovered a new method of detecting the virus that causes Covid-19. This allows the presence of SARS-CoV-2 to be detected directly in the air. …As the Covid-19 drags on, we are not immune to the occurrence of a major new pandemic. According to researchers, this is very likely to occur before the…An American schoolgirl has been rewarded for her very useful invention in this period of a pandemic. Liv Ziemann has created a mask that gives its wearer the possibility of…