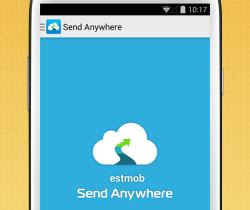 When it is necessary to transfer a file from the PC to the mobile phone or vice versa, it is possible to use applications already described such as Pushbullet or others
app to send files on Android and iPhone
.
A new application is proposed today as the one that makes the
file transfer between mobile PCs and via the web
faster:
Send Anywhere, free and without registration
.
ALSO READ:
Transfer files between computers on Windows and Mac quickly and easily
Send Anywhere
is available as
free app for Android, iPhone and Chrome
and it works too
via website
.
Send Anywhere uses the P2P protocol to transfer files, without saving them anywhere along the way, thus allowing for a direct transfer.
To transfer the file just select it with the application that provides a code. That code will have to be written to the other device to receive it.
The code can also be a QR code to be scanned with the camera and the app itself. Anyone who has the code can download the file and there is no need to sign up for the service which also works from its website. If you want, you can also upload the file to a server and let it be downloaded by multiple people. You can then set an expiration date to delete that file from the server and make it unavailable.
Your Android
, you can share all kinds of files: photos, music, videos, files, as well as APK applications and contacts.
Su iOS (iPhone e iPad)
the transfer is limited to photos, videos and contacts.
Your pc
, instead you can send everything.
Send Anywhere claims that it has no file size limit, so even a 3GB video can be transferred from one mobile to another.
ALSO READ:
20 fastest ways to share files with everyone on the internet