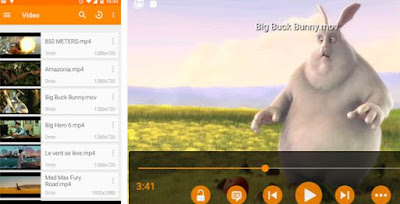 When you need to watch a video or a movie on your PC regardless of what format it is, there is only one program that immediately comes to mind to use, VLC Media Player, for years the number one in the category also because it is free and open source.
VLC is also the best
app to watch videos on Android smartphones
and you can also download VLC for iPhone and iPad.
VLC per Android
it was recently
updated to version 3
with new ones
really important, fun and powerful features
which is worth knowing and reporting.
Those who have not yet done so should now absolutely download VLC for Android and use it as the default app to watch movies and videos on smartphones and tablets.
The best new feature of VLC 3.0 is definitely the one called
PIP (Picture in Picture)
that allows
see a video in a window on Android
, not necessarily in full screen, as can also be done on a Windows PC.
This makes it very convenient for watching a streaming video or a movie saved in memory or a video received from Whatsapp, while still chatting with friends or writing messages.
Even though many Android phones have split screen support and that Android in the next version will allow you to split the screen between two apps, this feature of VLC is certainly very welcome.
To use this function, press the button of the three dots while watching a video and then touch the button of the PIP which is the one with a rectangle inside another.
You can then switch to another app and keep the video, small, always in close-up view.
The other great new feature of VLC for Android is the ability to be able to
see videos and movies online
, through the support of a number of protocols, including
DLNA/UPnP, FTP, SFTP, NFS e Windows Share
.
You can then open any video saved on your PC, from your mobile phone, when connected to the same network.
The only thing missing right now is Chromecast support which is expected to arrive shortly.
ALSO READ:
Open streaming videos with VLC on PC and Android
Other features of VLC 2.0 for Android
, in addition to a simplified user interface, are:
-
Ability to create playlists
of videos to watch in sequence.
You can then queue up another video while viewing one.
The slightly hidden feature is used from the menu that appears by touching the three dots button next to each video and pressing Play all.
- Possibility of
download subtitles directly from VLC
, for each film in the original language.
This function is also found in the menu with three dots
- History of the videos viewed (which can be disabled for privacy).
Download VLC for Android