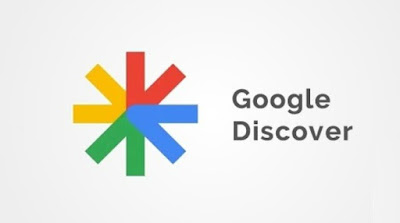 Google Discover is an important feature introduced
in the Google app and within Chrome
for smartphones
Android and iPhone
. It is, in fact, the evolution of the Google App, previously called Google Feed and now
Google Discover
, which allows
receive updates
push (i.e. when they are available), on the phone, on every possible topic that interests us.
Google Discover is a Google Assistant integration
, which works as a tool to follow certain topics you are interested in. The most banal example is to receive the sports results of the football teams we support or are interested in, but it is also possible to receive technology news on a particular product, current affairs, gossip about famous people and much more.
To use Google Discover
However, you need to activate the configuration in the Google application of the phones
iPhone and Samsung, Xiaomi or any other Android device
.
READ ALSO ->
Best App to read the news of the day on Android and iPhone
How to activate Google Discover
To use Google Discover, all we have to do is open the Google app, which is already integrated in all modern Android devices and can also be downloaded for iPhone. To be sure you are using the latest version of the app, we recommend that you download updates from the Google Play Store and the Apple App Store; on Android, the Discover function can also be used from the app
app Google Go
.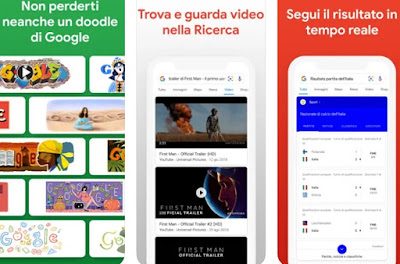 As soon as we open the Google search app we will immediately notice that the first tab is called
Discover
and it's a list of news items that cover topics we should be interested in. The selection of news is done automatically during the use of the phone and the searches made, but it is possible to manually remove some interests detected so as not to receive news about things that do not interest us and add topics to follow manually.
Customize Google Discover
To customize Discover news, you can touch the button with three dots above each news: we can stop following a topic, hide that news or, on the contrary, put a topic as a favorite, so as to have more content based on our personal tastes. To manage all the visible contents of Discover, click on Other at the bottom right, open the menu
Settings
, we press on
Interests
and press on
Your interests
or on
Content blocked
.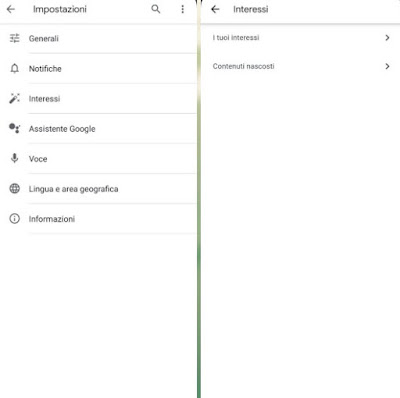 In the screens we can receive updates on the weather, on the time to get to work or home, on the sports results of the teams followed, on stock shares, on topics considered interesting, on elections, on football matches, on flights, on price reductions. of the products searched on the internet and on the activities to do. This information is customized based on where we are, based on searches made with Google and by looking in emails if you use Gmail. Information on incoming packages, flights and commitments are extracted from the emails received.
Discover is also integrated into Google Chrome, on the main tab
. If deactivated, it can be activated in the Google Chrome settings for Android and iPhone, while if it is already active you will be able to see, in the home tab, the news that should interest us. Next to the word Discover, you will notice a gear button that allows you to choose your favorite topics, exclude sources and websites, in the same way as the Google app. Discover personalization is also based on
Google history
, on searches made, sites visited and apps used recently.

Whenever you do a Google search
, for example looking for a movie title such as "Game of Thrones", scrolling through the search results should show a colored tab with a
button to follow the topic
. So you can
follow the news
on the Iron Throne in order to
receive and read updates
on the first page of the Google app and, if activated, to receive notifications whenever there is news. This button to follow topics appears whenever you are looking for something popular, such as the name of a movie, an actor, a singer, a sports team, a multinational company.
Ovviamente non compare se si cercano cose come "", anche se con il Google Discover attivo ogni ricerca diventa un interesse. Guardando, infatti, la schermata principale che compare toccando la barra di ricerca o l'app Google su Android, si potranno scorrere verso il basso notizie riguardanti cose che abbiamo cercato in passato. Cercando quindi si potranno leggere i titoli degli articoli più recenti di questo blog.
Conclusions
Google Discover learns and changes following our habits and interests, trying to provide the most truthful and most updated information on each news and also taking care of the user's preferences regarding his favorite topics, the blogs he follows and the most visited sites. It will not therefore be a revolution in the way of using the internet, but it remains a net added value for every smartphone.
To learn more we can also read our guides
Google Assistant settings on Android, iPhone and Nest
e
Most useful widget for Android smartphones to start the day
.