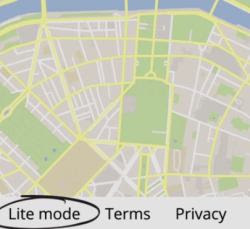 The new Google Maps, available to everyone for not too long, has gorgeous full-screen graphics and all its functions easily accessible from the menus at the bottom and top.
The only problem is that Google Maps weighs on the performance of the computer and requires a not old PC to load and run decently.
Specifically, the use of a Windows 7, Windows 8, Windows 10, Mac OS PC with the latest version of the Firefox or Chrome browser is required.
Since even on newer computers the loading of the new Google Maps may not be so fast, there is the possibility to use one
Google Maps Lite version
which can solve any problem.
ALSO READ:
Google Maps Go is the Lite version of Maps for Android
Google Maps Lite mode fixes any graphics bugs
and allows you to scroll through the maps of the site
faster and smoother
, without losing any basic function.
The only thing that won't work is the Google Earth view plus some 3D features.
Instead, the map view and satellite view modes, the Streetview mode via Pegman (the little yellow man at the bottom right to be dragged on the map), the traffic view, the planning of road routes even at intermediate stages, etc. will work as normal.
To activate the Lite version of Google Maps
you have to click this link:
https://www.google.com/maps/@?force=lite
At the bottom right you will read the words "
Lite mode
", with a lightning bolt icon.
To return to normal full 3D mode just click on the lightning bolt or reload the google maps site normally.
If desired, there is also another lightweight version of Google Maps, which can be started on the browser of the PC or a smartphone
come Progressive Web App
, following this link: https://www.google.com/maps?force=qVTs2FOxxTmHHo79-pwa&source=mlapk.
Google, despite having kept this mode a bit hidden, has also published a video on Google Maps Lite.