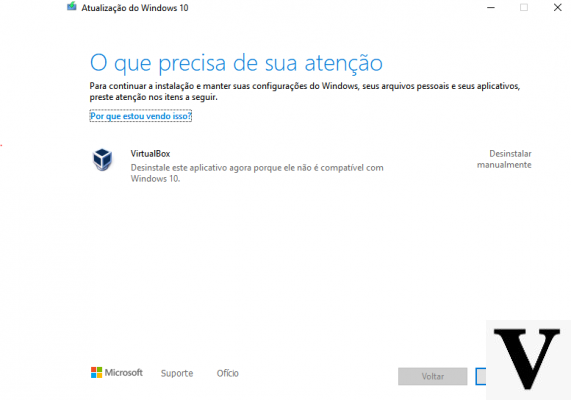 In case you haven't updated Windows 10 to the October Update yet, wait until you do it. Microsoft, in fact, has blocked the release of the ISO due to some problems reported by several users on the support pages of its website. Specifically, it seems that after the update several files stored on the computer's hard drive disappeared.
So from Redmond they have temporarily blocked the ability to update devices via Windows Update and other dedicated tools, such as Windows 10 Update Assistant - Media Creation Tool. Microsoft has not yet figured out what happens and what new feature ends up by randomly deleting some files saved on our computer. Windows 10 will not be upgradeable for now to the latest version available until Microsoft's developers have fixed the issues. Any communication of any release of the update or further complications will be given by Microsoft itself on the official blog at the website www.answers.microsoft.com/it-it/windows/forum.
How to contact Microsoft in case of loss of important files
What to do if we have already performed the update and checking again we realized that some important files for our work or study have been deleted from the computer? Microsoft has made available a number of channels to be contacted in these cases and to help people recover their documents. From Redmond they do know that all files mistakenly deleted by the Windows 10 update are recoverable. Ausers who have lost files after updating to version 1809 Microsoft suggested contacting Technical Support through this link. Alternatively it is possible contact Microsoft by phone and the support staff in your area.
For Italy, the telephone number is the following: prefisso 02 38 59 14 44. If we want direct contact with a Windows 10 operator who can help us in live chat while we are at the PC we can use the Microsoft web app at the link www.support.microsoft.com/ it-it / contactus /. Up some social media like Twitter and Facebook You can send a message to Microsoft's online customer support, using the various official company pages, to receive further information useful for recovering our files accidentally deleted by the Windows 10 update.
What to do if we lost files with the Windows 10 update
If we have lost files with the latest update due to the Windows 10 bug, there is an important thing to do, or rather not to do, in addition to contacting Microsoft customer support: we do not use tools or applications for cleaning computer files. If we use apps like CCleaner or similar there is a serious risk of losing forever the files accidentally deleted by Windows 10 but still saved in some remote corner of our PC. Microsoft has also made it known that they will come shortly released patches and a number of new updates useful to eliminate the bug from the latest version of his computer OS.
Files in danger: Microsoft blocks the Windows 10 update