Mozilla has just added a very interesting option to Firefox: it allows you to export your passwords and identifiers in a CSV file, in order to keep them safe. Enough to save all your passwords, without necessarily using the synchronization module or third-party software. Here's how to take advantage of it.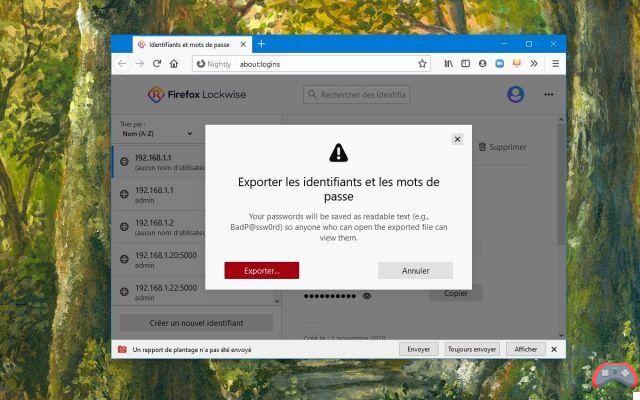 When we want export usernames and passwords in Firefox, you have to rely on a tool like FF Password Exporter or MozBackup. No export function was considered by Mozilla. Good news: it will soon no longer be necessary to use a third-party program, since the publisher wants to integrate into its browser an export function in CSV format.
Better, even: this option is already accessible via the Nightly version of the browser. Here's how to take advantage of it immediately.
Read also: World Password Day, our advice to better secure your accounts
How to Export Firefox Logins and Passwords
To take advantage of the CSV export feature today, start with download nightly version of firefox at this address: https://www.mozilla.org/fr/firefox/channel/desktop/. Install it properly. Remember that the stable version of Firefox (currently 77.0, released a few days ago) can coexist perfectly with the Nightly edition on the same machine. It is therefore possible for you to keep all your data and continue to surf with the definitive version, in case you consider the Nighlty edition to be unstable.
Once the new version is installed, do the following:
Head to the burger menu located at the very top right of the browser (for more speed, you can also enter the command about: logins in address bar).
Click on your mail address
Choose function Usernames and passwords
In the new tab that opens, click on the 3 small dots located at the top right
Then go to Export credentials
Press the button Export
For security reasons, you will then need to enter your Windows username and password
Select a recording directory and voila: you now have a CSV file which contains all your Firefox usernames and passwords. Note that these same passwords are not encrypted and appear in plain text in the CSV file. So keep this file in a safe place, away from prying eyes and any attempt at hacking.
Finally, if you prefer to wait for a stable version of Firefox, and not to use the Nightly services, you will have to wait until the 79.0 edition of the browser to see the password export function arrive. The release of this version is scheduled for July 28, 2020.