Gran Turismo 7 is one of the most anticipated games for the PS5's early life. The car racing game intends to take the best of its old titles and current technologies to offer a simulation that will restore the reputation of the famous license after a Gran Turismo Sport that did not convince.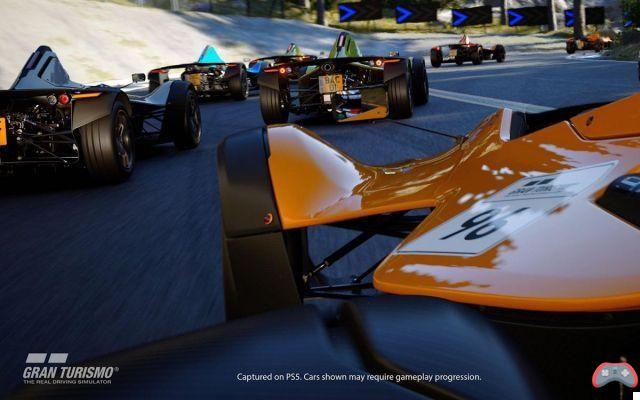 Legend among car simulation games, Gran Turismo is one of the big names in the PlayStation ecosystem. The titles of the saga, developed by the Polyphony Digital studio, have punctuated the calendar of game releases on Sony consoles since the first PlayStation. Since competing with Forza games on Xbox, Gran Turismo no longer enjoys hegemony as it once knew. But a new Gran Turismo still manages to create the event.
When did Gran Turismo 7 come out?
The game will be officially available on PS4 and PS5 on March 4th. Sony also announced that the game would be entitled to a special edition for the 25th anniversary of the franchise and detailed the pre-order bonuses for each version. Here are the bonus details if you pre-order Gran Turismo 7 before March 4, 2022:
Standard Edition on PS4 and PS5: (69,99 euros and 79,99 euros respectively)
Toyota Castrol TOM'S Supra
Mazda RX-VISION GT3 Concept (Stealth)
Porsche 917K Living Legend
100 CR (game credits)
25th Anniversary Edition on PS4 and PS5 (99,99 euros)
Includes PS5 game disc and download code for PS4 game
Game credits – 1 CR
Toyota GR Yaris in country specific colors
30 Partner Builders/Avatars
The music from the official Gran Turismo soundtrack
Toyota Castrol TOM'S Supra
Mazda RX-VISION GT3 Concept (Stealth)
Porsche 917K Living Legend
Will Gran Turismo 7 be available on PS4 and PSVR 2?
While it was thought that the title was unlikely to be ported to PS4 because old gen consoles would limit developers too technically to create a graphical experience worthy of what is expected of the new generation of consoles, Sony has finally managed to create a PS4 edition for his car racing game. On the other hand, it should be noted that if you plan to buy the PS4 version and you plan to buy a PS5, you will have to pay an additional 10 euros to access the next-gen version.
On the other hand, it is far from impossible that Gran Turismo supports the future PlayStation VR 2, recently formalized. Gran Turismo Sport was meant to be fully compatible with Sony's VR hardware, but ultimately settled for a VR mode. Gran Turismo 7 should correct the situation in this area. Kazunori Yamauchi, CEO of Polyphony Digital, has declared his interest in this technology and the PS5 and PSVR2 should greatly expand the field of possibilities when it comes to virtual reality. It is even likely that Gran Turismo 7 is one of the figureheads of PlayStation VR 2.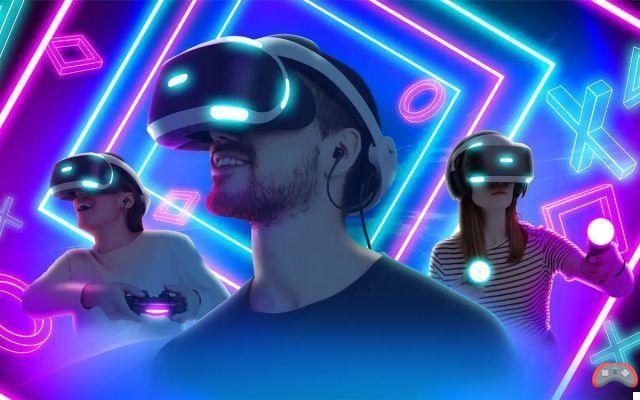 Until now, Gran Turismos have always been PlayStation exclusives. And if it seems impossible to see this new opus land on other consoles than the PS5, we can think that the title could find a place on PC some time after its launch on PS5. Sony has indeed reviewed its policy on this subject and is turning more and more towards computers, as evidenced by the release of Horizon Zero Dawn on PC or God of War, for example.
4K, 8K, 60 fps, HDR, ray-tracing: what performance for Gran Turismo 7?
Traditionally, Gran Turismo games are designed to be graphical slapsticks that exploit the full potential of the consoles they release on. The launch of a license title at the start of a new generation is therefore necessarily exciting for lovers of beautiful graphics.
In theory, the PS5 is capable of running 4K games at 120 frames per second through an HDMI 2.1 port. In practice, no game achieves this level of performance, and Gran Turismo 7 should not be expected to be the first. The real objective announced would be to reach 4K at 60 frames per second for Gran Turismo 7, with HDR compatibility and ray-tracing as a bonus. Such performances would already be quite satisfactory. It is possible that several modes are available, one to reach 60 frames per second, but deprived of ray-tracing for example, the other offering superior graphics at the expense of fluidity.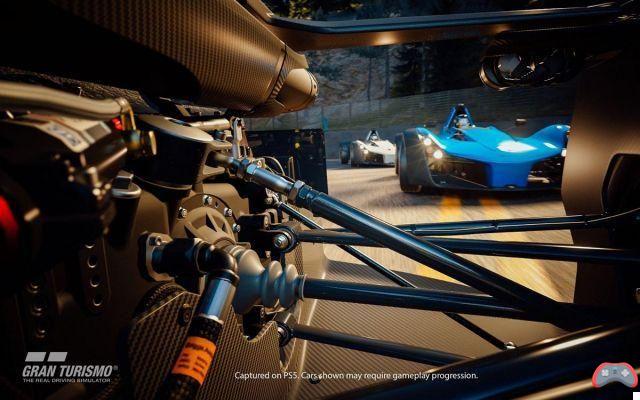 An update is to bring 8K support to the PS5. It would not be surprising if Gran Turismo 7 is the first title to benefit from it. Not that the game is fully compatible with such a definition, but we can imagine, for example, a specific and limited mode dedicated to 8K so that users equipped with an 8K television can get an eyeful. Sony launched the Bravia XR Z9J televisions supporting 8K this year. Better not to rely on this, communication between the different divisions of Sony being very limited, but there are grounds for hope. We've seen Gran Turismo Sport run in 8K at 120 fps during a demo at the 2018 International Broadcast Equipment Exhibition, we know that Polyphony Digital is keen on improving the quality of the picture and framerate.
All of this takes up space on your SSD. Gran Turismo 7 will occupy 110 GB of memory, both on PS4 and PS5. This makes it one of the biggest games on the console. It is even ahead of Warzone, which occupies just over 90 GB.
What is the gameplay of Gran Turismo 7?
Kazunori Yamauchi has promised a return to basics for this Gran Turismo 7. He indicates that this new opus will be inspired by the gameplay of the first and fourth episodes of the license, evoking "a traditional experience on a large scale" and declaring that historical fans from Gran Turismo will have their dose of nostalgia with this episode. This should not prevent the title from adapting to its time, the boss of Polyphony Digital wishing to keep the avant-garde dimension of the saga. Even if it was not unanimous, Gran Turismo Sport will also be an inspiration for GT7, with, among other things, the resumption of the championships.
The GT Simulation Mode, absent from GT Sport, will return with GT7. We will also find the driving school, the tuning shop, the second-hand car shop and special events. Everything will be accessible via a map à la Gran Turismo 4. Vehicle settings and customization should also take pride of place in the game.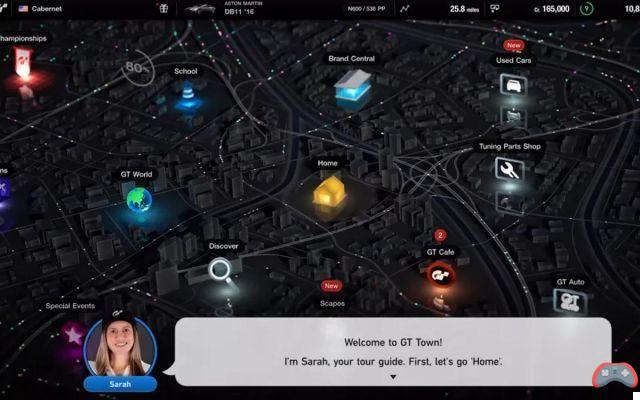 Gran Turismo 7 will exploit the features provided by DualSense for a more immersive experience and more precise control of vehicles. the haptic feedback will make the player feel the grip of the tires on the road and the slight unevenness of the tarmac. The adaptive triggers will make it possible to realize the contrast of the weight of the brake pedal at various levels of sensitivity, the vibrations according to the ABS and the variation of the weight of the accelerator according to the different types of cars.
The game will also take advantage of the PS5's SSD capabilities to offer much faster loading times. In particular, it will be possible to choose your car from a selection "without any loading time". For audio, the game supports sound technology Tempest 3D Audio Tech on compatible headsets. This feature provides a spatial dimension with an effect of depth and height of the audio, and makes it possible to detect the presence of other vehicles through sound.
Which circuits and which cars in Gran Turismo 7?
GT Sport had disappointed by the absence of iconic circuits of Gran Turismo, GT7 should correct the situation. In the first major trailer released by PlayStation, we see driving scenes on the mythical Trial Mountain, which has been seriously remodeled for the occasion. We can even see that the last corner, which often decided the winner of the race, has been reworked.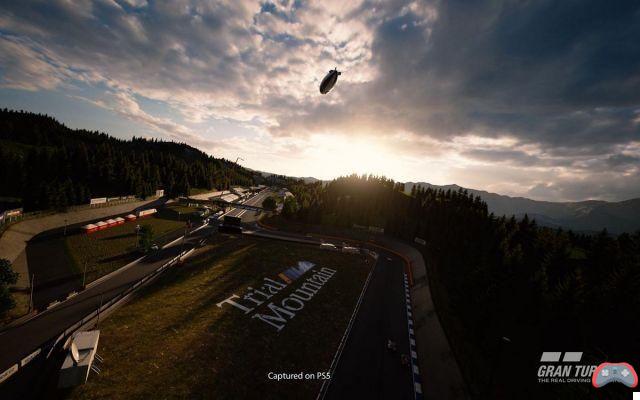 Polyphony Digital has also decided to relaunch historical circuits of the license, which GT Sport had left aside, such as Deep Forest. Kazunori Yamauchi had expressed a few years ago the difficulty of adapting old circuits to new video game standards. He notably evoked problems of scale of certain elements which could not pass any more with recent graphics and that it is not enough to transpose the data of a circuit of an old to a new engine. For this GT7, 90 circuits, old and new, will be available.
As far as vehicles are concerned, we will obviously have the right to "real" cars (the game having the licenses) all modeled both outside and inside. More than 400 models have been announced.
Trailers and trailers for Gran Turismo 7
For now, only one real trailer has been released by PlayStation, on June 11, 2020, during a State of Play revealing several upcoming titles for the PS5, not yet released at the time. Many trailers and gameplay sequences are expected in the coming months, with a pace that will increase as we get closer to the release date.