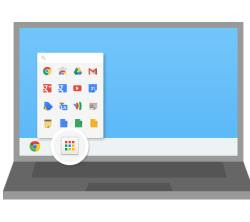 As already written on several occasions, Chrome is not just a browser for surfing the internet, but almost an operating system in itself that can live a life of its own thanks to web applications.
With one more leap Google has pushed this feature by providing a new kind of
applications that work like regular PC desktop programs
, even without internet connection.
In practice
Chrome becomes a complete platform of programs, independent of the browser
, which can be
installed on your PC and launched from the desktop or Windows Start screen
.
ALSO READ:
Migliori Estensioni Chrome da installare sempre
NOTE: The
Desktop applications
Chrome are no longer available and will no longer be supported. In their place there are
desktop apps that can be installed from the sites themselves
. To do this, on some websites such as Twitter.com, an icon appears at the top right of the address bar with the design of a down arrow above a monitor, which allows you to
install the site as an app on your PC
.
For all sites, however, you can press the button with three dots at the top right, then on Other tools and then on Add shortcut.
The apps for Google Drive and the
Chrome offline apps that work even without internet connection
(but within Chrome).
To use these added and installed desktop applications, for example Twitter, you don't need to open any Chrome tabs or other windows.
Every downloaded and installed application will be present in the
boot menu
Windows or on the Windows 10 or Windows 11 Start screen as if it were an external program.
You can also use a
Chrome application launcher
.
The desktop programs installed by the Chrome Web Store are full-fledged programs that are linked to web applications "
cloud
".
Chrome syncs the applications installed on any computer where the Google account is signed in.
The data can then be loaded from the Cloud and saved online in order to always have them available to any PC you use.
Applications can send notifications to the desktop, update automatically, can interact with USB sticks or the bluetooth of the computer or other connected devices.
Installing the first desktop application will then appear, as mentioned above, a new start button on the taskbar that works a bit like the old Windows XP and Windows 7 Start menu, removed from Windows 8.
These applications open in separate windows
, as if they were normal PC programs.
Among the best
, so far, Google applications for the desktop (all free) we have:
- Pixlr Touch Up, to edit and add effects to photos (also works offline without internet connection).
- Until.AM program to DJ and mix music using two spinning discs.
- Google Keep
- Cracking Sands, a nice 3D action packed free racing game (weighing 533MB).
ALSO READ:
How to install extensions and scripts on Google Chrome