The Digital Legacy feature is coming in the latest beta of iOS 15.2. The latter allows the family of a deceased to access their data saved on iCloud by taking control of their Apple ID. To do this, the option must be configured beforehand. We explain how to do it.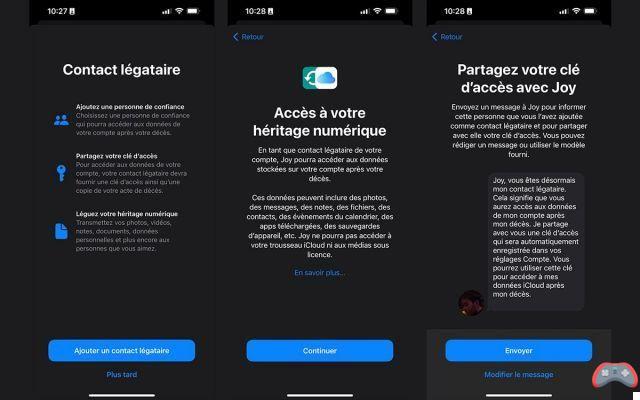 iOS 15.2 is now available in beta, and several new features are coming their way. Among them, we find, among other things, a new anti-tracking tool that displays all the data collected by the applications. Enough to put social networks in trouble, Facebook in mind. The latest version, deployed today, this time includes an option that has already been talked about a few months ago: Legacy Contact.
The latter allows you to somehow "bequeath" your data in the event of death. It was initially to be available from the launch of iOS 15, but it took until iOS 15.2 to be able to take advantage of it. The principle is simple: you select the contact of your choice, who will receive access to your Apple ID after your death. In this way, numbers, conversations, photos or emails will not be lost forever.
Related: iOS 15.1 — the update is available with ProRes and SharePlay, here's what's new
How to select the person who will inherit your data
First of all, you have to choose the lucky one. We advise you to think carefully about the question, in order to prevent your data from ending up in the wrong hands. Once done, you will have to transmit the information to your iPhone. Here's how to go about it:
Open them Parameters
Click on your profile picture
Select Password and security
Scroll until you find Legatee contact and click on it
Click on Add a legacy contact once, then again in the window that opens
Click on Continue
Choose your preferred sharing method
If you choose Message, select the contact who will receive the key
Click on Send
Your loved one will receive the access key by SMS, which will allow them to take control of your Apple account in due time.