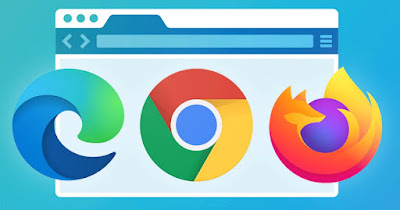 Until a few years ago we had to necessarily install programs on a PC, using the executable or installer created by the developer or manufacturer of that particular program. Unfortunately, installers can also hide additional programs or adware that weigh down the computer.
To avoid this problem we can
use portable programs
, so as to use the program immediately without installing anything but simply starting the executable. These programs are called portable because they can be started from a USB stick, leaving no traces on the computer on which they are run.
The most important portable or portable programs
that we absolutely must try are
i browser
, ie the software that allows you to write web addresses, to search on Google and everything related to
Internet browsing in general
. Let's see together
the lightest and most portable browsers to use on your PC
, so you can browse the Internet using few system resources.
ALSO READ:
Best browsers to download for all computers
1) Portable Firefox
Portable Firefox
is the portable version of the browser created by Mozilla and available for download from the PortableApps website.
With this browser we can use all the functions designed by Mozilla without installing anything on the computer, so that we can carry around too
the advantages related to privacy and the blocking of tracking cookies (of which Firefox is the undisputed king)
.
With its plugins and extensions it is still one of the most complete browsers and allows you to surf the Internet at a good speed, while maintaining high browsing safety and the speed of reaction to threats that try to enter your PC via the Internet.
2) Google Chrome Portable
The Google browser is also available in a portable version, which can be downloaded directly from the PortableApps website.
The portable version of Google Chrome works in a very similar way to the installable version, thus offering maximum browsing speed,
excellent integration with Google services and a host of compatible extensions to install
.
The convenience of this portable browser is perceptible by inserting the executable into a USB key: we can thus carry our personal data, our passwords, our bookmarks and the automatic compilation of Chrome behind, without having to configure the personal account on Public PCs or other people's computers.
3) Opera Portable
Among the best browsers to try in portable version it certainly stands out
Opera Portable
, available for free download from the PortableApps website.
With Opera Portable we will have a very fast browser to load web pages, equipped with many integrated tools designed to facilitate people's lives and increase the level of security and privacy: among all the
integrated VPN system
, which allows you to hide the IP while browsing and to speed up the loading of pages through a dedicated compression system.
4) Maxthon Cloud Portable
Another interesting browser that we can try in the portable version is
Maxthon Cloud Portable
, also available for download from the PortableApps site.
Maxthon Cloud Portable is a less popular browser than the ones seen previously but offers some unique features, such as the dual rendering engine for sites. If we have difficulty loading some pages can use
Internet Explorer Trident engine to maintain maximum compatibility
, without forgetting the integrated cloud features (which allow you to save passwords to access sites to reuse them in the mobile version of the program).
5) Otter Browser Portable
Those who are fond of the old Opera interface can try the browser
Otter Browser Portable
, available for free download from the PortableApps site.
This browser has a decidedly retro look but loads pages as fast as few others, as well as being very light at startup and in memory.
It can be a good alternative for opening sites that are not optimized for modern browsers
or to browse web pages without extensions, thus using only the rendering engine to load the requested pages.
Other portable browsers
In addition to the light and portable browsers seen so far, we can also download other lesser-known browsers, so as to always have a valid alternative and to be able to fill the USB stick with portable browsers to be used when necessary or during the development of a new site.
1)
KMeleon
is a very light and fast version of Firefox. This browser immediately generates an excellent impression also due to its solidity (it never crashes). Since it is highly customizable, both in graphics and in functions, it also supports the famous add-ons for Firefox which have also been adapted for KMeleon.
2)
QupZilla one of the lightest browsers
based on the Webkit engine and Qt Framework, for Windows and Linux. Even if at this moment the project is stopped, we can still download the latest version to test on old sites or to see if any old plugins are running.
3)
Slimjet, the fastest and lightest browser
absolutely, to try absolutely if we are looking for a very light browser for a tablet PC or for a computer with less than 4 GB of RAM memory.
4)
Midori
it is a very good browser, light and fast. The portable web browser is based on WebKit, which is also used by Google Chrome and Safari and guarantees great speed when loading each page. One of the major advantages of the Midori web browser is its low use of RAM memory resources; it is probably the lightest browser available on the market and is really recommended if you are using computers with little memory and excellent to keep on a USB stick.
5)
SRWare Iron
it's pretty much Chrome without Google. Those who like Google Chrome but are afraid of being tracked by Google every time they click, can use SRWare which makes the protection of privacy and browsing data its strong point.
6)
Avant Browser
offers mouse gestures, an RSS reader, automatic filler of text and form fields, changing graphics and storing an online profile.
Conclusions
If we are looking for a really lightweight browser or a
browser to always carry with us
, without having to install anything on your computer, we recommend that you try the portable browsers recommended in this guide. These programs start with a simple double click and have nothing to envy to the browsers that can be installed, since
they maintain all the characteristics we were used to
.
In another article we also showed you gods
private browsers that delete browsing data
, without saving the history or temporary files on your computer or without being located. The best among them is surely
Tor Browser
, a version of Firefox customized to protect privacy by hiding internet browsing, with the ability to immediately access the ret Tor to protect the data connection.
Do we want a lightweight browser even on a phone or tablet? In this case we advise you to read our guide to
best lightweight browsers for android and iphone
.