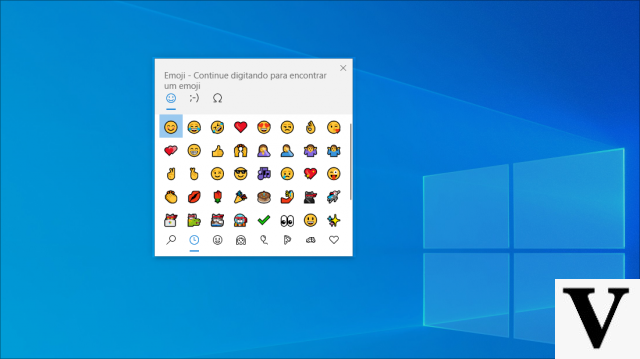 Nobody, or almost, now uses the old and dear SMS of the smartphone. Even emails are losing their charm, also because if we did a calculation the number of messages sent, excluding some work, is significantly lower than the amount of advertisements we receive. The present of the conversations is in instant messaging services. Facebook Messenger, iMessage and WhatsApp on all. They are quicker and simpler solutions than the other options and then there are the emojis. Some people don't like them that's true, but most people love these little pictures. From a car to a funny face to a fruit, emojis are able to clarify a mood or context in an instant.
Contrary to what one might think, Windows 10 also loves emojis. It is possible, in fact, to activate and start using an emoji keyboard even on the Microsoft operating system. Be your device a tablet, notebook, hybrid or desktop PC. The emojis on the new Windows 10 are not so obvious to find but a few simple moves are enough to start sending our friends little hearts, cakes or funny faces.
To start using the emoji keyboard on Windows 10 there are two different procedures: one if we use a device with a touch display, another if we use a PC without a touchscreen. In the first case it will be sufficient to press (or click) on the keyboard icon in the System tray (near the clock to be understood) and thus display the on-screen keyboard. In the case of a device without a touch screen, however, you must right-click on the menu bar and select the item "Show virtual keyboard button": near the clock we will see the keyboard icon appear that will allow us to access the emoji collection Windows 10.
To start choosing and using emojis we have to click on their icon that we will see at this point within the keyboard itself. It will be located in the lower left corner. Positioning aside, it is a very similar operation to those we perform daily on smartphones in instant messaging services. At the bottom of the keyboard we will find the icons that divide the emojis into different categories and contexts.
Once we get to the emoji section of our keyboard we can use these nice images in all the conversations that we start with our device with Windows 10. We can also modify and customize the emojis, changing the color of a person's skin for example. To do it is simple. Some emojis have a check at the bottom which, if clicked, refers us to multiple choices with different colors of the same image. If we choose one in particular for the next uses, the smiley face of that color chosen by us will be automatically set. A bit like it also happens on WhatsApp.
Lovers of emojis? Here's how to use them on Windows 10 too