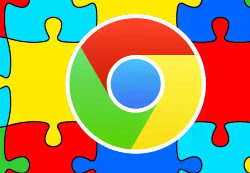 Google Chrome is more than a browser, it is a real platform, almost an independent operating system on which applications and tools of all kinds can be installed.
It is therefore quite normal for a user who uses Chrome properly to have a tool in the form of a button that manages all the extensions that are installed in Chrome.
In fact, the main problem is that if you install too many extensions, leaving them active creates an exaggerated memory consumption in Chrome which therefore becomes heavy and slow to load.
To manage all plugins and extensions installed in Chrome
you can install one or more of these extensions that allow you to enable and disable the extensions in one click or to disable them all together with a single swipe, useful for having Chrome very fast when you are in a hurry or in case of need for memory.
The first one worth installing is
Extension Manager
which it has a
button to disable all extensions in one go
(except herself)
This way you can have a very fast Google Chrome browser like when you just installed it, without slowing down. This Chrome extension allows you to activate or deactivate all Chrome extensions at once using a dry button located at the top of the extension bar.
In addition to enabling and disabling extensions at once, One-click Extensions Manager offers another useful feature, to alternately disable extensions you don't need and enable them on demand.
2)
Extensity
is the perfect tool for managing installed extensions, for
activate or deactivate them with a click
.
Pressing the Extensity button opens the general list of extensions. Clicking on one deactivates it, and it becomes gray, re-clicking on it reactivates it and the writing becomes clear and visible again.
3)
SimpleExtManager
is another extension manager for Chrome that offers the ability to easily activate, deactivate and remove all installed plugins. Like the previous extension, this add-on is placed next to the address bar in the form of an icon.
In this case they can
create groups of extensions to be activated and deactivated with a click
. This also includes applications that can be quickly launched from this menu without having to open a new tab.
4)
Extension Manager
to sort extensions into groups is similar to SimpleExtManager, useful if you use particular extensions that work, for example, only on Facebook, Gmail or other sites you visit often.
To conclude, it is worth knowing
how to manage extensions on Chrome without using other tools
. Right-clicking on an extension icon opens a menu that includes the Manage button. Pressing on Manage opens the list of extensions. The extensions can then be removed from Chrome and from the computer (from all computers that have synchronized Chrome) or only disabled by removing the cross from the Activate button.
ALSO READ:
Check and delete spy and malicious extensions from Chrome