Nvidia has released the September Studio and Game Ready driver update for its GPUs. One of the main features of the latest Nvidia drivers is support for Windows 11, but the drivers also improve card performance on many games.
Shortly after AMD rolled out its driver for Windows 11, it's now Nvidia's turn to make its graphics cards fully compatible with Microsoft's new operating system update. In effect, Nvidia has released version 472.12 of its drivers for its graphics cards.
First of all, these new drivers make Nvidia GPUs fully ready for Windows 11, so you won't have any display issues when you decide to upgrade to the new operating system. However, this is not the only major novelty.
Nvidia invites itself to Windows 11 and improves the performance of its cards on 28 games
In addition to making its graphics cards compatible with Windows 11, Nvidia announced that DLSS (Deep Learning Super Sampling) technology would now be supported on 28 new games. The additional 28 DLSS games bring the game total to over 100, a milestone for Nvidia's AI-based time-based upscaling. Last month, the company had already made compatible 9 additional games, including Battlefield 2042.
Of the 28 new games that have been added, most have already been released or are in early access, and only a few have yet to launch. We find in particular the construction game of Nordic cities Frozenheim, the FPS Severed Steel or the next MMO Mortal Online 2.
According to the company, Alan Wake Remastered, which will launch on October 5 (the same day as Windows 11), will run at 60fps at max settings in 4K on any GeForce RTX card, provided DLSS is enabled.
Indeed, Nvidia claims that RTX 2060 will go from 34fps to 68,3fps with RTX technology enabled, while the RTX 3060 will drop from 43,1 fps to 76,5 fps. The RTX 3060 Ti also needed DLSS to go from 53,5 fps to 97,1 fps. All the other more expensive cards were already running above 60 fps, so DLSS will be less useful.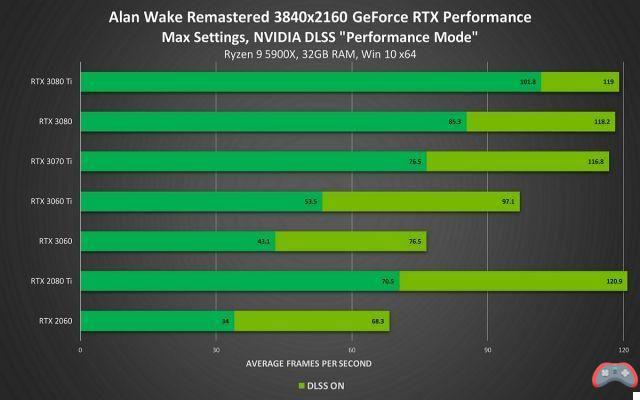 Source : Wccftech