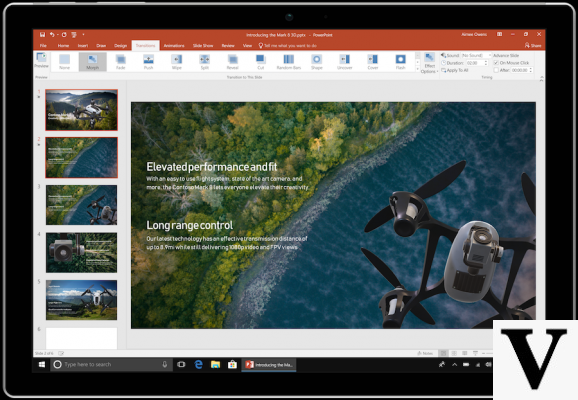 After the initial test period, which started in April 2018, the new Office 2019 Microsoft is ready for official release on computers with operating system Windows and macOS. The update will obviously be available for all those who already have a subscription to the Office package. Those who bought a subscription would now automatically receive the latest version.
The new Office update should present several new features especially for users of the "standalone" version and not for those who use Office 365. In fact, in the cloud version, many of the functionalities that will be available on Office 2019 have already been introduced. Obviously the update only concerns private users or companies that still use the offline version of Office. Those who use Office 365 online with constant updates and cloud services the upgrade will arrive automatically without the need to do anything.
What new features on Office 2019
The first Office 2019 news concerns those who find themselves using it on a daily basis Power point. In the new update there will be several animations original, which will make the slides even more creative and customizable. In general, however, both in Word and Excel we will find new functions for those who use documents or spreadsheets from a device with stylus, such as a tablet or 2-in-1 computer. Interested in the new function for data analysis inserted within a document, very useful in the case of large files to search for the most important elements without wasting too much time.
There will be a small restyling for all the internal services of Office, and therefore Word, Excel, PowerPoint, Outlook, Project, Visio, Access e Publisher. It should be remembered that the latter 4 are only available on Windows computers and not on Macs. In all the applications of the productivity suite of the Redmond house we will also find the new customizable toolbar very convenient to find with a click all the tools we use most frequently. Finally, be careful if we have a Windows computer: as mentioned by Microsoft some time ago, the times of updates for versions prior to Windows 10 of the main Redmond programs are over. For this reason if we don't have a PC with Windows 10 we will not be able to download and install the update to Office 2019.
Office 2019 coming to Mac and Windows: what's new