Last June, we had to discover the existence of a new Sony Google TV device, which was a little special insofar as it did not sport the format of a box but that of a small HDMI dongle. We then immediately concluded that the Japanese manufacturer was going to unveil a direct competitor to the Google Chromecast.
An inevitable shortcut given the information available to us at the time and yet it is not because much more than a simple copy and paste of the Chromecast, the Sony Bravia Smart Stick allows you not only to make your TV a true connected device but also to download and run applications via Google Play.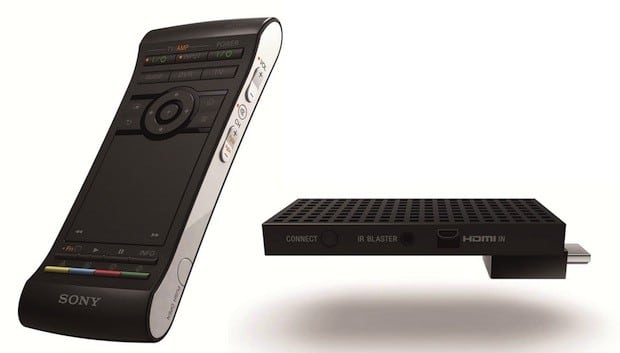 Sony Bravia Smart Stick, la Google TV au format dongle
Already available from our American neighbors at a price of 149,99, the Sony Bravia Smart Stick connects directly to the HDMI input of your television. It has an internal storage capacity of 8 GB thanks to which you will be able to download and run applications directly from the Play Store.
On the software side, there is the YouTube application and the Google Chrome browser as well as a whole series of VOD applications, specific to each country. All applications are centralized in a single interface. In addition, the device offers some ergonomic options such as picture-to-picture which allows you to browse the web, post a status on Facebook or write a tweet on your TV screen while watching a program.
The Sony Bravia Smart Stick also comes with an interactive remote control that has a physical keyboard, touchpad and even voice command capability. In addition, this remote control being universal, it can also control other devices such as your television.
Although it was not officially declared by Sony during the official presentation, the dongle is rumored to be exclusively compatible with 2013 Sony Bravia televisions. Information to be confirmed later.
In the meantime, this new Google TV device has just begun its marketing across the Atlantic, marketing which should extend internationally in the coming months.