Spotify improves its interface and offers real-time lyrics display with Musixmatch in certain markets. Now, the display of these lyrics is perfectly synchronized with the music, like in karaoke…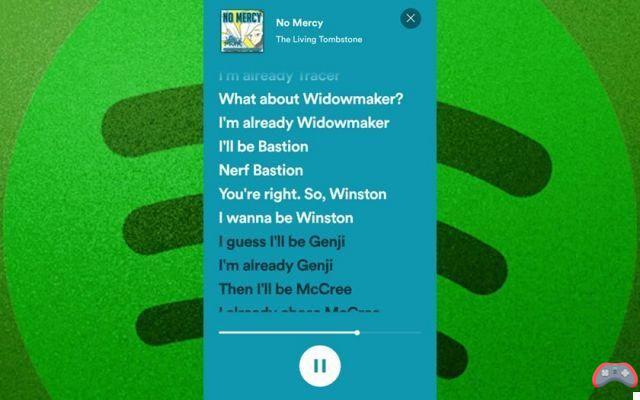 Spotify is improving the display of lyrics on some songs on the platform. A growing number of users in certain markets are reporting on social media that a new lyric "map" – provided by Musixmatch – now appears under certain songs. This insert is displayed under the cover of the song being played (if available), and indicates in real time what the artist is singing by changing the color of the text to white.
Spotify confirms that this new feature is being tested in certain markets – without further details. According to numerous user feedback on Twitter, Canada, Indonesia and Mexico are among the countries where this new display is being tested. Spotify already displays the lyrics as well as some trivia under certain songs. A service created in collaboration with the Genius site. The problem is that the current system is more Powerpoint than a real real-time display like karaoke.
The panel indeed displays a paragraph of text (anecdotes and lyrics) at a time which updates more or less (but not always) at the right time. However, users have an alternative to display the lyrics in real time now. The Soundhound application makes this very simple: start playing a song in Spotify, go to Sondhound and the lyrics are displayed in real time.
Also read: Music streaming – Spotify, Deezer, YouTube Music, Amazon Music, our comparison of the best services
Spotify has been looking for an efficient way to display lyrics in its apps for some time. The feature was once available on the PC/Mac version of Spotify before it was removed almost everywhere in the world – except in Japan. The platform is now under pressure from both users who are very numerous to claim the functionality and the competition, in particular Apple Music, which now offers the display of lyrics in real time in its iOS 13 application.
There is therefore a good chance that this feature will quickly land on all markets. Still, we hope that Spotify will offer the lyrics on a wide selection of titles. Since it's not that common nowadays to see a Genius insert appear under the songs.
Source: Tech Crunch