That's it, it's March 26th. This means that starting today, 10 huge PS4 and PS5 games are up for grabs for free, including Abzû, Rez Infinite, Subnautica, The Witness and many more. Starting in April, Horizon Zero Dawn will also be offered. But how do you get them back on PS4 and PS5?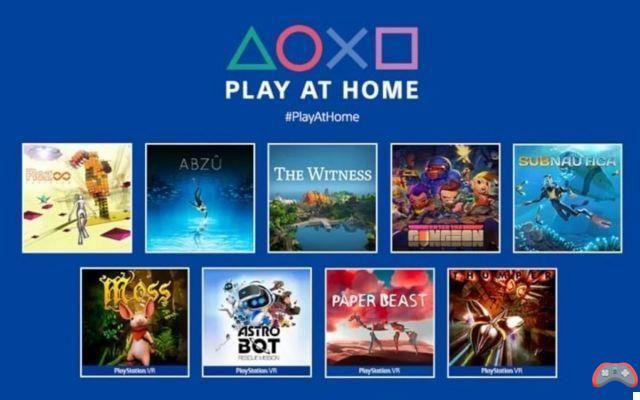 The initiative Play At Home de Sony is to offer 10 games in total (a value of nearly €300) to all players. The goal ? Encourage them to stay at home during this time of health crisis. You don't need to be a PlayStation Plus member. The games are all backwards compatible, how do I get them on PlayStation 4 and PlayStation 5?
Play At Home: how to get free games on PS4 and PS5?
To download the 10 free Play At Home games on PS4 and PS5, you have two options. You can do this from your PS4 or PS5, or directly from an Internet browser if your console is not next to you at the moment.
Recover Play At Home games from a browser (PC, smartphone, tablet, etc.)
Go to the PlayStation Store Play At Home page
Sign in to your PlayStation account (Sign in top right)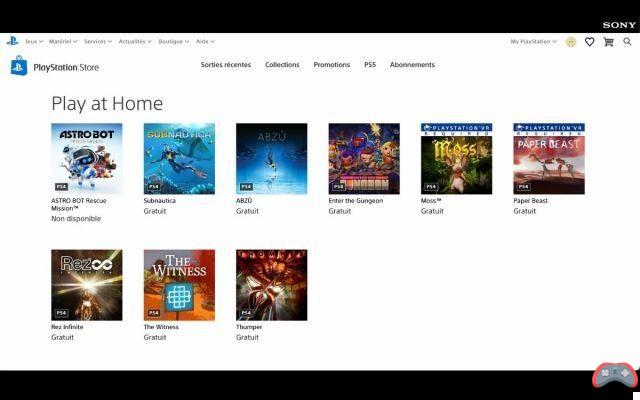 Select a game from the list by clicking on it
Click Add to Library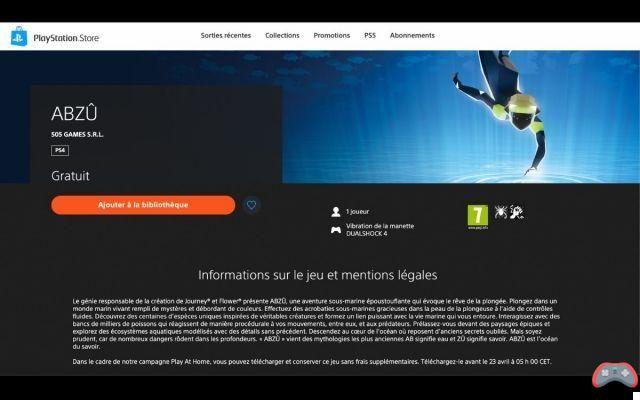 You will receive a confirmation email from Sony and the game will be added to your library. Repeat the operation for each game. Once at home, you can find the games in your game library in order to install them.
Get Play At Home games from my PS4 or PS5
Go to the PlayStation Store
If you don't see the Play At Home offer, type "play at home" in the search box, and select the page
Add the games to your library.
For information, 9 games will be offered from March 26 at 16 p.m. until April 23 at 17 p.m., including indie games Abzû, Enter the Gungeon, Rez Infinite, Subnautica and The Witness. If you have a PlayStation VR, you can also have fun with the excellent Astro Bot Rescue Mission, Moss, Thumper and Paper Beast.
Then, counting from April 20 until May 15, 2021, Horizon Zero Dawn, one of the nuggets of the open world PS4 from Guerrilla Games, will also be offered. As a reminder, you can also always recover the game Ratchet & Clank for free until April 1st.
Good game everyone !
The editorial advises you:
PlayStation 5: release date, price and technical sheet, everything you need to know
PS4, PS5: Sony offers 10 games including Horizon Zero Dawn with Play at Home
Stock PS5: where to buy the console in Spain?
The PS5 and PS4 games offered as part of the PlayStation Plus subscription have leaked a little early. On the menu in December: abominable creatures, dark fantasy and supervillains… After the smash hit of God of War in 2018, the eighth installment of the license, Sony Interactive Entertainment is actively working on its sequel. This will be called God of War: Ragnarök and…We introduce you to the PlayStation Plus games offered in November 2021. Like every month, Sony offers a selection of titles to subscribers: PS5 and PS4 games,…Each month, PS Plus subscribers get access to three new games as part of their subscription. And from November, they will have the pleasure of discovering three VR titles…