On PlayStation 5, Marvel's Spider-Man: Miles Morales enjoys a new mode today. This allows you to take advantage of ray tracing in 60 frames per second.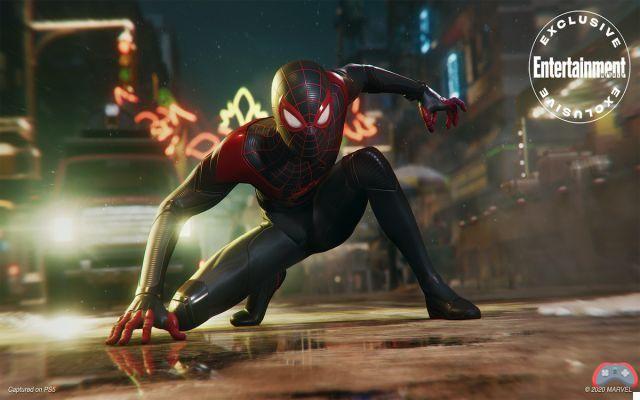 Marvel's Spider-Man: Miles Morales updates to its version 1.007.001 on PlayStation 5. This new update brings a mode named Performance RT, offering ray tracing and 60 frames per second.
The PS5 is equipped with a ray tracing mode and 60 FPS in option on Spider-Man Miles Morales
At launch, Marvel's Spider-Man: Miles Morales on PlayStation 5 was able to run at 60fps in Performance mode, or 30fps but with ray tracing in Fidelity mode. In other words, you had to choose between smooth frame rates or a higher graphical fidelity. Thanks to a new mode added in an update, you can now run the game at 60 FPS and with active ray tracing.
The new mode is called Performance RT and you can enable it in the game settings. It's actually an alternate version of the already available 60fps Performance mode, just adding the ray tracing et adjusting resolution, reflection quality and pedestrian density. On the other hand, Insomniac Games does not explain exactly how the resolution of the game "adjusts" in Performance RT mode.
La update weighs 262 MB and it is quite possible to switch from one mode to another during the game.
Quid de Spider-Man: Remastered ?
In the same way, we do not know if this new mode will also be available in Spider-Man: Remastered, the updated version of the PS4 game of 2018. Remember in this regard that this remastered edition will only be available within the framework of purchase of Marvel's Spider-Man: Miles Morales Ultimate Edition. Let's also take this opportunity to remember that Peter Parker, as well as other characters, will not have the same face on this remastered edition. Finally, be aware that it will finally be possible to import your PS4 game save to Spider-Man: Remastered.
Backwards compatible on PlayStation 5, know that God of War (2018) will also benefit from a performance mode. The latter will also allow it to favor the frame rate per second over visual quality. As it happens, the game will be playable at a stable 60 FPS and 1080p.
Our new update overnight introduced Performance RT mode on PS5. 60fps and ray-tracing! https://t.co/SSRy9vq9Aw
— Insomniac Games (@insomniacgames) December 9, 2020
Shaquille O'Neal, former basketball star, has shown unparalleled generosity. This one offered a large number of PS5 consoles and Nintendo Switch has children whose…The PS5 and PS4 games offered as part of the PlayStation Plus subscription leaked a little early. On the menu in December: abominable creatures, dark fantasy and supervillains… After the smash hit of God of War in 2018, the eighth installment of the license, Sony Interactive Entertainment is actively working on its sequel. This will be called God of War: Ragnarök and…We introduce you to the PlayStation Plus games offered in November 2021. Like every month, Sony offers a selection of titles to subscribers: PS5 and PS4 games,…