Here are 5 RAM memory problems you might be having with your PC, along with their solutions. Your computer experiences significant slowdowns, sudden shutdowns, or suddenly displays a blue screen while performing a task. Find out how to tell if your RAM is the cause.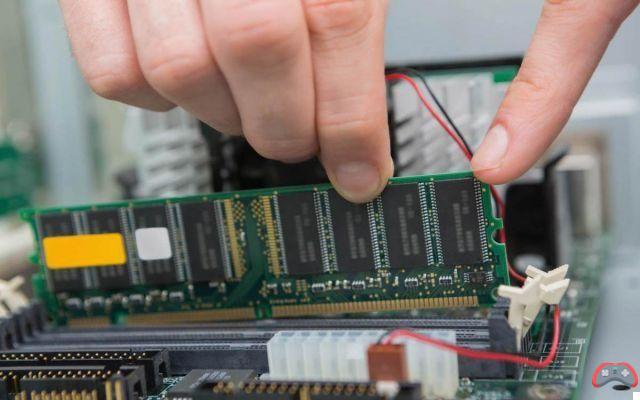 La RAM memory (Random Access Memory) is used to store data temporarily in order to facilitate the execution of programs by the processor. Like the hard drive, RAM is primarily a physical component in the form of a bar. This is fixed in a slot. Several slots are usually available, which makes it possible to combine several strips of different capacities.
The particularity of RAM is that it empties each time you turn off the computer. Depending on its capacity and the programs you run, it can overload very quickly. And a malfunction can cause many problems for your PC. Here are the RAM issues you are likely to encounter.
RAM memory: 5 problems and their solution
1. Your PC is slow
You turn on your computer and in the first few minutes, everything goes well. But as you launch programs, you notice a decrease in performance. It then becomes more and more difficult to go from one software to another, to load web pages, or: the mouse begins to freeze at times for several seconds.
Solution : You encounter this kind of problem when the RAM is occupied at almost 100%, especially because of the execution of demanding programs. If you are running a 32-bit version of Windows, it limits RAM usage to 3 GB, even if there is more available. You will therefore have to upgrade to a 64-bit Windows version..
You can then buy larger capacity modules, provided they are of the same type, and within the limits of what your motherboard / processor pair can accept. It is advisable to consult the instructions for your motherboard and your processor to find out. You can also better manage your applications to reduce their impact on your RAM.
This includes closing open applications that you are not using. But also to use extensions for your internet browser to reduce its impact on RAM. Chrome, Edge, Safari, Firefox… all are very memory intensive, especially when many tabs are open.
2. Your PC is experiencing random restarts
Your computer restarts unexpectedly while performing your tasks. It could also be that the computer does not start at all at some point. This could be a sign of failing RAM.
Solution : After trying other solutions, like virus removal and hard drive check, make sure none of the memory sticks are faulty. If you have several, you can perform tests by removing them one by one to identify the problem. Do not hesitate to consult our solutions if your computer does not boot anymore.
Most computer components including RAM memory can be damaged due to power surges or wear and tear. Make sure you plug your computer into a voltage regulator or opt for general home protection using a professional electrician.
3. Windows keeps showing blue screens
In Windows, the blue screen occurs when the system encounters a fatal error after reaching a critical state. It is also called the blue screen of death or BSoD (Blue Screen of Death). In some cases, displaying a blue screen can be caused by RAM memory corruption.
Solution : The blue screen is always displayed with a code or an indication to get an idea of ​​the source of the problem. If it's about memory, you should be able to read a message like Memory_Management ou MEMORY_IMAGE_CORRUPT. The issue might not repeat after a simple reboot, but if it persists, the full set of stop codes and their meanings can be viewed on Microsoft's Bug Check Code Reference page.
4. You can no longer install new programs
It may happen that you are unable to install a new program. Installation fails repeatedly for unknown reasons.
solution: There may be several reasons why a program cannot be installed. This may be due to a software compatibility issue with your system. It could also be a failure in the RAM, in which case a test of your RAM would identify it.
5. You often have corrupted files
Files, especially those that you access frequently, can get corrupted for no apparent reason. RAM can be the cause of this problem, which can get worse over time.
solution: Here too, a diagnosis would allow you to know if the problem is related to the RAM memory.
How to test your RAM with the Windows diagnostic tool?
On Windows 10, but also on earlier versions, you can use the tool built into the system. If of course you can still access the operating system.
In the Start menu search field, type memory diagnosis and click on the corresponding program that appears in the results
In the window that appears, you can choose to restart the computer now to perform a scan immediately, or schedule the test for the next restart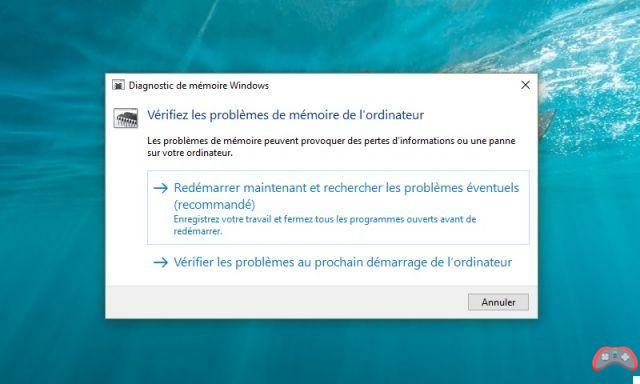 Once restarted, the system will automatically perform a test (be careful, this may take some time)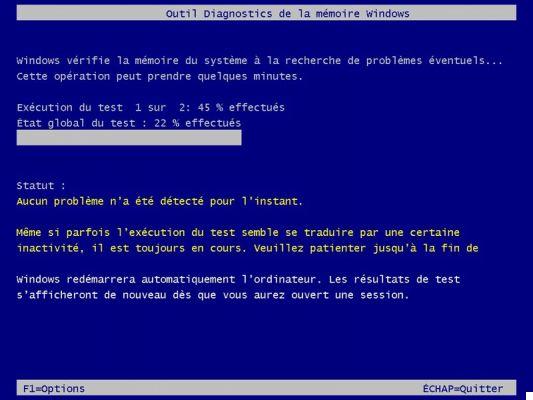 At the end of the process, a bubble will show you the issues that have been identified to make it easier for you to resolve them on the next reboot
The Windows System Tool may not launch due to issues affecting your computer. In this case, it is rather advisable to use this universal troubleshooting tool that will have to be put on a bootable USB key or burned from another computer. If it does not launch, it is most likely due to a problem affecting your RAM, since this tool loads directly into it. It's probably time to replace the RAM.
The editorial advises you:
How to run your RAM at full power
CPU or RAM load is 100% on Windows 10: what to do?
Insufficient storage: how to clean your Android smartphone
The ability to speed up or slow down a video on YouTube can be very useful. It was possible to do this in the web version of the platform for a while…Facebook allows you to deactivate the automatic playback of videos in your news feed. It's very simple, even if the path is not obvious to anyone who has never seen it...Google Chrome includes a reading mode that allows you to consult a page in optimal conditions. The functionality, however, is hidden in the bowels of the browser. In this tutorial,…It is easy to know if a contact has blocked you on WhatsApp, but some indicators can also trick you into believing it unfairly. So how do you know...