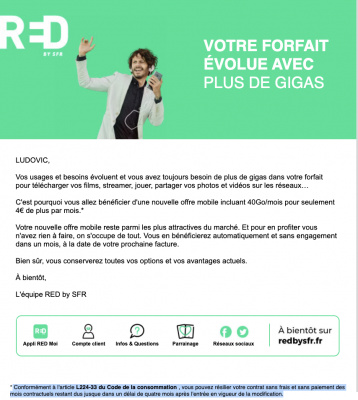 Unfortunately customary of the fact, RED by SFR renews a campaign of arbitrary increase of some of its tariffs by means of imposed options. Only option: termination.

The freedom seen by RED by SFR also means not being able to refuse an arbitrary price increase. © Red by SFR

In the little game of price increases that are impossible to refuse, a RED by SFR customer sees red. Holder of a 30 GB package at €5/month contracted as part of a private sale with the mention "price valid for life", he is required to subscribe to an additional 10 GB option at €4/month, increasing the price of its mobile plan to €9/month for 40 GB.
An 80% price increase
On paper, it's not that expensive, but it still corresponds to an 80% increase that cannot be refused according to the operator's customer service (supporting screenshots, published by Freebox Universe). "Red by SFR is changing its offers to meet the new needs of its customers. We cannot respond to your refusal concerning this new plan. However, your offer at 9 € remains one of the most competitive on the market", indicates the low cost operator of SFR, without possible recourse.

© Universe Freebox

Obviously, the game is not lost and this subscriber - like all the others for whom this scenario would arise - has four months after the entry into force of the new tariff to terminate his contract, without having to pay any months remaining due. On the other hand, this termination will prevent him from continuing to benefit from his initial package. A cavalier method which is not a first among operators, they do not hesitate to force things to improve the profitability of certain offers, even if it means seeing subscribers who do not report leaving them enough.