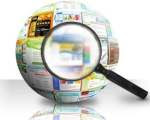 When you surf the Internet, your browser saves images, videos and other website elements to your computer in a hidden folder that represents the browser cache. These elements can be many things: javascript codes, html, cookies, videos and images or photos. The cache is used to make websites load faster so that the second time you open the same web page, the elements do not need to be downloaded again. When you reconnect to the web page at a later time, the browser first searches the cache for items already downloaded and this explains why the sites you visit often load faster.
Then it becomes interesting, every now and then and after a certain period,
view the images and videos downloaded in the browser cache
. This can be useful for
recover pictures
that were not saved manually, however
view videos offline
and download them and also to take a look at the
chronology
of internet browsing.
The browser cache can also be browsed like a normal folder on your computer, but as the files are all listed together and confused, it becomes difficult to find visible items such as photos or videos. It is also difficult to understand which site a particular image or video was downloaded from. For this reason, small profits can always come in
programs developed to extract files, images and videos from the cache of Internet Explorer, Opera, Chrome and Firefox browsers
.
1)
ImageCacheView
It allows
review and browse images of sites opened with Firefox and Chrome
. All you have to do is download and extract the program to use it. When you launch the .exe file, you will immediately see the list of cached files. The program scans the default folders of browsers so if you have moved the cache you will need to change an option. From the top menu of Options> Advanced options you can configure cache folders or prevent a particular browser from being scanned.
In the options it is also possible to change the past time period of which you intend to see the images of the visited sites. The last option allows you to search only for images of one or more specific internet sites. Before using ImageCacheViewer make sure you have closed all browsers otherwise it will not work. In the end they can
browse all the images opened on the internet with the mouse or keyboard
, and when you select an image, it is previewed in the program window.
For each image,
you can see the URL of the site it came from, the name and the type of image
, when it was viewed, file size, name and browser. Based on these characteristics, the list can be sorted in different ways, for example from largest to smallest image or in chronological order. What you cannot do is to move or copy the images from the cache to another location on the hard drive. However, it is possible to open the site of the image on the browser and then be able to save it if you are interested in keeping it.
SEE ALSO:
How to move Chrome and Firefox cache to RAM and browse faster
2) The free and opensource program
Cache Copy
allows you to move to a user-defined folder, only
pictures
cached by
Internet Explorer, Chrome e di Firefox
.
When you start the program, after installation, it recognizes the default browser so you just need to specify the "target" folder in which to save the images. You can also manually configure another folder so this program can also be used to extract all images or photos from anywhere on your computer.
3)
Video Cache View
is a small portable tool for Windows that serves instead to
extract videos from browser cache
. Video portals like Youtube, for example,
download the videos viewed in streaming
on your computer then, viewing them in the cache, allows you to
see them even from your computer offline and save them on your pc
.
They can then be viewed with programs such as GomPlayer or VLC. After downloading VideoCacheView in zip version, extract the archive, launch the .exe file and then wait until the scan is completed. The Nirsoft program simultaneously searches the cache folders of
Mozilla Firefox, Google Chrome, Opera, Internet Explorer
or other browsers running on the system. From the advanced options you can manually add a folder to search for videos on your internet. Video Cache View also allows you to filter the various elements, identify the videos and save the videos. File names are often not recognizable but just look at the site they come from and their size to understand if they are reproducible or not.
4)
To see all cache files saved on browsers
in an easy to view and browse, with all the elements identified by type, site from which they come, size and date, there are different tools depending on the browser used.
Precisely we have:
Chrome Cache View
Mozilla Cache view
for Firefox
IE Cache Viewer
per Internet Explorer
Opera Cache View
Each of them can be launched without installation and to automatically see all cache files, including images and videos.
In the same network, it is possible to view the sites visited on other PCs by sniffing internet traffic.
If you need to, remember that it is always possible to empty and clear the browser cache.