How to charge your smartphone faster? Of course, manufacturers' flagships have benefited from fast charging for a few years. But other smartphones often have to make do with a classic recharge that takes several hours. However, a few simple tips can shorten the loading time. Discover our tips for charging your smartphone faster!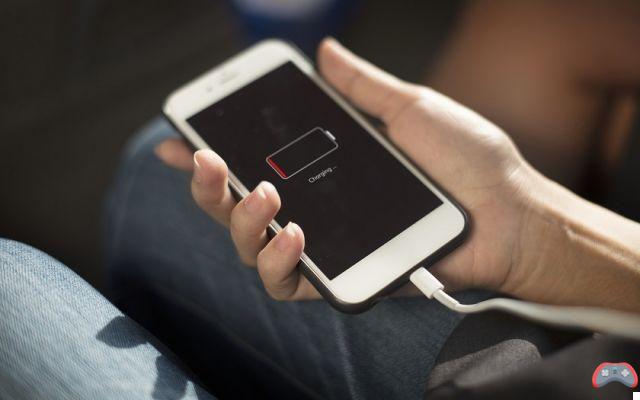 Charger sound smartphone faster, it is the wish of many users addicted to their mobile phone! Indeed, it takes several hours to fully charge the battery of your mobile. Then, fast charging made its appearance for the manufacturers' flagships. But, like the Galaxy S8, fast charging can be super slow! So, here are some simple tips and tricks to significantly shorten the charging time of your smartphone!
Do not use your smartphone while charging
The screen of a smartphone remains its biggest source of consumption. And it is when coming out of sleep that a smartphone consumes the most energy. Thus, taking your phone out of standby to check the time and letting it go back to sleep is a major drain on energy! But applications can also be particularly greedy for your smartphone.
Indeed, the Facebook application is known to kill battery life! Mobile games also require a lot of energy. Sure, they put a lot of strain on the screens, but they also need to respond quickly to player commands. So, to reduce the charging time of your smartphone, do not use it while it is charging!
Use a more powerful charger on a wall outlet
Tablet chargers are much more efficient than smartphone chargers. Indeed, the batteries of the tablets are more imposing. Thus, they require greater electrical power to charge quickly. So, to charge your smartphone faster, prefer a tablet transformer. Especially since the chargers are "intelligent" since they are able to detect any voltage incompatibility. They therefore adapt and only deliver the maximum power accepted by the device.
So there is no risk of damaging the battery of your smartphone. Nevertheless, manufacturers protect themselves by discouraging this practice. They can even void the smartphone warranty if they become aware of this practice! And, in the same way, prefer a wall socket to charge your smartphone. Because computer USB ports offer much less power than transformers. Thus, the charging time is greatly extended!
WiFi, Bluetooth, 3G, 4G, GPS, NFC: turn everything off!
Even if your smartphone is sleeping and you leave it alone, there are several running processes that can slow down its charging. First of all, it is necessary to cut off WiFi, Bluetooth, the 3G/4G mobile network, but also GPS or even NFC. All these features consume battery, and sometimes a lot. This may be the case when an application is still running in the background.
Also, remember to close all running applications. As well as those running in the background! Waze, the GPS application that you forget to turn off on your way home is also quite energy-intensive! Also beware of unexpected updates to your applications! So, cut everything lying around and deactivate everything!
Switch to airplane mode and power saving mode
If you don't need your phone while it's charging, opt for airplane mode. Simple but effective ! Your smartphone will thus be cut off from any network, which will save its battery somewhat. And of course, to shorten the loading time of your mobile. If airplane mode is now widespread, the same is not true for eco mode, which is beneficial for the batteries! And if your smartphone has the Energy Saving Mode feature, don't deprive yourself of it while charging!
Normally, the eco mode can extend the autonomy of a smartphone by several hours, but it can also greatly shorten the charging time of smartphones. So, the super effective combo worthy of Street Fighter V is still to switch your laptop to airplane mode, to cut it off from any network. Then switch it to eco mode, so that it cuts running applications and those in the background. You will greatly reduce the charging time of your smartphone!
Radical solution: turn it off!
Turning off your smartphone is the most effective solution, but also the most unpleasant. Indeed, addicts to smartphones, it is often difficult for us to consider this possibility! But, once turned off, the smartphone no longer consumes anything. No more software or hardware draws on the battery. And thus, you greatly reduce the charging time of your smartphone!
If you apply these little tips and tricks, you should be able to charge your smartphone significantly faster. However, if your phone is already charging quickly, but it's draining just as quickly, check that you don't need to replace your smartphone's battery.
The editorial advises you:
Insufficient storage: how to clean your Android smartphone
DNS: Google, OpenDNS, Cloudflare, what is the best address for faster surfing?
Health pass: how to download it, where to use it, what you need to know
The ability to speed up or slow down a video on YouTube can be very useful. It was possible to do this in the web version of the platform for a while…Facebook allows you to deactivate the automatic playback of videos in your news feed. It's very simple, even if the path is not obvious to anyone who has never seen it...Google Chrome includes a reading mode that allows you to consult a page in optimal conditions. The functionality, however, is hidden in the bowels of the browser. In this tutorial,…It is easy to know if a contact has blocked you on WhatsApp, but some indicators can also trick you into believing it unfairly. So how do you know...