Summary
SRs today SRs to denounce A misunderstood real problem The role of SRs Comments
Twitter, Facebook, Instagram… social networks have recently played a leading role in the fight against harassment and abuse of women. But their use in this specific case is debated: is it really their place?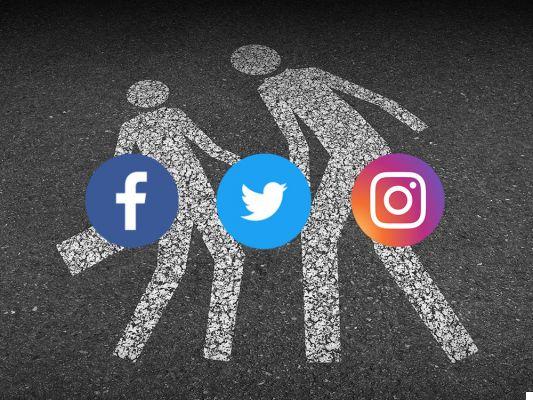 Social networks to fight bullying. It may seem quite contradictory since harassment on forums and social networks themselves is commonplace. Indeed, when you share photos, statuses, opinions, whether it's an account open to the public or private, you expose yourself and criticism is easy, insults and threats rain down on you. comments, because anonymously or almost, you feel strong enough and protected behind your screen to allow yourself what you couldn't say in "real life". But that's not today's topic. Let's put aside all the excesses of which we may be victims on social networks and take a close interest in the tool they sometimes become, by supporting a cause or by denouncing abuse and bad behavior affecting women, men, our society.
Social networks today
This is nothing new, social networks are also used as a weapon to defend ideas, personally or for an association, a political party, etc. They have become a tool used by all spheres of the population. Twitter, Facebook, Instagram and even YouTube for videos… Broadcasting a committed message, whatever it is, has become easy and sometimes even viral, thanks to the famous hashtags and keywords that make it possible to quickly find, but also to bring everything together. a bunch of messages and media around a subject. We talk, we share, we exchange, we support, we denounce, we get involved… RS have become our public square, where everyone can express themselves.
Lately, you will no doubt have noticed it since it has taken on a certain scale, social media have become the scene of the denunciation of moral and sexual harassment against women. Many of them have found in the SR a place to point out all the physical and verbal violence they may encounter on a daily basis, whether it is in their workplace or even in the street.
Social networks to denounce
Bullying is not complimenting
Instead of tracing her route in indifference, answering them curtly, going into long explanations or even exploding with rage, a student decided to take advantage of the popularity of social networks to denounce her street harassers. And to be more precise, it diverts the practice of the selfie to serve the cause. When a man or a group of men calls out to her for the reasons mentioned above, she takes a picture of herself by their side and shares the picture on her Instagram account.
View this post on Instagram
#dearcatcallers
A post shared by dearcatcallers (@dearcatcallers) on Aug 29, 2017 at 6:33am PDT
With #dearcatcallers, the young woman has managed to appropriate the phenomenon of the selfie while using social networks. They make it possible to relaunch the discussion around street harassment, but also to "raise awareness of the objectification of women on a daily basis" as the author of the Instagram account reminds us. This subject of society still needs to take an important place in public and political debates. Certain negative and contemptuous reactions to this student's fight are proof of this: the problem is misunderstood and not always taken seriously.
#balancetonporc, #myharveyweinstein, # metoo…
Even more recently, the case of Weinstein, a film producer, accused of harassment, sexual assault and rape by several dozen actresses. The audiovisual world is very affected by these drifts, and having grown, all circles have taken hold of the phenomenon. The latter has also spread widely thanks to the hashtag #balancetonporc. This itself stems from the initiative carried out on Twitter on the other side of the Atlantic with #MyHarveyWeinstein. Violent, but certainly necessary, it is accompanied by a tweet, a testimony.
#balancetonporc The drunk man jerking off while looking at me on the bus, on a Sunday evening. What's the excuse this time to defend him?
- You may ? (@Potiroar) October 18, 2017
It was sometimes poorly received, judged to be nothing more than a public lynching. It's also spawned some really off the mark answers like #balancetatruie, because once again we're underestimating the facts, questioning their veracity. Yes it's big, it happens today massively in the face of those who until now were not aware of the extent of the phenomenon, or ignored it voluntarily. And yet, it is the daily life of women. I don't know a single woman who doesn't have a painful story to tell about it. Also emerged that of #metoo considered a little less "aggressive" by some, allowing them to support the cause and add their experience to this flood of testimonies.
Do you know what hurts as much as an assault?
The silent witnesses? #metoo #metoo
— Claudia Barbara  (@ClaudiaBarbara) October 20, 2017
One hashtag begets another, and yet another…
Men tried to appropriate the debate with several hashtags, with various motivations. The first to surface is the #balancetonmecsupercool, implied #notallmen, so "we're not all like that", clearly getting the debate wrong. Women, but also men, reacted to this. Women don't throw their hate, and not at all men. It is a question here of recounting unfortunate events with men, unfortunately once again, these events are very numerous. The responses to this recovery, whether men or women, are quite clear: "Don't give yourself a medal if you have nothing to reproach yourself with on that side, you are just normal. Don't divert the subject. »
On #balancetonmecsupercool we learn that guys made pancakes and coffee this Sunday to say that we are not all rapists. pic.twitter.com/FCAGvjItHF
- ⚧Coline O'Bordello? ✂? (@ColineOBordello) October 16, 2017
Because men should never speak in place of women, but on the other hand, they can support them. The fight is led by the victims, the women. It is those concerned who must take this fight forward. They need the support of men and above all their listening, without a doubt, but they remain masters on the subject. Men, what you can do to help them is to accompany them, you are a shoulder, a pillar sometimes. But, at the risk of repeating myself, because it's important, it's a female voice that must carry this fight. We don't need a hero, a "good boy", but a friend, a father, a brother.
#IveDoneThat
Hey guys, you should do what you've been advising women lately:
GO SAY IT IN FRONT OF JUSTICE pic.twitter.com/tAWugpgknB
— Véronique Dulac (@LaFeeDuLac) October 17, 2017
#Ivedonethat was then taken up by men mainly who, wanting to support the victims by showing that these bad actions are very real, recount the deplorable behavior they may have had in their past. In short, an outlet. I remain mixed on the use of this hashtag. What does it translate? Yes, it's an answer that can also silence those who say that women do too much or invent since the number of testimonials is very large and continues to grow. It also shows that men recognize their mistakes. But… It also created a new controversy and did not help the relationship between men and women on Twitter. Many women – but also men – shocked by this movement demand justice and think that it is not here that you should confess your faults, but to a police station.
Raising a minimized issue
A daily life for women
It's sometimes hard to imagine for a man what it's like to move on the street, public transport and the like, when you're a woman. They do not have this experience, it is not their daily life. But yet, it is a reality, really. From the look that undresses you, to the perverted smile, through these few inappropriate words, a whistle, rude gestures and other wandering hands... It doesn't seem like anything to some of you and yet the accumulation over time, but also sometimes in one and the same day, is irritating, incomprehensible and even hurtful. Whether on the street, or in the workplace.
I can't stand the arguments "We're not going to flirt anymore" or "He's just a sucker". The famous myth of the fat jerk. #BalanceTonPorc ⤵️
— Caroline De Haas (@carolinedehaas) October 19, 2017
We are not at your disposal gentlemen
There's one thing you need to put in your head once and for all. No, a woman does not need an outside person to call her to tell her that she is beautiful or to hear any comments about her physique. Similarly, if she decided to dress sexy, it's her right, it doesn't mean that there is a message against the male population or a privilege to reach it. .
Walking around in a skirt at 20:30 p.m. in the city center of #poissy and being whistled by little idiots #viedefemme #harcelementderue
— Corinne GEOFFROY (@CorinneGEOFFROY) October 16, 2017
Harassment ≠ flirting
A woman doesn't need a stranger's approval to feel beautiful. It's just sexist to think that as a man you have the right to verbally impose your judgment whether good or bad on the physical appearance of a woman you don't know, on the street. . Picking up is an agreement, a mutual consent where both parties are accomplices. When a man shows up without warning to stop you and make a comment or ask you for your 06, this is not the case. It's harassment, period.
Harassment has nothing to do with flirting
Is social media the place for that?
A harsh reality
The first reproach that the women authors of these tweets receive is the following: "Do not go on Twitter if you have been attacked, go and file a complaint at the police station". But it is enough to dwell a little bit on the content of the tweets of these women or even more broadly on what they report in real life. In this way, we discover that filing a complaint is not easy in itself, already because taking the step at the time of the shock requires incredible strength and that in these moments, we are rather lower than ground. But also because unfortunately, statements are not always followed up or are not taken seriously. Spokes in the wheels is what we are exposing ourselves to. The struggle is difficult. It's a reality.
#balancetonporc: the hashtag of discord #harassment pic.twitter.com/j5N21aPHf0
- The Replicas (@les_repliques) October 17, 2017
Help for victims
SRs are not going to do justice. Let's not hide it. However, they have a very important role to play. By their strength and their importance in our current world, they make it possible to give a voice to all those who want and can, to express themselves, to find support, to integrate into groups to fight effectively against these attacks. , small daily violences and tragedies. It is also an opportunity to find strength, listening and help in the process of reconstruction.
I know we give the impression of drunk with our #Metoo #balancetonporc or #harcelementderue but we have this chance to make people understand
— CatnGeek (@CatnGeek) October 17, 2017
Awareness above all
Finally, and not least, the RS have an undeniable power, by their viral aspect. They are a medium, they transmit… they raise awareness. Because often killed, sometimes mocked or not taken seriously, all these forms of violence must come out of their silence. It is a real social problem to which we have closed our eyes for too long. Because there is clearly a denial, a rejection, an almost systematic self-defense on the part of certain people who do not understand that these "little" things can have an impact on the life of a woman and more generally of women and the picture of these.
Just the fact that so many men are surprised by the magnitude of #balancetonporc is illustrative. I don't know any woman who is surprised. We do not have the luxury of ignoring this violence, because it is our daily life.
— jeanne (@jeannemrv) October 17, 2017
Men are not, in a massive way, victims so it is difficult for them to clearly put themselves in a situation. This can not go on. Men or women, whether passions are unleashed, collide, shake up your beliefs, discuss, get angry... the important thing is to talk about it, to raise the problems and that the private, the public, the political, the State seize it to finally propose measures. Because, after the emotion, place to the actions. At last. It's a start, but a necessary start.
"With the working group against #harassmentderue we will create a new offense to punish these behaviors." @LCI pic.twitter.com/KmXLnZwJPE
- Laetitia Avia (@LaetitiaAvia) October 15, 2017
A way to educate in 2017
Because among the tweets, we find men who question themselves, question themselves, and become aware of their actions and those of others, and hope to change their behavior in the future – whether they are directly involved or witnesses – , because now, they know, they have no more excuses. They now know the consequences of their actions. I grant you, it's a bit sad that we had to put their noses in it to open their eyes... But yes, as said before, it's a start and in a world where for a long time these subjects have remained off, we can also imagine that things are changing, and in a good way.
#balanceTonPorc: rather than teaching self-defense to her daughters, teach her sons respect https://t.co/nH79e41dtn pic.twitter.com/lTyjkYpQeU
- L'important (@Limportant_fr) October 17, 2017
Education in its broadest sense – family, school, politics, media – has a key role to play, and so this also involves social networks. And good news, the movement launched with #balancetonporc and #metoo has been exported all over the world.