Impersonating someone else on social media is problematic. Dealing with a stranger pretending to be someone else on Tinder can be a lot more awkward...even dangerous. To prevent this, Tinder is introducing an account verification system this week.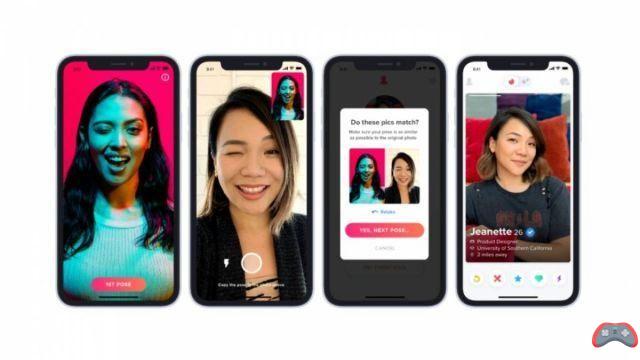 Credit: Tinder
Halfway between a certified account on Twitter and a verified profile on AirBnb, Tinder is introducing a feature this week aimed at improving the security of its users. Entitled "Blue CheckMark", it makes it possible to identify at a glance the profiles that have been successfully authenticated. Enough to avoid finding yourself face to face with a perfect stranger during a date. The verification process is very simple and is complemented by two other measures deployed by Tinder to protect its users: a help center and an alert function that can go as far as calling the police.
Make sure you know who you're dealing with...
To get the famous blue mark of Tinder, indicating to other users that you are the person you claim to be on the service, nothing could be simpler. The thing is done on the basis of a selfie. Tinder will ask you to take a picture of yourself in real time and then compare that snap with the selfies you've already uploaded to your profile.
If the photos match, this famous blue badge will then be added next to your name. Note, however, that Tinder has not yet deployed this novelty in a generalized way. The service is currently mentioning a test in certain regions only, but promises to generalize it during the coming year.
As mentioned above, Tinder has also introduced its "Safety Center", a portal designed to support users and provide them with tools to make them feel safer, especially when dating in real life. This help center is available now in the United States, Great Britain, Germany and Spain.
A call for help function tested in the United States
Perhaps more interestingly, the dating platform also announces a collaboration with the Noonlight platform, which specializes in emergency calls and security. This service attached to Tinder will allow users to have access to a button to "discreetly" trigger a call for help in the event of a problem.
Without necessarily coming to this end, Tinder explains that users will be able to indicate, on the platform, where and when they plan to go on a date, and with whom. Real-time tracking of the position is also planned, but the parent company of Tinder ensures that this data will remain confidential. Tested for the moment only across the Atlantic, it is not known if this functionality will arrive in Spain.