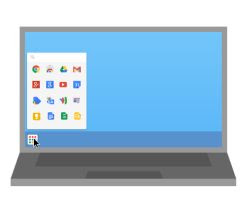 Google Chrome is a particular browser that on a Windows PC is also capable of becoming an operating environment on which it is possible to start applications as you would on a smartphone or on the Windows 10 Start screen. Some of these applications, even if Chrome is a browser to browse the internet, you can use them even if your computer is not connected to the internet, as you would with normal PC programs. For this reason it is worth knowing which are the best of these
apps, which can really replace programs
traditional in some situations, why
free, modern and easy to use
.
The Apps of the Chrome Web Sotre not to be confused with Chrome Extensions, are sometimes just links that lead to open a website (for example the
app per Chrome
), and other times real full-blown programs built exclusively for Google Chrome.
One of the best things about Chrome applications is that many of them have the ability to work offline.
So, if you needed a free PC program, you could look to see if there is the app you need in this list, as it will work on your PC without needing to be connected to the internet.
The best Chrome apps that also work offline are
:
1)
Drive
allows you to access all data included in the cloud from a single location: Dropbox, Box, Google Drive, SkyDrive, Flickr, Instagram, Picasa, Vimeo, YouTube, SoundCloud, Facebook, Tumblr, Instapaper, Pocket and Readability, all in one place.
2)
Writer
is a program for writing to the computer without distractions. You can also upload documents directly from Dropbox for editing.
Caret is a simple note-writing app that works in full screen mode.
Of the same type are the applications QwikNote and Litewrite, two distraction-free offline text editors.
3)
Google Docs
e
Google Slides
to write documents that are also compatible with Microsoft Office Word and Powerpoint are two applications that also work offline and therefore become like free office PC programs.
The files are saved in
Google Drive
who also has his own Chrome app capable of
work offline
.
Better yet, you can use the
versioni online di Word, Excel e Powerpoint
, for those who prefer Microsoft programs.
4)
Google Keep
is the best application for keeping reminders which can serve as a private diary, personal diary or just a place to jot down your notes and ideas. If you are using the mobile version of these two alternative and similar apps, your notes are synced between your mobile and PC via your Google account.
Evernote Chrome is great for lists or to-remember lists, which also works offline
5)
Timer Task
is a time manager, to keep track of the time spent working and having fun on the computer.
6)
Gmail Offline
allows you to check your inbox, reply to messages and compose new emails in offline mode. The app automatically syncs your messages and actions when you go back online.
7)
Scribble
is a note-making app that you can pin on a single Chrome tab to read at any time. It's a great way to organize quick thoughts, ideas, reminders, tasks, and more.
8)
Authy
is the app to use two-factor authentication.
9)
Pocket
is a Chrome app linked to the Diigo website that allows you to save interesting web pages so as not to have to search for them, to be read later, even if the computer is offline. It is also a great way to eliminate the problem of too many tabs because you just need to save the sites to keep and read later with the right mouse button or a customizable keyboard shortcut.
10)
Print per Chrome
is an app to have more printing options.
11)
Color Piano
is a piano learning app, which uses colors to teach and guide the aspiring pianist, without using sheet music.
12)
Polarr Photo Editor
, the best photo editor for Chrome, which also works offline and allows you to edit each image with many filters and effects like using an iPad.
13)
webcam Toy
is a fun app to take pictures and add fun webcam effects to save them on your computer or share them on Twitter and Facebook.
14)
M.Easur.Es
is an application that allows you to convert measurements.
15)
Scientific Calculator
is a scientific calculator.
16)
Enjoy Music Player
an app to listen to music on your computer that does not require an internet connection to work.
17)
Audio recorder
is a simple app for making audio recordings from Chrome.
18) Text is an app that also works offline, ideal for writing programming code.
19)
All in One Messenger
groups all popular messaging apps into one window and supports Discord, Skype, Steam, WhatsApp and Slack chats.
On Chrome, you can use Skype Web to make phone calls and chat.
Alternatively, you can also use Google Hangouts, which also allows you to make video calls and integrates perfectly and certainly Whatsapp web into Chrome.
20)
vectr
is a vector image editor designed for Chromebooks with tools like grids, pages, and layer support to adjust every aspect of an SVG file.
21)
Sketchpad
is a free Chrome drawing app to draw on the screen with various types of brushes and pencils, great for both kids and adults.
22)
HTML5 Editor
allows you to edit and write HTML, CSS, Javascript and JSON files.
23)
PDF readers
Chrome's PDF reader has all the basic functions of any PDF-opening program, but if you want something better and with more features, you can always try the app like Notable PDF, which works as an annotation and collaboration tool. in real time.
24)
Ebook readers
Readium, on the other hand, is an app that makes Chrome capable of opening ePub files from eBooks, which works even without an internet connection.
For eBooks you can instead install Kindle Cloud Reader or Google Play Books.
25)
Image editor
You don't need to install an image editing program on your computer if you use Chrome with an application like Gimp Online, which is powerful and absolutely packed with advanced Photo Editing features without Photoshop.
To replace a program like Irfanview also to take screenshots, you can install Nimbus instead
26)
Videostream for Google Chromecast
One of the best programs that we can use together with Google Chrome and Chromecast is
video stream
. With this program we will be able to view any video saved in the PC memory on Chromecast regardless of the format and codec used, thanks to an integrated automatic conversion system.
All we have to do is index one or more PC folders within the program, leave this app running on the PC (better still in auto-start) and manage playback on the Chromecast from the interface offered by the program (Choose Video button) or through a handy app for Android and iPhone, where you can view all the videos and decide which one to see on the Google dongle.
27)
Google Remote Desktop
Another handy application that we can integrate into Google Chrome is
Google Remote Desktop
, which will allow you (via Internet connection) to remotely control the desktop of another PC, anywhere in the world.
28)
Editor Office
We can use the program
Editor Office
, made by Google, fully functional even without Internet connection, to open all Word, Excel and Powerpoint files on Chrome
This office suite is compatible with all major formats used to create documents on Office and also allows you to make changes and save to the same file. When there is an Internet connection, we can save a copy of the document on our Google Drive, so that we can edit or view it on another PC or create a collaborative sheet with other users.
29)
Us - PDF and Document Markup
We can use
Us - PDF and Document Markup
, a PDF document viewer that can be integrated into Google Chrome as a simple program, to mark, annotate and sign the most important PDF documents. It integrates perfectly with the PDF reader already present in Google Chrome, expanding its functionality.
Kami also integrates with Google Drive so you can view and edit PDFs in your personal cloud and can work even without an Internet connection.
30)
Screencastify - Screen Video Recorder
Screencastify - Screen Video Recorder
it is also an extension and allows you to record the full screen of the PC or only the window in the foreground, so as to be able to create educational videos on the functionality of a program or a site, really useful if we have a YouTube channel.
We can also choose whether or not to integrate the audio of the microphone, so as to make the video capture even more complete, we can adjust the video quality and the output format and, when ready, start recording with a simple click of the mouse. on the program or extension icon. At the end of the recording you will be offered numerous editing tools to cut the videos and we can save the video either as a file in the local memory or upload it to Drive or directly to YouTube (if we have added the access data to the latter).
How to add Chrome programs to the desktop
The programs installed from the Google Chrome store can be accessed by typing the following command in the address bar:
chrome: // apps
We will see the list of all applications and sites available as separate programs, in a window that can be managed independently from the browser.
To add a Google Chrome program to the desktop, simply left click on the program of our interest and select the item
Create shortcuts
.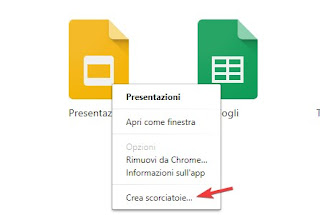 Make sure there are check marks on both items that will appear (
desktop
e
Boot menu
) then click OK to add these programs to the desktop of our PC and to the Windows Start menu.
ALSO READ:
Open Android App in Chrome on Windows PC, Mac and Linux