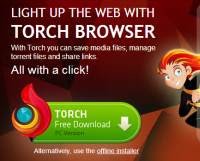 On the famous Pirate Bay site, the main place to find torrents of any kind to download, a new browser is promoted especially for those who usually download Torrents from the internet.
In fact, since traditional browsers do not recognize the so-called Magnet Links, if you want to find them
an easy way to download torrents without having to use a program like UTorrent
or another BitTorrent client then you can use this one
new browser called Torch
, which is based on Chromium and offers itself as the ideal browser for downloading and sharing any web content.
As happens when a new program is presented to surf the internet, even of
Torch Web Browser
it must be said that we are faced with an interesting alternative, preconfigured for the purpose of
make torrent downloads
, which is worth downloading, installing, and keeping on hand when needed.
By opening Torch Browser you will find a very interface
similar to that of Google Chrome
, with the same menus and the same style as the tabs.
You can also download extensions and applications from the official Chrome Web Store.
What changes are three buttons at the top right:
Share, Media e Torrent
.
The former is for sharing multimedia web content on Facebook and Twitter with the push of a button.
The Torrent button which is used to activate the recognition of magnet links and to download Torrent files directly from the browser which acts as a BitTorrent client in a similar way to UTorrent.
Torch Browser has nothing special to offer beyond that.
The torrent download options aren't bad though, and there are important settings.
From the menu that appears by clicking on the button of the three lines at the top right it is possible to access the interface of the Torrent client which looks almost like a program in itself.
You can add downloads manually, manage downloads, pause them and configure various options from the "Settings" button at the top right.
Torch Browser is a browser that provides a valid alternative to avoid downloading UTorrent or other Bittorrent programs full of viruses,.
In the end, the choice of whether or not to use this browser is entirely in the way of using the Internet: if you prefer an all-inclusive program, identical to Google Chrome, with fast navigation, all the extensions and advantages, plus the download manager in P2P of torrent files that you download directly from Magnet Links, then Torch is the browser to use.
If you are not using Torrent files instead Torch can come in handy on certain occasions, but it will certainly not be taken into consideration as the default browser.