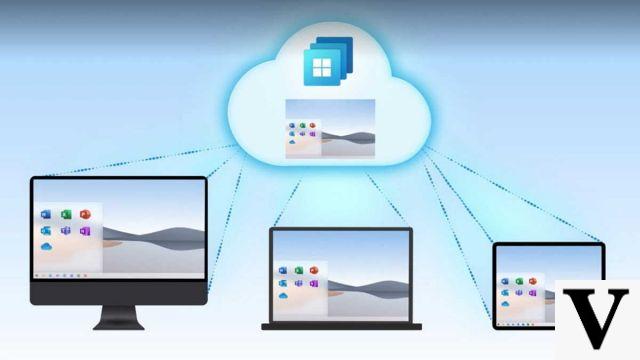 After announcing Windows 11, the next version of its operating system for desktop and laptop PCs that will arrive later this year, Microsoft is also launching Windows 365. Which is not an operating system, but a way to use the operating system: via a browser. A way that Microsoft calls "Hybrid Windows" or "Cloud PC".
Using Windows 365 means, in practice, opening a browser on any device, with any operating system (even an iPad with iPadOS) and connecting to the site https://windows365.microsoft.com. Here the user can log in and "enter" "his" Windows. Which at the moment is Windows 10, but in the future it may also be Windows 11. The user will have a virtual machine available: Microsoft reserves a certain amount of RAM memory and disk space for the user and allows him to use a variable number of CPU. These hardware resources are actually physically located on Microsoft's cloud servers and are "leased" to the user upon payment of a monthly fee.
When Windows 365 arrives
At the moment Microsoft has announced Windows 365 for the business market only: it will be available starting from 2 August. Initially there will be 12 configurations to choose from, between the number of CPUs and the amount of RAM and storage space.
How much does Windows 365 cost
Microsoft has not yet formalized the prices of monthly subscriptions to Windows 365. The first rumors speak of 31 dollars for the basic configuration: 2 CPU, 4 GB of RAM and 128 GB of storage space. A configuration with which almost only classic office productivity can be done.
It is therefore a price equal to 372 euros a year, certainly not low since a license of Windows 10 Home (not an update) today costs 145 euros. Microsoft, however, looks to companies and declares that they will save a lot on operating costs with Windows 365 because, essentially, all the maintenance of the operating system and updates will be done directly by Microsoft, in the cloud.
What is Windows 365, when it arrives and how much it costs