Microsoft is currently rolling out Windows 10 update KB4577586 in an automated manner. This patch essentially aims to remove what remains of Flash Player components in the operating system. However, the update does not remove versions of Flash that you have installed manually.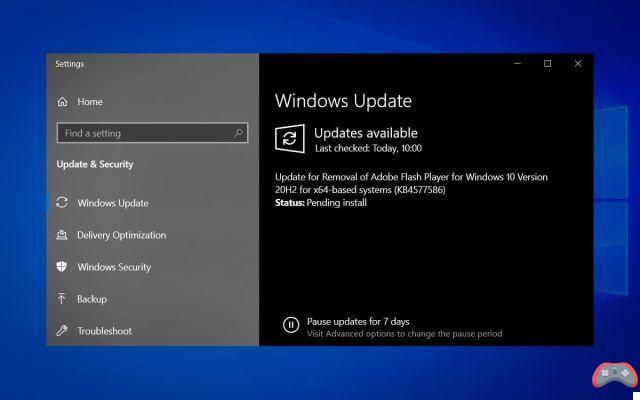 Microsoft is pushing a new update KB4577586 on Windows 10. This update is actually a patch who sremoves all remaining system components related to Adobe Flash Player. Once synonymous with rich content and web development, Flash Player has become an embarrassing legacy over the years.
The first to shoot red bullets was Steve Jobs who accused the Adobe plugin of provoking severe performance issues preventing progress on the autonomy and power of mobile devices. The late Apple boss already recommended using open source alternatives such as HTML5 and CSS 3. At the time, the overwhelming majority of multimedia content on the web was still based on Flash Player.
Also read: Adobe Flash Player releases its final update before it dies
Microsoft gives Flash Player one final blow
But from that moment, Flash Player has begun its dizzying decline. And to make matters worse, the plugin was increasingly criticized over the years – a situation made worse by the discovery of multiple security vulnerabilities, as well as dreadful malware campaigns that used the design of the Flash Player installer to go unnoticed. In the meantime, however, Adobe has strongly supported its plugin.
But in 2017, the Flash Player maker acknowledged that the program was reaching its end of life and announced that the program would no longer be updated from 2020. Several browsers, including Chrome, then removed Flash support. This is also the case in the new Chromium-based Windows 10 Edge browser. Windows 4577586 update KB10 appears to install automatically on affected machines.
We end with two remarks: first, this patch does not in any way remove the Flash plugin that you have installed manually. You will therefore have to delete it yourself if necessary. At last, this update is not reversible : once you install it, it's over, Flash disappears from Windows 10 forever! Did you receive the update? Share your feedback in the comments.