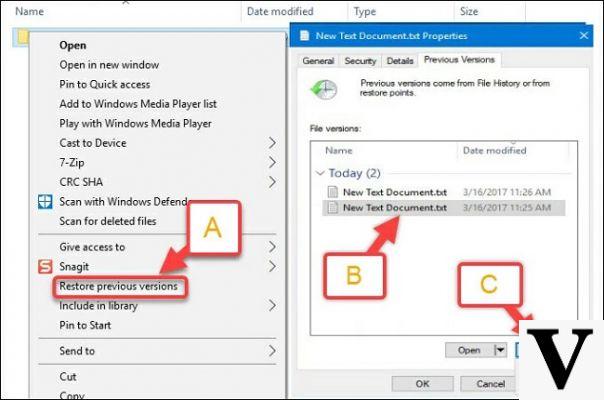 Unexpectedly, after years and years of lacking such an official tool, Microsoft has just released the app on the Microsoft Store Windows File Recovery which, as the name implies, is a tool for recover files accidentally erased from disk (be it a traditional disk or even an SSD).
Windows File Recovery can try to recover files even from external memories, it is compatible with the May Update of Windows 10 and is not a tool for everyone, despite being distributed for free: it is used from the command line, has several advanced options and is the classic tool that will make IT technicians happy and confuse the average user. If we accidentally deleted any important files, though, there is now a Microsoft's free tool to try to restore it which can be used by anyone who makes assistance, even remotely. Here you are how Windows File Recovery works.
What Windows File Recovery can do
After installing the app from the Microsoft store we can use the new command "winfr" from the prompt, which stands for Windows File Recovery. You can recover JPEG, PDF, PNG, MPEG files, all Microsoft Office files, MP3, MP4, ZIP and more. Most of the files we use on a daily basis are therefore recoverable. Winfr works on NTFS, FAT, exFAT and ReFS file systems (the latter is an extension of NTFS for workstations and servers).
How to use Windows File Recovery
It's possible usare Windows File Recovery in three modes: Default, Segment and Signature. Default mode reads the disk's Master File Table (MFT) looking for lost files and file segments and, consequently, works only if the MFT and at least some file segments are present on the disk.
La Segment modeon the other hand, it does not require the presence of the MFT but still requires the segments.
La Signature modefinally, it only requires that the data contained in the file is still present, even without segments and MFT, it only works on large files and requires you to specify what type of file to search and retrieve. The latter is the mode to use to recover files from external storage memories, such as USB sticks. It is also possible, in all three modes, to use advanced options (you can find the list of these options by running the winfr /! Command) such as those for search for files only in specific sectors of the disk, choose how the files will be recovered or exclude a certain type of extension from the files to be recovered.
Windows 10, how to recover accidentally deleted files