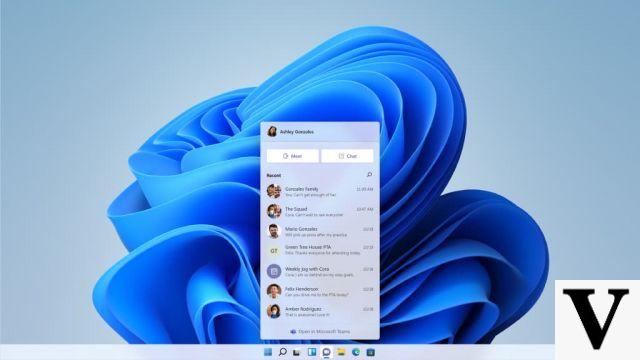 Windows 11 was officially unveiled by Microsoft during the presentation on June 24th. The sensations outline the profile of a fluid instrument, capable of assisting at best during work sessions but also for leisure: the simple definition of "operating system", in short, fits tightly to Windows 11, so there is no lack of conditions for it to evolve the predecessor in the correct direction.
Windows 11 it will be an operating system free for holders of a license for Windows 10, to which it will reveal itself in the form of a simple (but presumably cumbersome) firmware update. Among the main innovations announced by Microsoft is the new translucent Start menu which, compared to the past, becomes the protagonist with a more central position in the taskbar. The new menu also contains an area where the most frequently used apps and documents are shown, even on Android and iOS devices. That of the new Start menu is undoubtedly the most evident novelty Windows 11, but it is by no means the only one: let's go over everything you need to know before installing it
Windows 11: new design and functions
As anticipated above, the new Start menu immediately steals the eye, but the news is not limited to that. Windows 11 empowers the possibilities of working in multitasking through Snap Layout, Snap Groups and Desktop that help organize windows even on different screens and have an eye on what you need.
Important the native introduction in the taskbar of the Chat of Microsoft Teams, with the ability to quickly send text, voice, photo or video messages with your contacts regardless of the platform used, Windows, Android or iOS. Then comes the support at DirectX 12 Ultimate and Auto HDR, which will make gamers happy, a new custom feed based on artificial intelligence, a revamped Microsoft Store or the Android support.
Windows 11: what versions and system requirements
Microsoft did not speak directly of the Windows versions 11, but during the presentation event he referred to Windows 10 Home and Windows 10 Pro, hinting that those suffixes could also be adopted by Windows 11 in the sign of continuity. Microsoft will also release a version similar to Windows 10 S called Windows 11 Home S Mode.
On minimum system requirements to install Windows 11 Microsoft unbuttoned itself just enough to make many tremble. The next operating system from Redmond will not be very kind to the hardware, and will require resources of a certain level that will cut out a substantial part of the potential users: a PC with CPU is required. Intel Core of eighth generation or later or an AMD Ryzen 2000 or later.
All other chips are cut off, and that must have been a painful decision because by doing so, Microsoft has left many of its Surfaces upside down. Windows 10 will be supported until 2025.
Windows 11: when it arrives
Windows 11 was introduced in the summer of 2021, but the distribution at a time of PCs and users is scheduled for the autumn, probably end of November 2021.
Windows 11 revealed: what you need to know before installing it