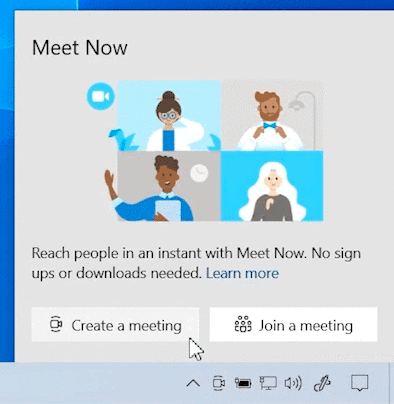 Microsoft is testing a number of new features for Windows 10, among which Meet Now. The function will be integrated within the operating system, will allow users to start and participate in free video calls. Access will take place without account by clicking the appropriate icon in the system tray.
Currently in the testing phase, the new feature is included in build 20211 recently released by the company to beta testers. Until now, to have online meetings with Windows it was necessary to use Skype or third-party apps, which required signing up for an account. Now, for the first time, the system will integrate an exclusive solution designed to make theimmediate access to calls. With this move, Microsoft intends to satisfy all users who need to make a video call in an easy, free and fast way, without having to waste time in too many steps or having to remember the credentials. Let's see what are the characteristics of Meet Now based on the first rumors in circulation.
Meet Now: Quick video calls without an account
Among the main features of the new feature, the ability to make fast video calls stands out without the need to sign up for a Microsoft account. This is a real revolution, because when you want to start the call, just click on the appropriate icon in the application bar, choose the recipient and go.
To add participants, it will be enough generate a link and share it with the person in question, who in turn will log in without further registration. Meet Now will be completely free and immediate, and for this reason many users and experts have already compared it to other systems, including Zoom and Google Meet, which in recent months have grown exponentially, thanks to the spread of smart working, distance learning and other forms of remote communication.
Meet Now for Windows 10: How will it work?
Based on some screenshots out there, use Meet Now it will be really very simple. The images show that it will be possible to access the function by clicking on the camera icon inserted by default in the system tray Windows 10. A window will open with two options: "Create a meeting"will allow you to start a video call, while" Join a meeting "will allow a user to participate, by inserting the aforementioned link.
At this point, if the user has Skype installed on their computer, this program will open and automatically host the video call, alternatively the call can be managed via the browser, specifically, the Microsoft Edge window will open.
For the moment, however, there is no official news related to the integration of Meet Now on Windows 10 system. Surely it is not something that we will see shortly, indeed according to various rumors we will have to wait a few months to know the definitive characteristics of the function.
Windows 10 makes video calling easy with Meet Now