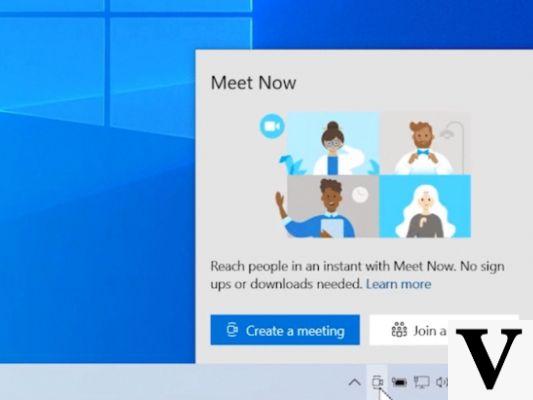 26
- Windows 10 updates now they follow each other day after day and, a few days after the second half-yearly 20H2 October Update, Microsoft has decided to release another one, optional: the KB4580386, released mainly to fix some bugs but which also includes a not just new feature: Meet Now in the Start menu bar.
Meet Now had already been spotted in a previous beta version of Windows 10, released only to members of the Insiders program. Now not only those who are enrolled in the program can update the operating system to see a new icon appear on the Start menu bar at the bottom right. It is precisely the icon of Meet Now, from which you can start a video call with anyone in a few seconds. The video call will take place through Microsoft's Skype platform, so it will be necessary to have theSkype app on your device to participate, even if you don't need to have an account on the platform.
How Meet Now works
When the user clicks on the Meet Now icon, on the Windows 10 bar, a window opens from which it is possible to choose between "Create a meeting" and "Join a meeting". In the first case a link will be generated, to be shared with all those whom we would like to invite to the call. In the second case we will have to insert this link, which was sent to us by the person who launched the video call.
Who has not Skype on the PC will be invited to download it to participate, the same applies if you want to participate in the video call from an Android or iOS mobile device: we will be sent respectively to the Play Store or atApp Store to download the Skype app.
Meet Now: serve Skype, ma non un account
The very interesting thing about Meet Now is that, despite being based on the Skype platform, you don't need a Skype account to use it: just download the app and enter the link to join the video calls. Clearly, however, this is a strategic move by Microsoft that tries, in this way, to push Skype even more.
Meet Now, on the other hand, is practically identical to the function of the same name offered by Zoom, another videoconferencing platform that literally exploded during the months of lockdown. With the persistence of the health emergency situation and of the contagion containment measures, in particular smartworking, Microsoft has taken the attack.
Windows 10, Meet Now arrives with the new update