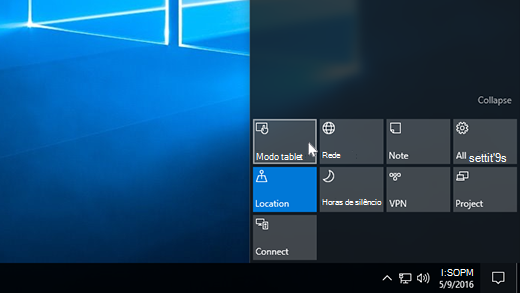 News coming up for Windows 10. The Redmond house has officially given the green light to the testing phase of a new user interface optimized for the use of the operating system on tablet. The new beta in the hands of the Insiders, in addition to fixing a series of bugs and improving the performance of the machine, seems to have been designed specifically for the so-called two-in-one devices like the Surface Pro.
It is a series of interventions aimed at upset the current tablet mode to improve human-machine interaction via touch screen. The latest build sent to developers by the US giant is one of the numerous releases that will constitute the major update expected by Microsoft users around the world starting next spring.
Windows 10: the new tablet mode
La tablet mode has undergone a real restyling, not only from a graphic point of view. Thanks to an image spread by the developers of the program Windows Insider you can preview the changes made to the user interface. In particular, the icons of the taskbar remain visible resulting more ordered thanks to greater spacing. The keyboard is just a tap away, a decidedly more ergonomic choice, while the search and Cortana icons are automatically reduced if not used.
The two-in-one devices
Microsoft has confirmed that the new tablet mode has been specially designed for i two-in-one devices, devices in strong growth capable of offering excellent performance and maximum portability thanks to their peculiarity removable keyboard that with the cover form a whole. Microsoft's interest in these devices is also confirmed by the automatic activation of the new tablet mode which clicks just when the physical keyboard is removed.
Tablet mode: another important news
Not just a new one tablet mode. The latest beta released by the Redmond giant would also contain an unprecedented option called "Cloud Download" for automatically restore PCs with Windows 10 using content previously saved on the cloud. Restoring content from the cloud should also be possible for the operating system, permanently eliminating the need to use a physical media, CD or USB drive, to restore the computer. This is a feature already implemented in some previous betas and is reminiscent of the one Apple has long used for its Macs.
Windows 10, tablet mode arrives: how it works